"How can I recover my deleted photos from an Android phone? What is the best app for recovery?"
- a question from Quora
We all have been there! Isn't it? Android phones are very popular now a day. And we often use Micro SD cards with these phones to increase our data storage. It is very common to get the photos being deleted from the gallery for various reasons.
You can recover photos from cloud backup or alternatively use data recovery software. There are many softwares available online. Be cautious, you can lose your photos permanently by using unreliable software or tool. We strongly recommend Recoverit (IS) software for recovering photos easily and securely.
Part 1. Recover Deleted Photos from Android Using Recoverit (IS) Software (Recommended)
You can recover deleted photos from any android device using powerful Recoverit (IS) software. It has an All-Around recovery feature that recovers photos by deep scanning.
Note: Please note that the Recoverit (IS) software isn't designed to recover lost photos from iPhone or phones without SD card.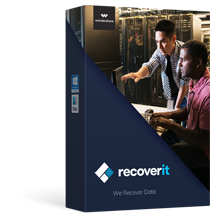 A Life Saver to Solve Your Data Loss Problems!
Recovers deleted photos from Android Phone SD Card easily, faster and secure way.
Recovers lost photos from any Android mobile like Nokia, Samsung, Motorola.
Recovers photos with high success rate and with original quality.
Supported OS: Windows OS: Windows 10/8.1/8/7/Vista/XP Mac OS: Mac OS X 10.14 (Mojave), 10.13 (High Sierra), 10.12 (Sierra), 10.11 (El Capitan), 10.10 (Yosemite), 10.9.5, 10.9 (Mavericks), 10.8

2,965,271 people have downloaded it
Part 2. Step by Step Guide to Recover Deleted Photos from The Android Device
Step 1: Select a recovery mode
Download the Recoverit (IS) software to your computer. Once you download the software, launch the program.
Step 2: Connect your device to the computer
Connect your android device or SD card reader to the computer.
Step 3: Select the disk to start scanning
Once the computer recognizes the external device, select the drive from which you want to restore your photos. Now click the "Start" button to initiate the scanning for lost photos.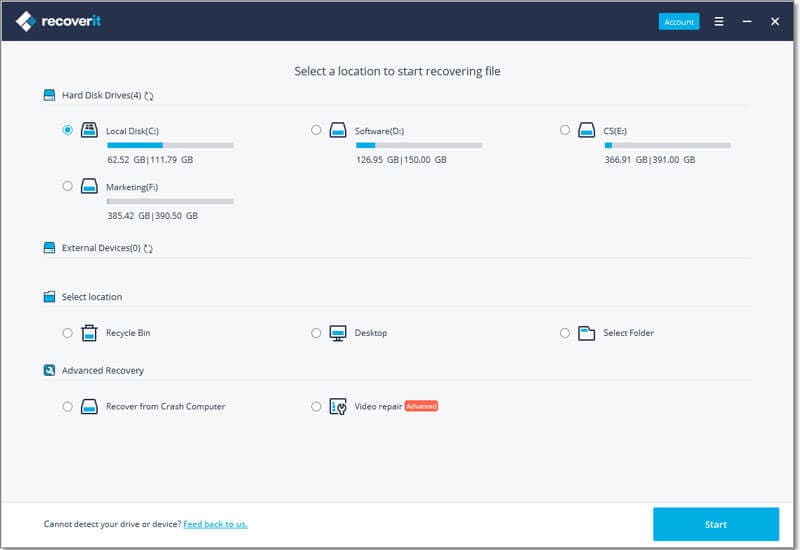 Step 4: Preview recoverable photos
The scanning process will take only a few seconds. Now you can preview all recoverable photos. Select the photos that you need to recover and press "Recover" to move ahead. Save all your photos on a drive other than your Android SD card.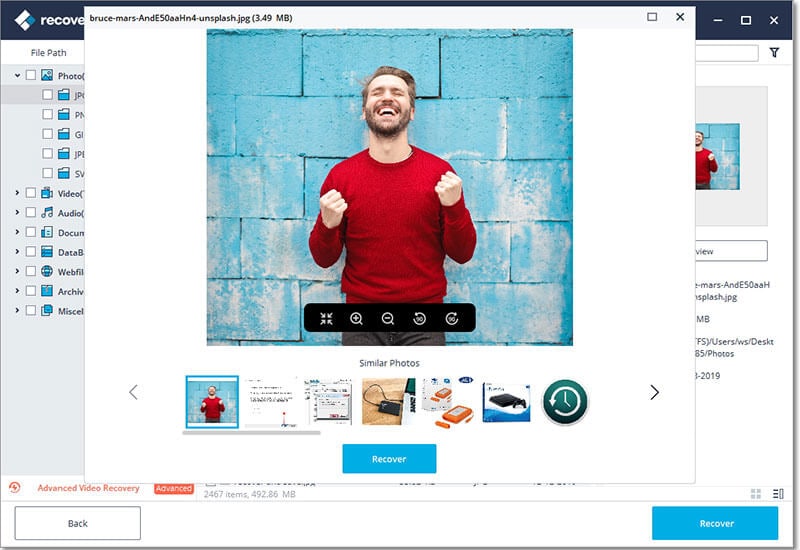 You will recover all deleted photos in the original format with the same quality.
In case you are not able to recover your photos go back to step 1 and select "All-Around Recovery" mode. In this mode, it performs a deep scan and recovers more photos or files.
Part 3. Recover Photos from Samsung Cloud Backup for Samsung Devices
For those who are using Samsung phone can recover photos from Samsung Cloud Backup provided they are signed in to Samsung account on their phones. Every photo saved in Samsung phone gallery is automatically saved to the Samsung cloud.
Follow these steps to recover photos from Samsung cloud-
Step 1 Choose Settings on your Samsung android phone.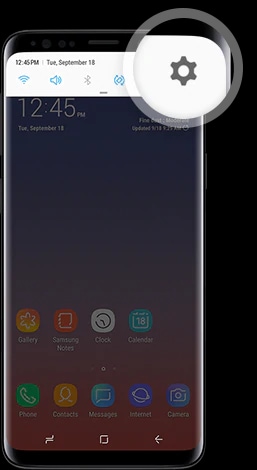 Step 2 Now tap on Cloud and accounts.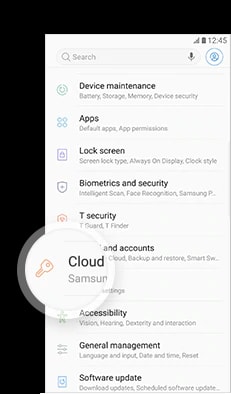 Step 3 Next tap on Samsung Cloud.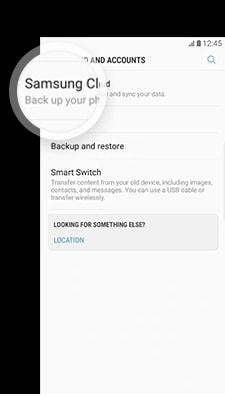 Step 4 Click on Restore, scroll down and tap photos. This will only select photos.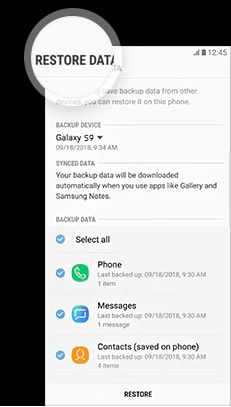 Step 5 Now tap on Restore Now button.
Your photos will be restored from cloud backup in your Samsung phone gallery.
Part 4. Recover Photos from Google Photos Backup
You can recover photos from Google photos backup if you have installed Google photos app on your android device. You can find and restore photos only if you have signed in with Google account and turned on the "Back up & Sync" feature.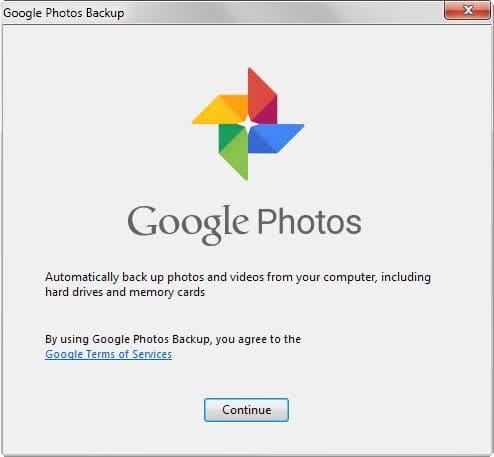 4.1 For restoring photos on android device
1. Open the "Google Photos" app.
2. Tap the photo you want to save to your android device.
3. Now tap the "Options" menu.
4. And finally, tap "Restore".
5. Repeat for every photo.
4.2 For restoring all photos from google photos backup
1. Log into your Google account from your computer.
2. Download all the photos on your computer.
3. Connect the android device to the computer.
4. Copy the images over to the android device or SD card.
4.3 Recover photos from Google photos trash
You can retrieve the photos even if you have deleted photos from Google photos. Google Photos keeps the photos in the trash for 60 days.
For retrieving photos from trash-
1. Open the Google Photos app.
2. Tap Menu and then tap Trash.
3. Touch and hold the photo and tap Restore.
Note: Photos in the trash are automatically deleted permanently after 60 days. If you delete any photo when the Trash is full it is permanently deleted.
Part 5. Recover Photos from Microsoft OneDrive
Restore deleted photos from Microsoft OneDrive recycle bin
If you have installed Microsoft OneDrive app for backup, open the app and go to Me > Recycle Bin. Select your photos and tap the Restore icon. Microsoft keeps the files in recycle bin for 30 days.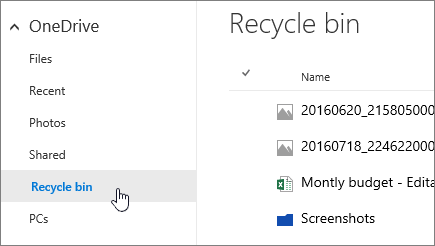 Alternatively, you can restore photos from OneDrive website from your computer. For those who are using a personal account for OneDrive can select Restore all items to restore all files in recycle bin.
Conclusion:
Recoverit (IS) is the best option for recovering photos if you are not using any of the above mentioned backup methods. In absence of backup on cloud or secondary storage device, Recoverit (IS) can recover photos by scanning the SD card. Please leave your valuable comments if you find this article useful.