"I am really in need of some pictures that I accidentally deleted recently. How am I going to restore deleted pictures that are lost in this manner?"
- a question from Quora
Perhaps this is a question that many people ever asked at a certain point of time. It is ideally frustrating to get off the hook of your meaningful pictures of all times. What many people may not know is that deleted pics are not the end of the road in regard to keeping your memories alive. So whether they got lost from your laptop, desktop or the commonly profound Smartphones, you are still in a position to recover your lost pictures.
Part 1. Leading Causes of Accidentally Deleted Pictures
Cleaning up of your archives
At times, you may feel that you have kept various pictures for quite a long time. In such a scenario, it may be possible to accidentally get rid of some photos that are still vital. It is better to avoid being in a hurry when performing a cleaning operation on your device.
I deleted my photos by mistake is another common comment that most users like putting forward. Your screen going blank is a top cause of this problem as compared to other scenarios. A blank screen could result from a software breakdown or a physical hitch-up. Whenever your device's screen goes blank, it is vital to stop any further usage until it is rectified. This is to avoid blind clicking which may cause you quite a big loss.
This automatically leads to prohibiting of some system functions from working as intended. Most Smartphones will pop up the option of removing some data so as to create enough space. In most cases, users end up removing their pictures by mistake.
Incorrect naming of your pictures
Whenever you don't give proper naming to your pictures, know that there are high chances for them to fall in the accidentally deleted pictures arena. It is ideal to save your photos in the corresponding folders or give the correct naming that are easy to identify with.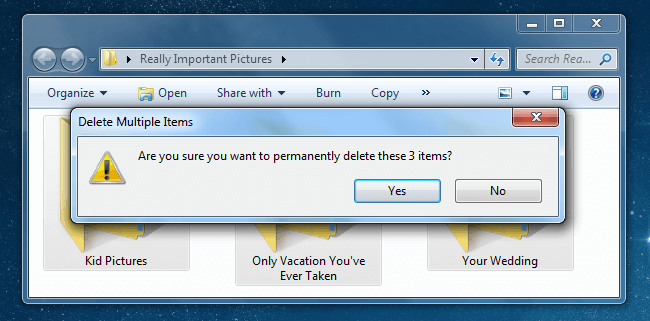 Part 2. Where Exactly Do Deleted Photos Go?
Before you learn how to get deleted pictures back, it is important to know exactly where these deleted photos go. This however depends with the device type at hand.
This is an icon on your computer that holds all the deleted items. At times, your deleted photos may end up at the trashcan. To confirm, just double click on the recycle bin icon from the computer's screen. Once you confirm your photos, click on the image to restore back to the former location.
They get lost due to virus attack
Virus can also eat up your files, photos inclusive. Whenever a virus attacks your device, there is a high possibility that you will lose some data. This state is however reversible with various anti-virus installation or using a third party software to undelete photos.
They are hidden within your device.
Whenever photos get deleted, they are not permanently removed from your device but are rather hidden within. The reason for you not being able to instantly view them is that they create a vacuum from the previously occupied space. The best remedy is to avoid saving any more data until you do a recovery. This is to prevent the current data taking up that space, which may lead to a total deletion of your photos.
Part 3. Which Is the Recommended Software to Restore Deleted Pictures? - Recoverit (IS)
Whether you are looking for how to recover deleted photos from gallery or ways to get files from an SD card that is corrupted, Recoverit (IS) has the potential to sort you out. This tool is actually a lifesaver that can recover up to 1000 data types from both internal and external drives.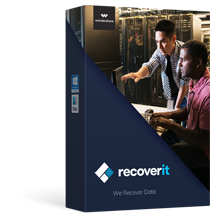 A Life Saver to Solve Your Data Loss Problems!
iSkysoft lets you retrieve deleted pictures from any type of storage device. These include pen drive, video player, SD card, camera, phone and much more.
This tool also acts fast regardless of the data loss scenario. It can do recycle bin recovery, lost partition recovery, system crash data recovery among other situations.
No matter the file type that you need to recover, ranging from videos, documents, music, emails and more so photos, this is the tool to use. Out of the 1000 and above files that you may have lost, this professional recovery tool is ready to bring them back.
It is also compatible with many versions like Windows 10/Vista/XP/ Mac OS, and Android operating systems.

2,965,271 people have downloaded it
Part 4. How to Recover Deleted Pictures Using iSkysoft Data Recover
Step 1. Launch the program
Start the process by installing and launching the program. 
Step 2. Scan your disk
Choose from which disk you need to retrieve your photos then click on the 'Start' button at the bottom of the screen.
Step 3. Preview and Recover
The scan result should foreshow all the recoverable photos. Use the preview option to select the photos you need to restore back then click on the 'Recover' button to return deleted photos.
Part 5. How to Avoid a Repeat of Similar Situations of Accidental Photo Deletion?
Even though accidental deletion of data is a common phenomenon, you can still take precaution to avoid losing data in such a manner.
It is advisable not to factory reset your device as this may lead to deletion of your photos.
Save your photos with the correct identifiable name or in a marked folder to avoid mistakenly deleting them.
Back up your photos to iCloud, iTunes and other account where you can salvage your photos when the need arise.
The Bottom Line
Despite the fact that it is possible to restore deleted pictures, it is also vital to take the necessary precautions when trying to retrieve such photos. Remember not to save any further files until all the previous photos have been restored. Nonetheless, you can use Recoverit (IS) to get back your lost photos from any situation.