Mp4 is one of the most common video formats, because it is compatible with most video players. Like other files, MP4 files may also be damaged. If there is no backup, it may cause more serious consequences. The question is how to fix corrupted mp4 files?
There are different ways to fix these types of issues. If you encounter such a situation, you can refer to the causes and solutions of MP4 file damage mentioned below, and you can also learn some techniques to avoid such problems again. In this article, we will help you fix corrupted MP4 videos in an all-round way.
Part 1: Possible Reasons Caused MP4 Video Corrupted
There are many possible reasons for MP4 damage including physical damage, intangible media and other reasons. Just like other video files, if you have not handled MP4 files properly, then you may encounter several types of errors. MP4 file end error is an error that occurs when playing these video files. The error prevented the file from being played to all media players. Most errors in MP4 files will occur when they are damaged or corrupted. But no need to worry, because you can repair damaged MP4 files by using a professional video repair tool.
If the title part of the media player is damaged due to a sudden system shutdown or improper termination of the media player, errors may occur when playing MP4 files.
When an interruption occurs when downloading an MP4 file or the file is transferred to another storage device, it may be damaged and display an error.
It can also happen due to different types of system errors.
When editing a file, it must redefine the internal structure of the file to incorporate the changes. During these operations, any unexpected circumstances may lead to failures, resulting in file problems related to poor structure or missing information.
Fatal virus or malware attacks on MP4 video files can also damage its file system and cause different types of errors such as file endings.
In addition to these factors, there are some other reasons that cause corruption in MP4 video files to throw errors. But as mentioned above, you can use a video repair software to fix corrupted videos. This is the best and easiest way to fix these types of issues and problems without learning any professional technical knowledge.
Part 2: Fix Corrupted MP4 Video with Recoverit
MP4 provides high-quality and highly compressed digital video. If you encounter MP4 file corruption, it is best to use a professional repair tool immediately. The original video repair function of Recoverit is the best application to fix corrupted mp4, and other types of videos. It can help you repair mp4 files damaged under common reasons: format change, file header damage, improper system shutdown, file reading and writing Errors, virus attacks, incorrect downloads and compression issues, etc. Its interface is simple and easy to operate. In addition to the regular repair function, it has also developed an advanced repair function, which can cover a variety of MP4 video damage scenes.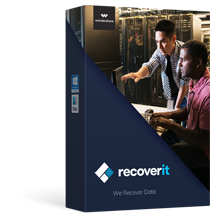 Repairing Corrupted Video with Any Levels of Corruption
Fixing All Kinds of Issues: Provides a perfect environment to fix damaged videos with all kinds of corruption issues.
Variant Modes: The application provides its users with different scenarios (Quick and Advanced Repair) over fixing videos.
Impressive Recovery: Recoverit evolves out of many strenuous recovery conditions where it repairs videos damaged through malware and faulty applications.
Supports all kinds of Formats: Recoverit supports all kinds of videos recorded from any device with any extension.
Supports all kinds of Devices:Recoverit supports to fix corrupted videos from all kinds of devices, including camera, SD card, hard drive, USB drive, etc.

2,965,271 people have downloaded it
Step 1.

Download Recoverit on your PC/Mac and choose Corrupted Video Repair, then click Add Video.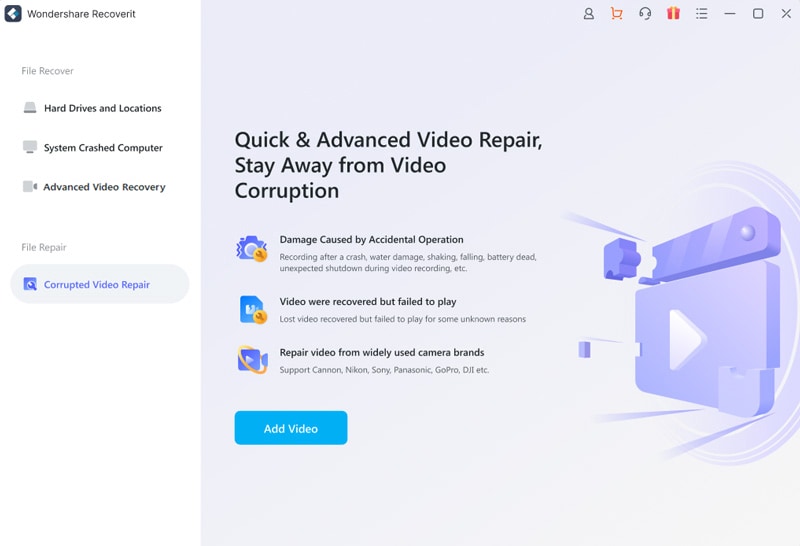 Step 2.

Add the damaged video to the software and click Repair.

After adding the damaged video, you can see the file name, storage path, storage size, video duration, resolution, and shooting equipment of the damaged video on the software page.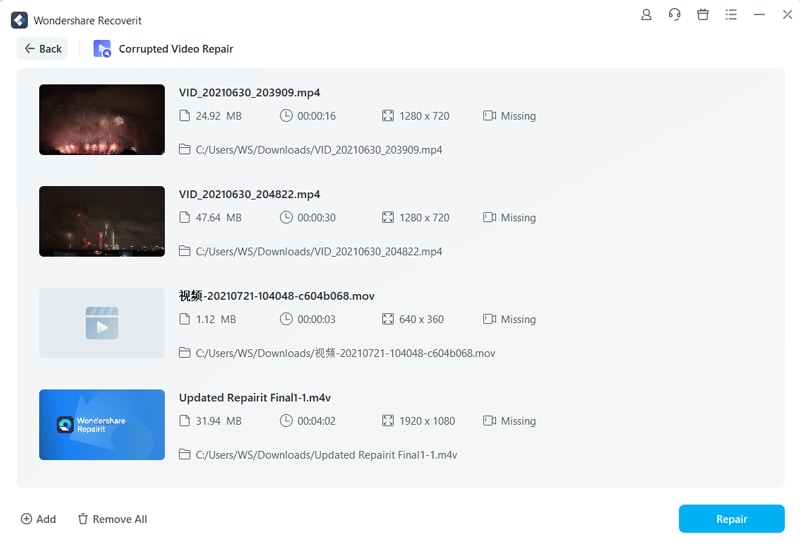 Step 3.

Preview the repaired video and choose Save.

After the video repair process finishes, you can preview the repaired video to check its quality, and click Save if you are satisfied with the video quality.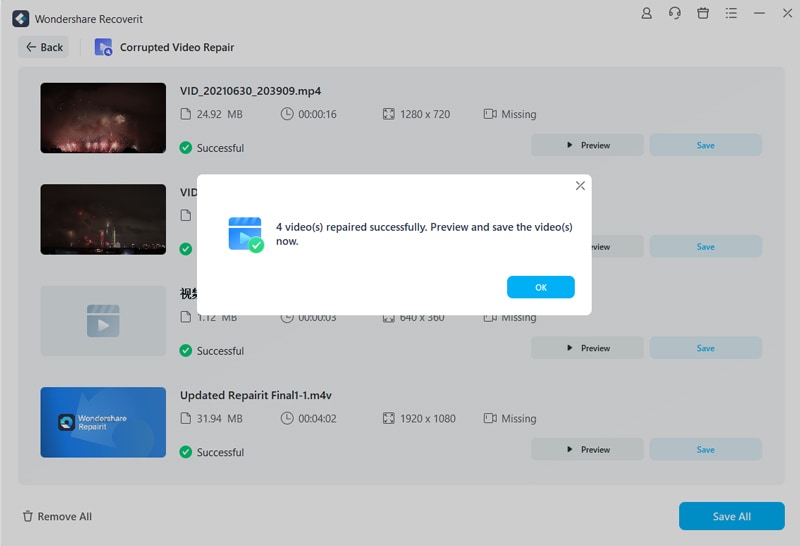 But if you are not satisfied with the video quality, you can choose Advanced Repair function to make a more professional video epair process.
Step 4.

Add sample video to repair.

You need to add a sample video that has the same formats and created by the same device as your corrupted video.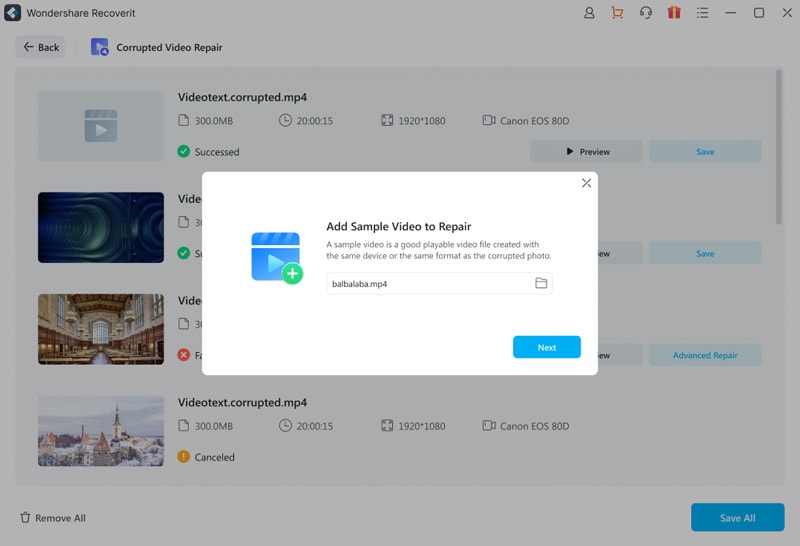 Now confirm the information of the sample video and the damaged video and click on repair to continue the process. After the process completes, you can have good quality videos.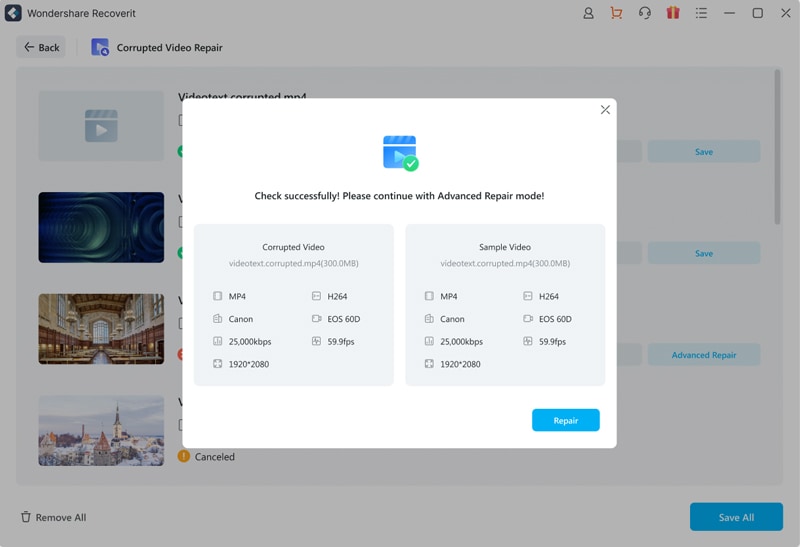 One thing should be kept in mind that once the video is damaged during the editing process, and the player and incompatibility issues are ruled out, you should immediately use a professional tool like Recoverit to repair it, and find and solve it early. As a dual-function software, Recoverit can help restore video files deleted by mistake on the disk. As a qualified video content producer, the best way to prevent such risks is to maintain the habit of backing up. It is the safest to prevent problems before they occur.
Part 3: Other Video Repair Tools for Corrupted MP4 Videos
Video is one of the most valuable ways to store success or special moments. Shooting videos is no longer limited to your passion, but a interesting profession to attract users during this pandemic. Regardless of the device used to capture the video, when the video is damaged, with the help of a reliable video repair software, you can easily and easily repair damaged video.
Repairit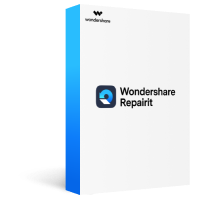 Repair almost all levels of video corruption issues (blurry, flicker, choppy, no sound, sluggish display, display stuck, etc.).
Support to Repair Videos on the mainstream video devices ( Canon, Nikon, Sony, GoPro, DJI,etc. or mobile phone).
Repair corrupted/unplayable/unaccessible videos of various formats (MOV, MP4, M2TS, MKV, MTS, 3GP, AVI, FLV, MXF, and M4V).
Advanced Repair can repair badly damaged videos with high success rate.
Step 1.

Download Repairit on your PC/Mac and choose Video Repair, then add the corrupted video.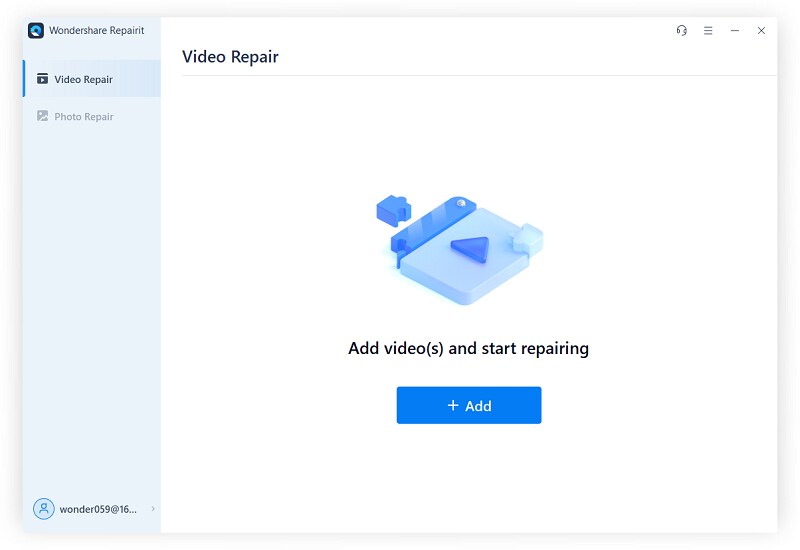 Step 2.

Check the information of the corrupted video and click Repair.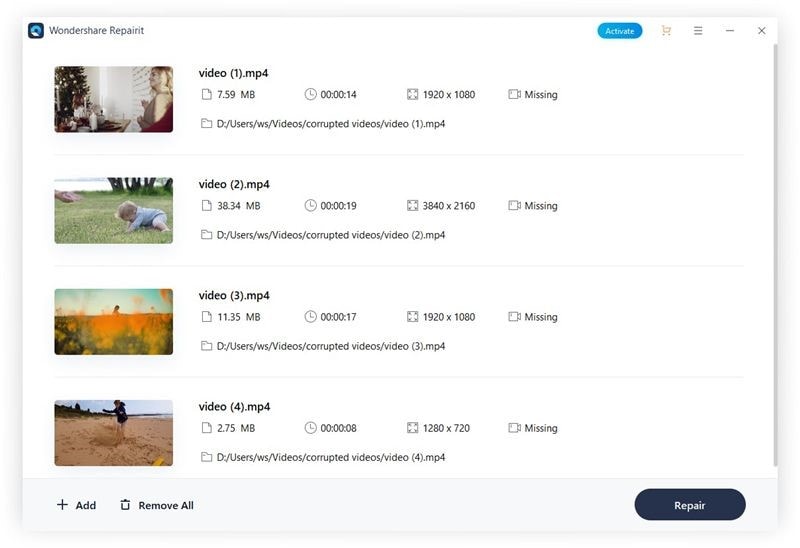 Step 3.

Repair the video, then preview and save it.

After the video repairing process finishes, you can preview the video quality and decide whether save it or not.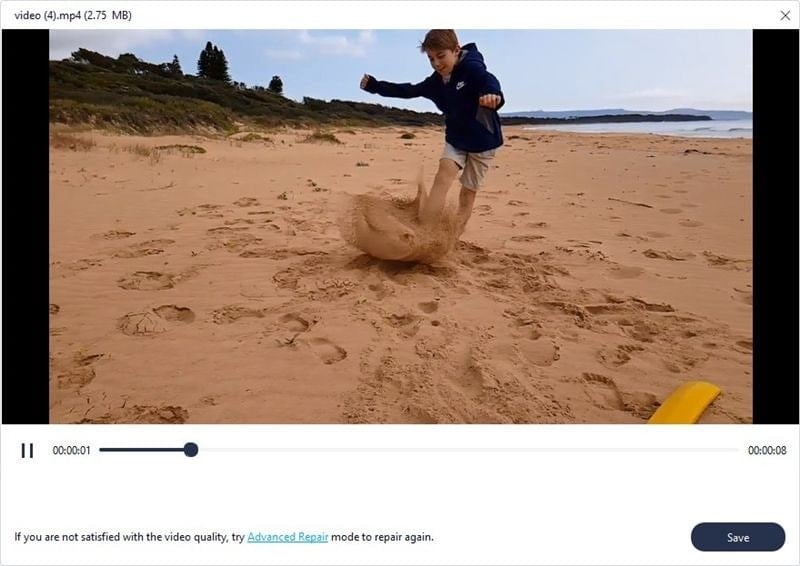 If you are satisfied with the video quality, you can select a path to save the video.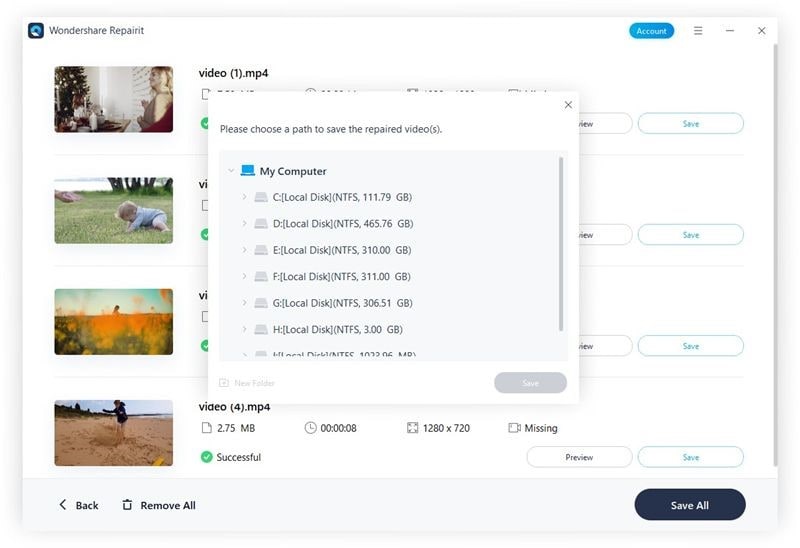 If you are not satisfied with the video quality, Advanced Repair will help you!
Step 4.

Add sample video to make advanced video repair.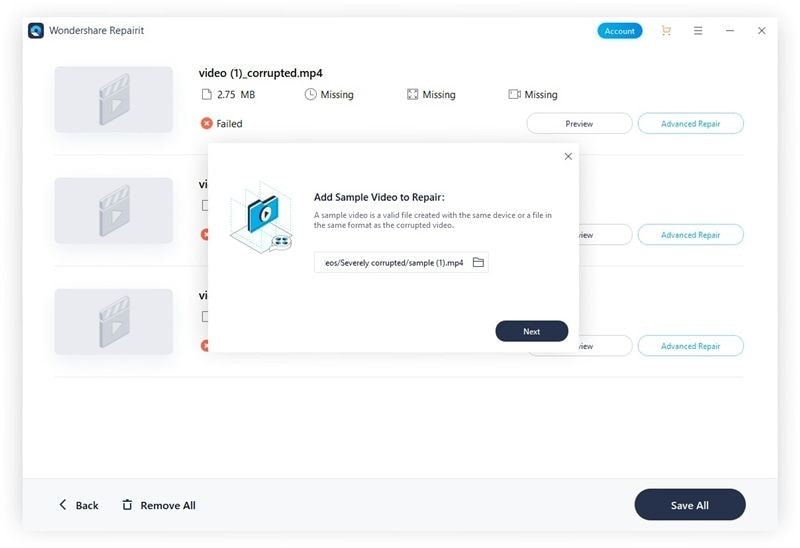 Then Repairit will check if your sample video has the same basic information as your corrupted video, then click Repair.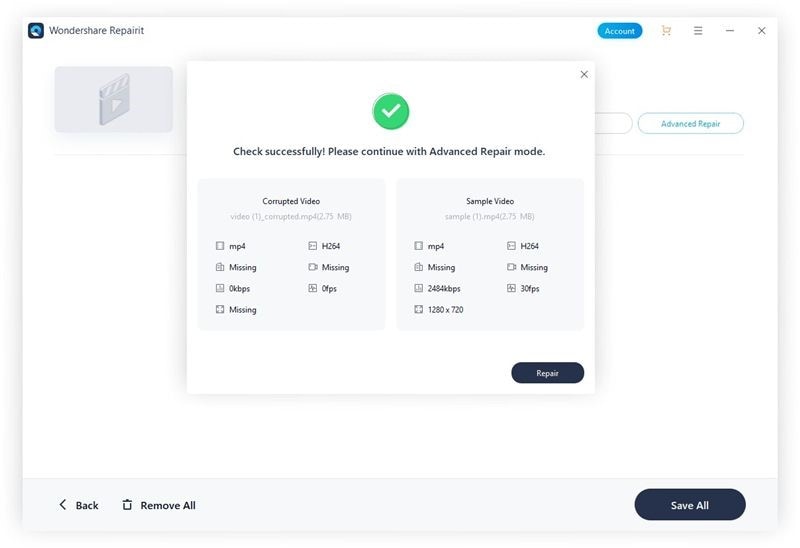 Step 5.

Preview and selct a path to save the repaired video.

After the advanced repairing process finishes, you can preview the video,click Save and choose a path to download the video.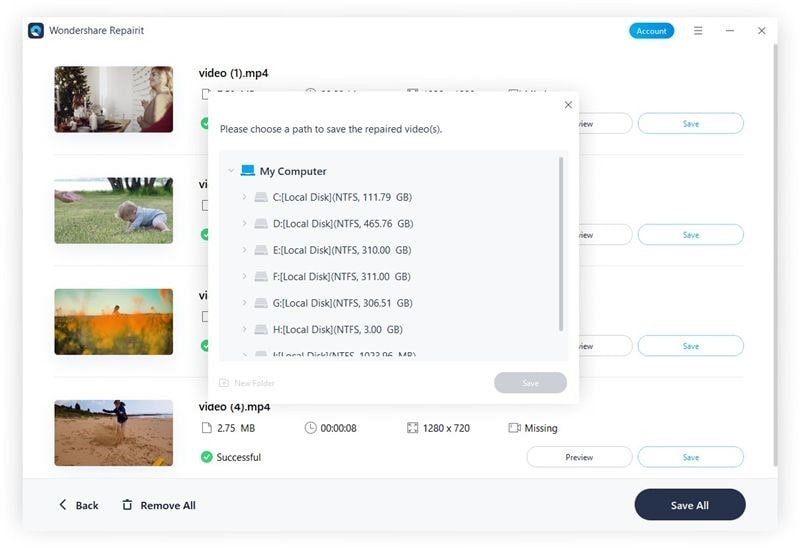 Kernel
It is an available tool to repair corrupted mp4 videos and other types of videos. You can easily repair damaged videos within few seconds with this tool. You can repair more than one video at the same time.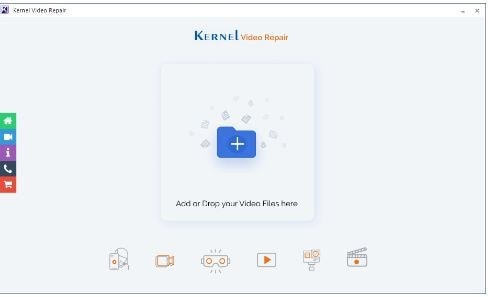 We can repair and save multiple video files with this tool. It is compatible with all types of windows and operating systems. You can repair mp4, MPEG, FLV, and other types of videos with this tool.
VLC Player
VLC video player has an automatic system for repairing damaged mp4 format videos. First need to perform format conversion, VLC player also provides format conversion options. The following are the detailed steps of how to use the player to repair MP4 files.
Step 1.

Open VLC and click on Media, which will open the format conversion tool.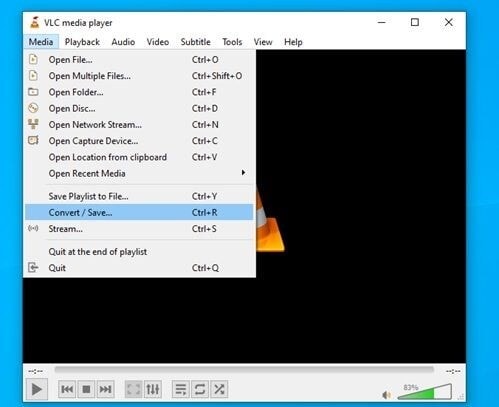 Step 2.

Add a broken video.

Here you can choose to add the damaged file to be converted to ".AVI", and click Convert/Save after adding the file.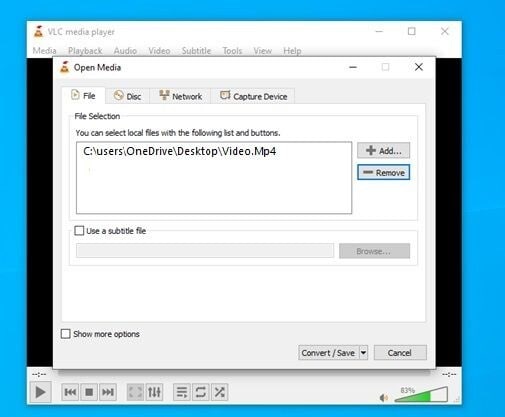 Step 3.

Choose settings.

Choose a codec and set a position for the video, then click Start.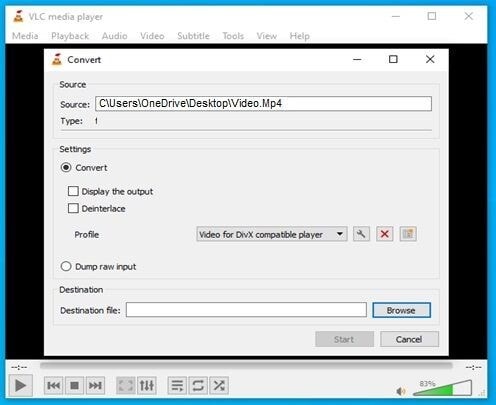 Step 4.

Open VLC and click "Preferences", you can find the preference options in the drop-down menu of "Tools" or press Ctrl + P.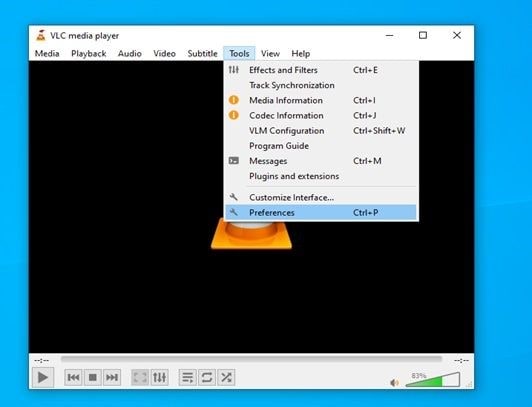 Step 5.

Select "Always Repair" in the "Corrupt or Incomplete AVI File" option. This option is located in the input/codec section. After selecting the "Always Repair" option, click "Save".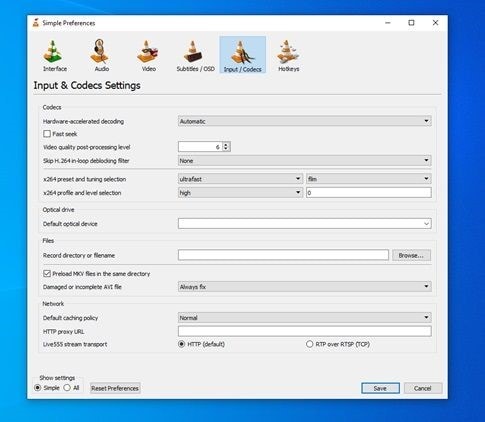 In this way, we can use VLC player to repair corrupted mp4 video.
Part 4. How to Avoid Video Corruption?
Sometimes we have to face a problem regarding mp4 videos. We can keep videos safe by following the given tips.
Use antivirus
Antivirus is the best option to keep videos safe. If you have installed an up to date antivirus on your pc, your videos will never be corrupted. Run the antivirus regularly to keep your data secure from viruses.
Transfer videos properly
It is very important to transfer data from one device to another in the professional way. Try to transfer videos without any interruption. Always remove the external device after process completion.
Carefully insert external devices
Generally, external devices cause different types of problems including virus and data corruption. We should scan the external device thoroughly before using it. Furthermore, we should eject the device after completion of data transfer.
Save videos on cloud servers
You should also use cloud storage services to save your videos in a safe way. You can access your data without any restrictions of location by using cloud servers. You should keep a backup of your videos on a cloud server.