"I formatted my hard disk by mistake and do not know how I can get my data back." This guide will show you how to recover data after you have formatted your hard disk.
- a question from Quora
There is nothing as devastating as formatting your hard disk by mistake. Most people panic and imagine that all their data, collected over a long period of time, is lost. Obviously, formatting your hard disk is a critical event, but as long as you have not overwritten the disk with more data, the files can still be retrieved.
This is a fact that most users are not aware of. Once you realize that you have formatted your hard disk, do not add any data on it; get one of the data recovery after format tools listed in this guide and get all your data back.

Tips: Reasons Why People Format Hard Drive/Partition/Device:
There are several reasons why people format their hard disks. Here are some of them:
Need to install new operating system (Mac from Windows or Windows from Mac). Also others such as Linux etc.
Severe virus attack where only formatting can wipe out the virus
Accidental formatting, which is very stressful.
Unrecoverable crashed computer that needs to be restored afresh.
Restoring a computer to default before selling it
Part 1: Can Data Be Recovered after Formatting?
In the past, people thought that formatting a hard disk immediately wipes out the files. Technology has proven that this is not the case. When you delete a file, or format a hard disk, the data and files are still kept on the hard disk, but cannot be accessed by applications on the computer. This is where data recovery tools come in. They can locate these files and recover them for you, so they can be used once more like before.
A word of caution here: When you accidentally delete a file or format a hard disk, you should not add any other file or perform another task. You should immediately go into data recovery. The reason here is that although the files are still kept on the hard disk, they can now be overwritten by other data. So if you save a file after you have deleted another important file, it may overwrite the deleted file and it will be lost forever.
Getting files from a formatted hard disk is easy, as long as you follow the right procedure, starting by using the best data recovery applications available. Read on and get to know more about these fantastic applications.
Part 2: Best Free Format Recovery Software
There are several free data recovery tools available today and we will look at Recoverit (IS), one of the first file recovery tools ever created.
Recoverit (IS) is ideally a Windows file recovery tool and works on all versions of Windows. It is a versatile tool that works well with all file systems including FAT, HFS+ and NTFS. The versatility of Recoverit (IS) is not limited to filing systems since it also recovers any file type that you had saved on the formatted hard disk.
This means that you can recover audio, video, images, documents and much more including 3D design files. This is why we have specifically zeroed in on Recoverit (IS) as the ideal FREE format recovery software.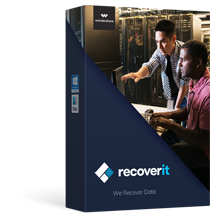 Key features of Recoverit (IS) for Mac
Very quick recovery: Allows you to select the files to recover ad save on time.
Get back 1000+ file types: The tool will recover a wide range of files, and still gives you their previews before recovery.
Flexible recovery tool: recover files from any type of storage device, including USB Flash Drives, SD Cards and External Hard Disks.
Ability to restore crashed computer: If your computer crashes, don't throw it away; you can recover data that would be presumed lost.

3,165,867 people have downloaded it
Part 3: How to Perform Data Recovery after Format - Recoverit (IS)
Most users feel like the ground has fallen put below them when they accidentally format their hard disks. All data that was stored on their computers is presumed to be lost forever. The data may include important personal and work-related files.
Recoverit (IS) will scan the formatted hard disk and find the files so you can restore them on your computer.
Step-by-step guide how to recover lost data from formatted hard disk using Recoverit (IS)
Step 1

Install iSkysoft Data recovery and launch it.

Browse to the official Recoverit (IS) page and download the tool to your computer. Install the application and then launch it to access the home screen.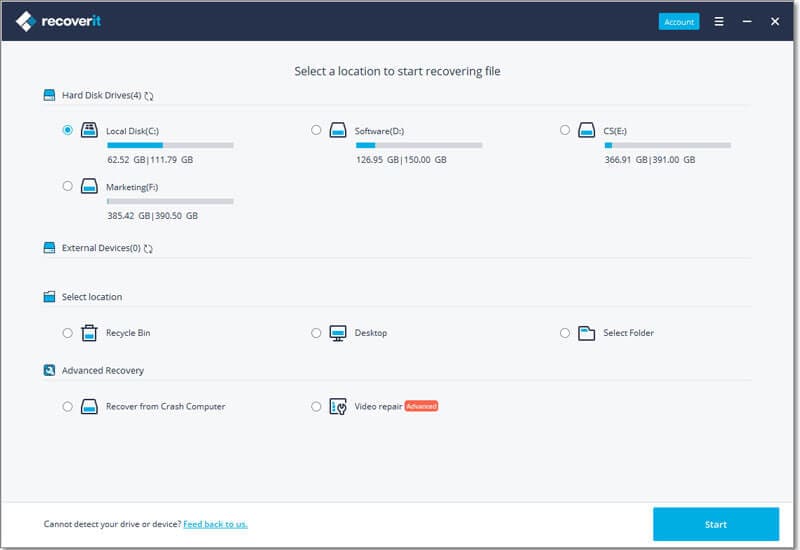 Step 2

Scan for lost files on the formatted hard disk

Select the disk that you formatted. Click on Start so the tool scans the formatted hard disk for lost data, and then give you a preview of the data that it has located.

It is possible to refine the scanning process by using the inbuilt filters and defining selections. You may choose to scan a path that existed on the formatted disk or a particular file type.

You may also stop or pause the scanning process once you have located data that you would like to recover immediately before the scan is complete.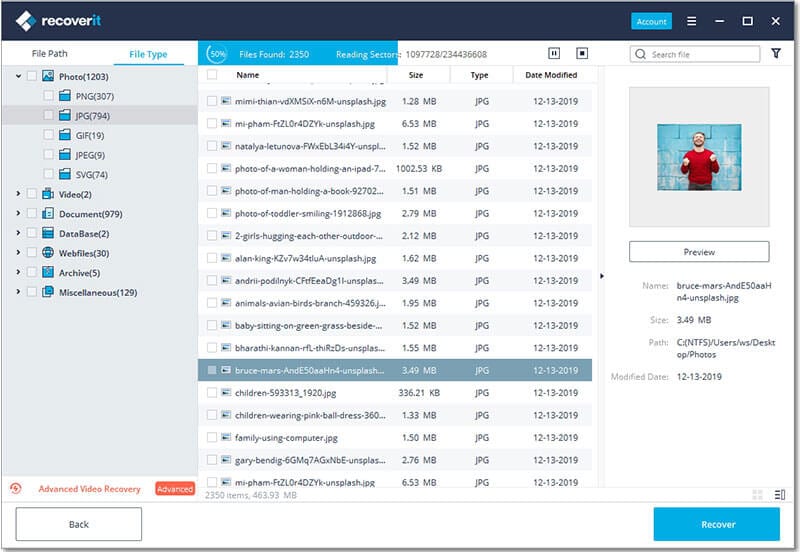 Step 3

Preview and recover files from the formatted hard disk

Once Recoverit (IS) scans and locates files on the formatted hard disk, you can preview and restore the files to another hard disk. There are some inbuilt tips for you to follow in case you cannot preview some of the files. You simply follow the instructions flashing on your screen in order to preview and recover such files.

When you have previewed a file, simply click on "Recover" and your file will be recovered and launched.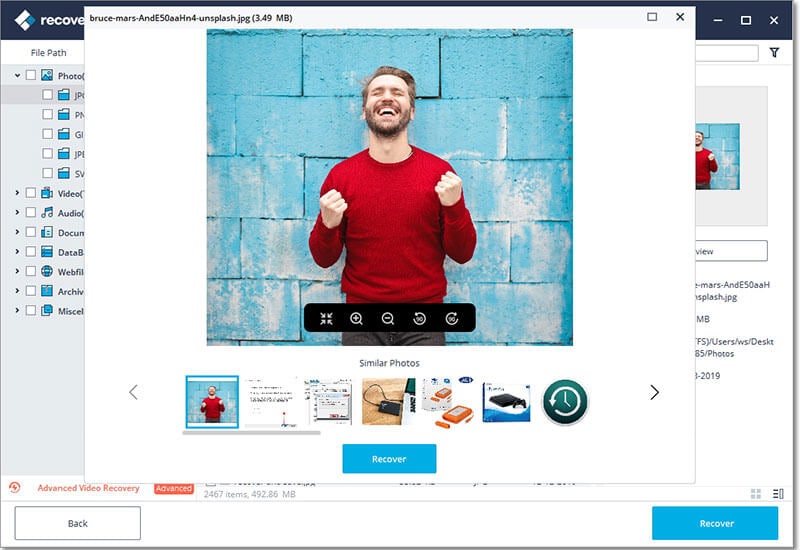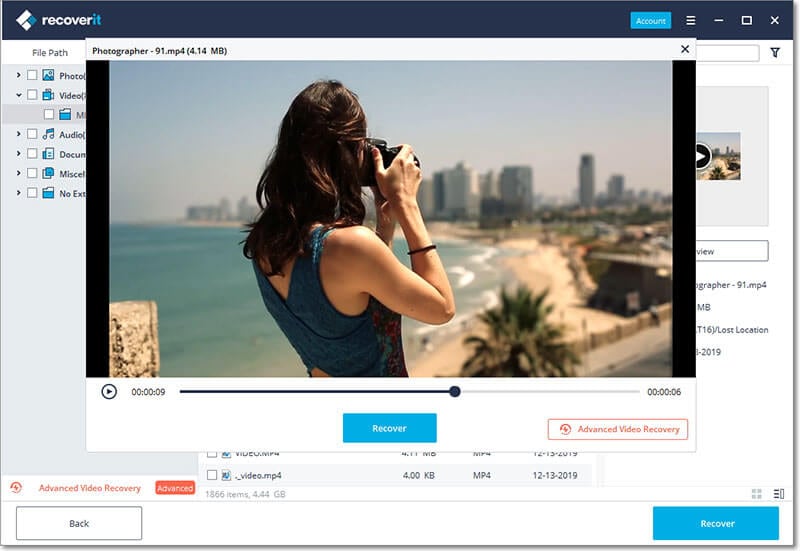 Note: You should not save the recovered data to the formatted hard disk. It is best to use an external hard disk at the moment.
Bottom Line
As you have learned, there are ways in which you can recover data from a formatted hard disk. It is best to use a tool that gives you effectiveness and is easy to use. Recoverit (IS) is a versatile tool that comes with advanced data recovery features and works in three simple steps. The tool also allows you to preview the data to be recovered thereby saving you a lot of time, especially after you have recovered the files that you really need.
Get your own copy of iSkysoft Data recovery now and never have to worry about data loss caused by accidental deletion or formatting of your hard disk.