"I am looking for a free program to recover deleted files from my laptop. I need to get back some important files that I accidentally deleted this morning. Any help out there?"
- a question from Quora
Paid data recovery tools are hugely valuable when you need advanced features, super in-depth scans, and smarter recovery. But for 70% of other tasks, a free alternative to recover deleted file often does the trick. There are hundreds of ways to recover deleted files for free. But let's focus on only the best and most useful alternatives. However, when Widows recovery methods do not offer a do-it-all data recovery solution, one of the best software to recover deleted files can serve you accurately.
Here's the kicker; check out these options that are straight forward yet thorough ways to recover lost files for free on Windows.
Option 1: Recover Deleted Files from Recycle Bin
Deleting a file on Windows doesn`t necessarily mean shredding. As long as you haven't emptied the Recycle Bin, it is easy to restore files. Here are simple steps to successfully restore deleted files from Recycle Bin:
Step 1 Head over to Recycle Bin desktop icon and double click on it.
Step 2 To highlight multiple files, click and hold the Ctrl key while selecting. To highlight a range of files, press and hold Shift key and the direction button to highlight the files of your desire.
Recycle Bin does not show a specific file in a folder. If you couldn't find your file of desire, open the folders to locate it.
Step 3 To identify the previous file location, tap on the file, and check the details at the bottom of the Recycle Bin's Windows for location detail.
Step 4 Right-Click on your highlight and hit the "Restore" button. A more straight forward way to restore your file is to drag it out of the Recycle Bin Window and drop it wherever you choose.
The time taken to restore files with Recycle Bin depends on the ease to identify a file of your desire, the number of the files, and their sizes. Otherwise, it is a matter of minutes.
Step 5 Check if the files you restored are on the location you noted in step 3, or where you dragged them. After confirmation of your recovery, exit the Recycle Bin.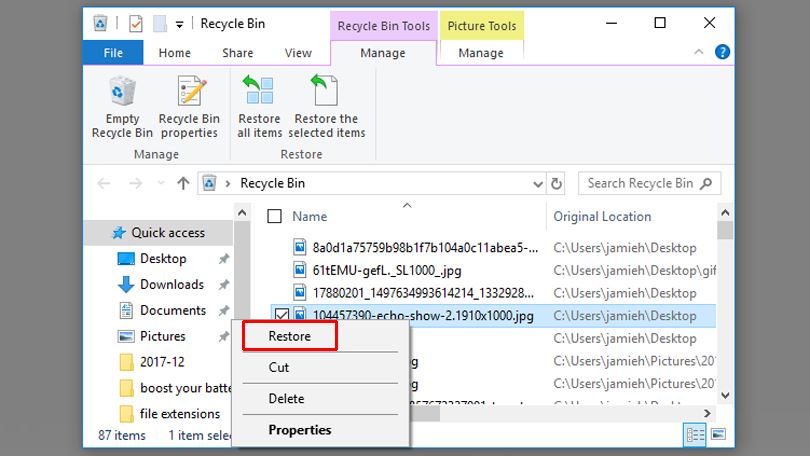 Suppose you emptied the Recycle Bin, Windows provides no way to restore your files. But that doesn't mean you can't get your data back, with a proven all-in-one program to recover deleted files, you can crawl your computer to retrieve your data. Check on Option 4.
Option 2: Restore Older Version of the Deleted files
Get back accidentally modified and recover deleted files freeware, by restoring it to the previous version from Windows backup.
Windows automatically saves copies of files, folders, and apps as part of a restore point. With regards to the file or folder type, restore to an older version, open it, and save it on a different location.
Step 1 Right click on the file and then click on the "Restore Previous Versions" option. This will unlock a list of recoverable older versions of the file.
For a file in the library, trace the original location before you right-clicking o it.
Step 2 Select the correct previous version and click "Open" to ensure it is the version you need. You cannot write or copy files created by Windows backup; you can only restore them.
Step 3 After selecting one of the older version, click "Restore" to return your file to the previous version.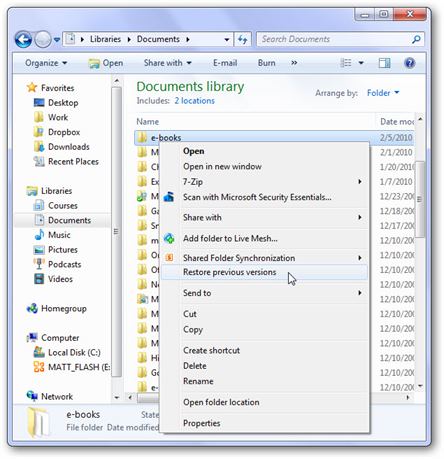 The file that you restore replaces the current version of your file on your computer, and the action is irreversible.
Option 3: Recover Deleted/lost Files from Backup
Leverage the most powerful, most accurate, and the best Windows-available way to recover deleted files free via backup. To retrieve a file from a backup, make sure the storage media with your backup is available and follow the simple step-step guide below:
Step 1 Head over to the Start button, key-in "Control Panel" in the search box, then select "System and Security" and select "Backup and Restore" option from the resulting list.
Step 2 Click on "Restore My Files" button.
Step 3 Clicking "Restore My Files" opens a dialog box. On the dialog box, identify and select the files you want to restore.
If you're not finding the file you desire to recover, head over to "Choose a Different Date Link" option and select "All" from the "Show Backup From" drop-down list and pick another backup.
Step 4 Choose the destination of the restored data. You have the option to restore them on their original location or a new destination.
Step 5 Click on "View Restore Files". Clicking in this option opens the data you've restored.
Step 6 Click Finish to Close the Dialog box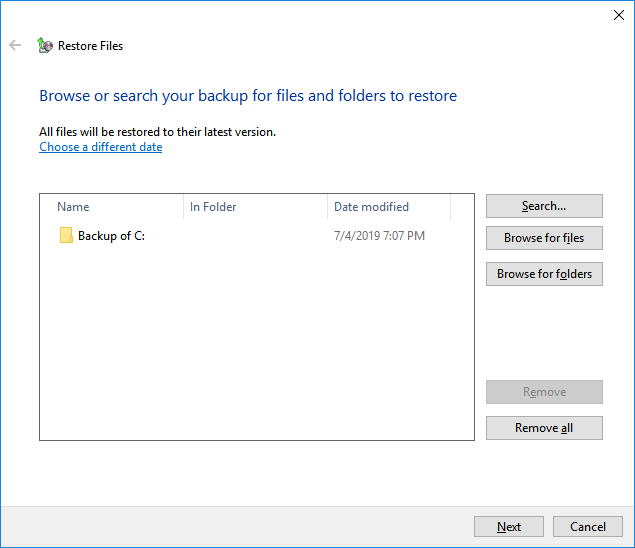 Option 4: Recover Deleted Files with Data Recovery Software
Let's say you didn't set a recovery point on your window, and you've permanent-deleted your data mistakenly or emptied your Recycle Bin only to reconsider that the file you've deleted is still essential. It is easy to feel that your data is permanently lost.
But here is the thing:
With a suitable application to recover deleted files, you can improve your data back regardless of the way you've lost your data. There are hundreds of free software to recover data out there. But let`s focus on only the best and most useful way to retrieve deleted files. To be considered as one of the best software to retrieve deleted files, the tool meets three requirements:
Do-it-all data recovery solution
Reliable efficiency
Cost-effective
Best Deleted File Recovery Software Free Download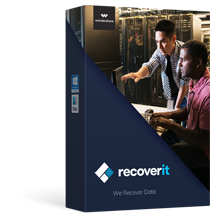 Recoverit (IS) Feature List
Recoverit (IS) presents all-in-one data recovery toolset, excellently-knitted with powerful utilities to offer an outstanding family of data recovery solution for every need.
It encompasses an all-round data recovery mechanism that executes a super in-depth scan and recovers any type of data loss These include lost disk partition recovery, external disk recovery, virus attack, or system crash recovery.
Use it to recover hundreds of file type—nearly all file format ranging from email, graphics, web pages, videos, document, photos, audios, etc.
This tool also lets you recover data lost from any storage device such as hard drives, SSD, RAID, USB drive, Micro SD Card, pen drive, camera, zip drive, among others
You can as well retrieve your data even when your computer is not starting via the WinPE.
Quickly recover your data with the powerful yet friendly user interface in very few steps.

3,165,867 people have downloaded it
User Guide
The software utilizes a 3-steps procedure to recover lost data.
Step 1

Download and Launch the Recoverit (IS) App

It is essential you install the data recovery software on a separate partition from that you want to recover data from. After installation, click "Start Now" to get started.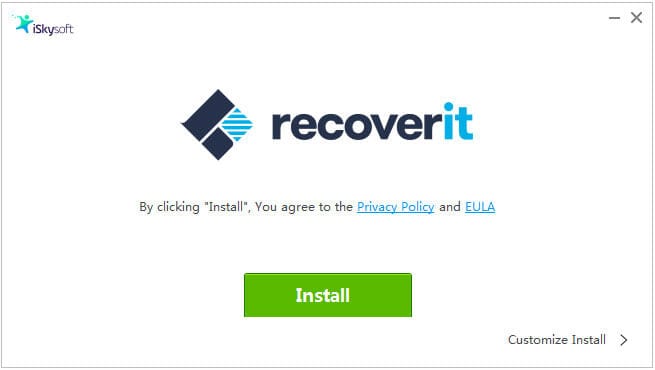 Step 2

Select the partition containing the lost data and scan

On the homepage of the application, select the partition to scan for your lost data.

After selecting a partition, click the "Start" button at the bottom end to execute a scan. The software then will present you a preview of the files it was able to identify. You can use the filters available to refine the scan results.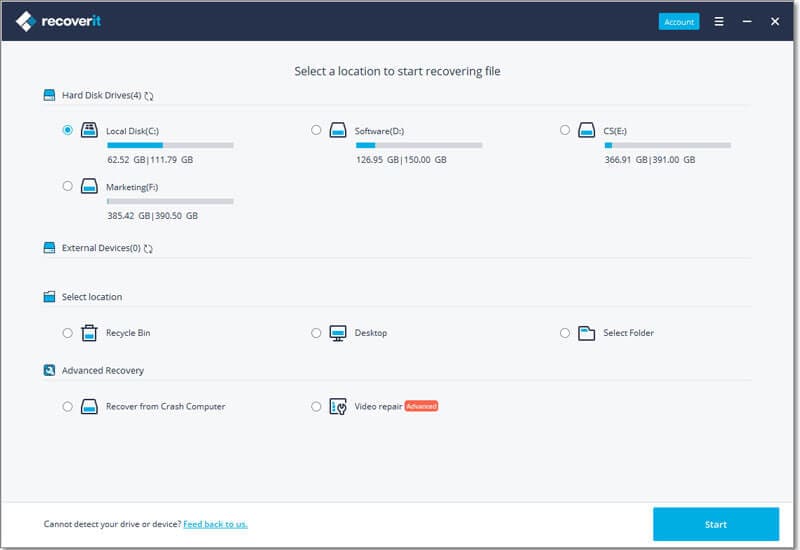 Step 3

Preview and Recover

The outstanding feature of iSkysoft is the ability to preview the lost data before choosing to recover it. Click "Recover" button if you desire to retrieve your preview.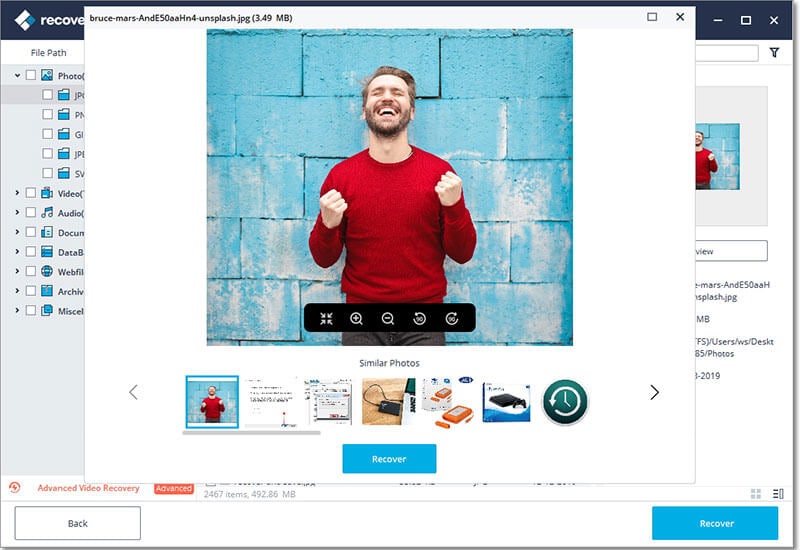 Note: It is crucial you do not save your recovered data to the partition or storage device where it was lost in the first place to prevent overwriting your data.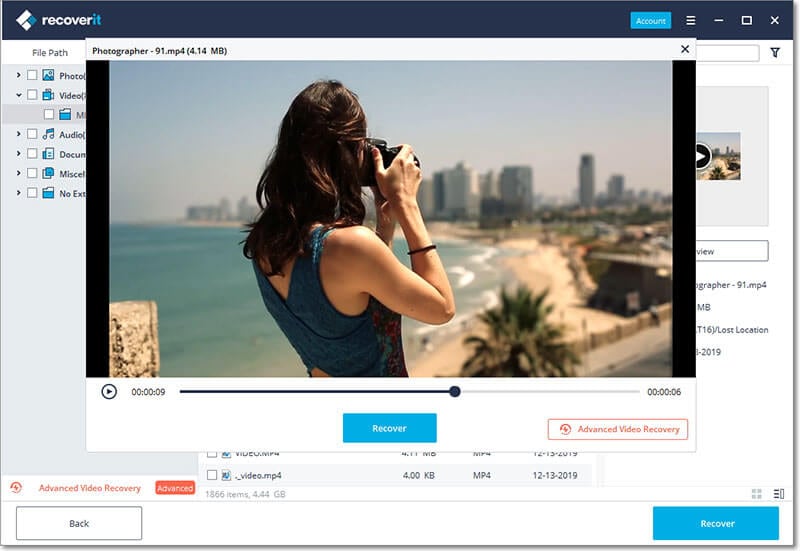 Bottom Line
On Windows, you've several alternatives to recover lost files for free. However, there isn't any Windows-provided way to cater to every type of data loss, like emptying the Recycle Bin. And that's where software to undelete deleted files comes handy. A tool like Recoverit (IS) is non-oppressive and recovers every kind of data loss, regardless of the type of storage medium. If you're looking for all-in-one data recovery solution, then look no further than the best deleted data recovery software free download.