"Is Ontrack Easy Recovery solution legit? I have lost some of my important data and not sure whether Ontrack Recovery would be worth a try or not."
- a question from Quora
A friend of mine recently asked me this question about Ontrack data recovery software, which made me realize that a lot of people are not aware of this solution. Ideally, Ontrack data recovery by Kroll is one of the most popular data recovery applications out there. The firm is known to provide data recovery solutions since 1985 with Ontrack Easy Recovery as its flagship product. But is Ontrack Data Recovery able to keep up with the changing times in technology? Read on as this in-depth review of Ontrack Recovery will answer every related query of yours about this tool.

Part 1: Ontrack Data Recovery Overview
Without much ado, let's dive into the details and get to know more about the features and working of Kroll Ontrack data recovery.
1.1 What is Ontrack Data Recovery?
Ontrack Easy Recovery is a DIY data recovery solution that is developed by Kroll. The tool is available for both Windows and Mac, with reliable data recovery features. Ontrack provides dedicated solutions to recover, repair, erase, and manage all kinds of content. Its data recovery tool is a flagship product that is available in different options. Users can try its free version or get a paid home, professional, or technician version as well.
1.2 Ontrack Data Recovery Features
Following are some of the major features of Ontrack Data Recovery that will help you understand its working in detail.
Kroll Ontrack data recovery can extract the lost or inaccessible content from numerous sources like hard drives, USB drives, multimedia devices, and even RAID systems.


Users can select a particular partition or volume of their system from where they have suffered the loss of data.


The application can recover accidentally deleted, formatted, corrupt, or incomplete data in numerous ways.


Even if the volume or the data source is corrupted or damaged, Ontrack Recovery can yield positive results.


It can recover almost every major kind of photos, videos, documents, and other prominent file types.


There are different versions of the application provided with solutions for every major file system like HFS+, exFAT, FAT32, and NTFS.
1.3 Ontrack Data Recovery Pros & Cons
If you are not sure whether Kroll Ontrack Data Recovery is right for you, then have a look at its advantages and limitations
Pros:
It can recover the lost or inaccessible data even from a damaged or corrupted storage.
The time taken to scan a source is relatively lesser than other popular data recovery tools.
It can also recover data from an external source like a USB drive or an optical disk.
The tool also supports data recovery on RAID systems too.
A free trial version of the tool is also available that can recover up to 1 GB of data.
Cons:
The data recovery success rate of the tool is not as high as other solutions and might not meet your requirements.
Overall, the interface is a bit complicated and the first-time users might find it hard to recover their data.
Most of the useful features are only available for premium subscription users only. The professional version of the tool is a bit expensive as well.
Since there is no option to create bootable media using Ontrack data recovery, you can't get back your lost content from a crashed or unresponsive system.
One of the major problems with the tool is that it doesn't provide a prominent preview of the extracted data (like Word files or PDF documents) on its interface. Users need to spend a lot of time searching for the exact files they wish to save.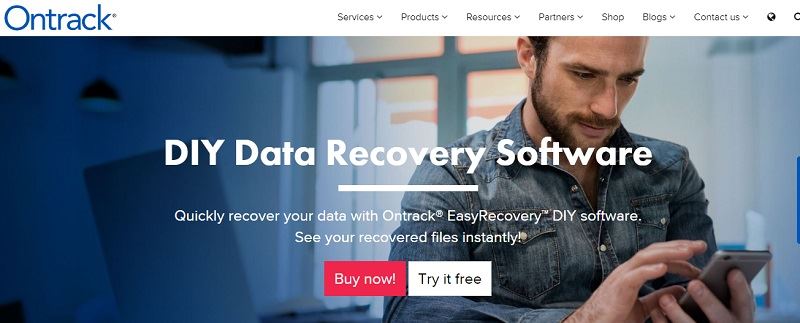 Purchasing and Compatibility:
The Ontrack Easy recovery is compatible with both Mac and Windows PC. If you own a PC, then you can run it on Windows XP, Vista, 7, 8, 8.1, and 10. Mac users can run it on macOS 10.6 and later versions (till macOS 10.14).
If you want to only restore files of total size less than 1 GB, then you can try its free version. For premium features, you can get its Home version for $79. A more advanced, professional version is available for $139 while the Technician version with unlimited features can be bought for $499.
1.4 How Does Ontrack Data Recovery Work
If you want to try Ontrack data recovery software on your Windows or Mac, then consider following these steps. Beforehand, just visit the official website of Kroll Ontrack Data Recovery and install the application on your system.
Step 1

Select a source to scan

Firstly, launch the Ontrack data recovery application on your system as soon as your files are deleted or lost. Now, select from where you have lost your important files. If you have selected an external device (like a pen drive), then make sure it is connected to your system in advance.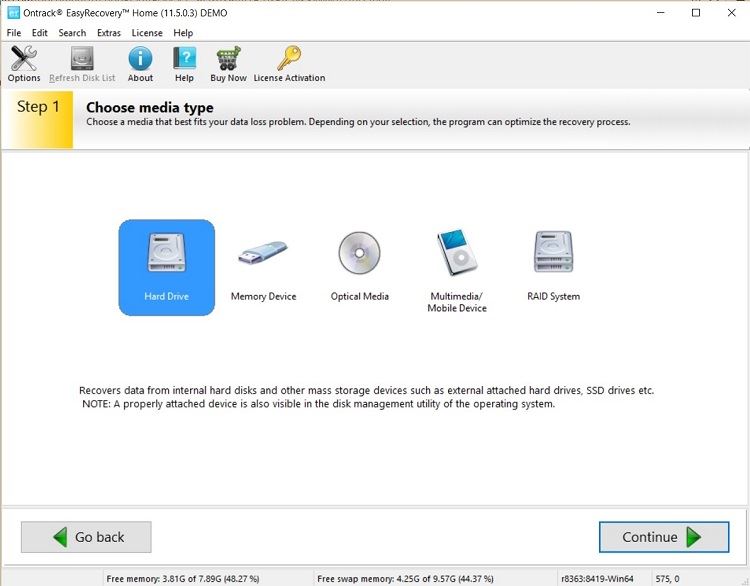 Step 2

Specify a particular location

Once you select a source, the application will further display the available volumes and partitions. You can simply select the exact location to continue the process.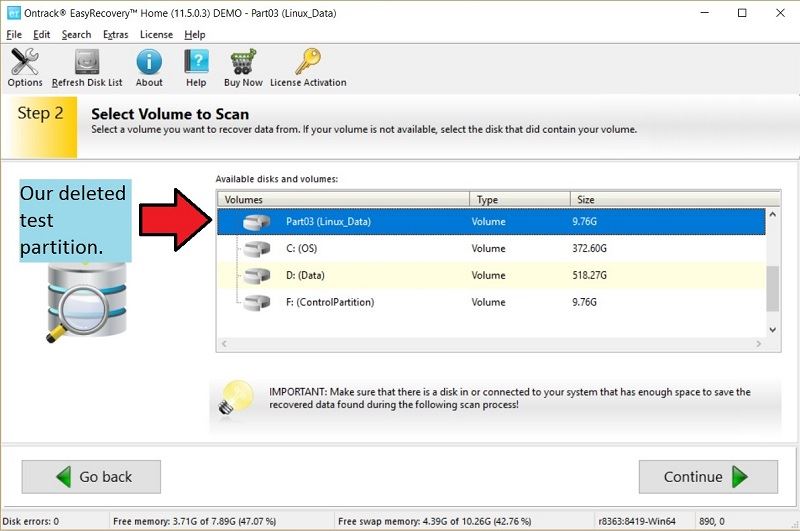 Step 3

Choose a recovery scenario

Furthermore, you need to pick how you have lost your important files from your system – that is, what is the data recovery scenario. For instance, it can be deleted file recovery, formatted media recovery, etc. You can also pick a file system to scan here as well.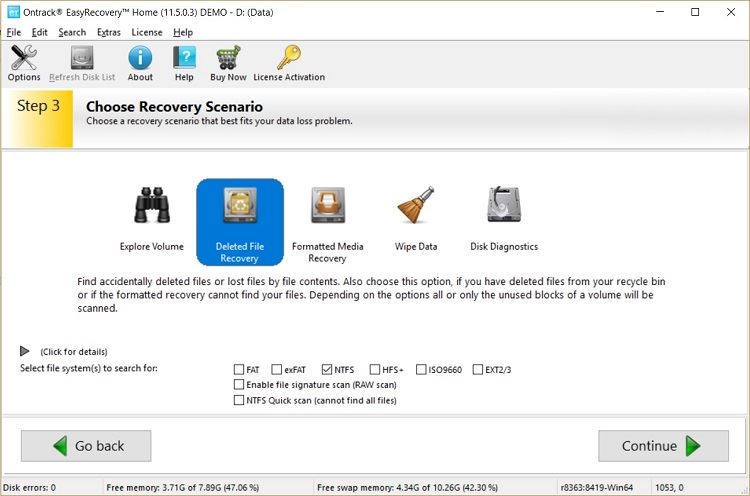 Step 4

Restore your file

Wait for a while as the application would scan the selected location for your lost files. The exact duration would depend on the volume of the storage and the degree of data loss.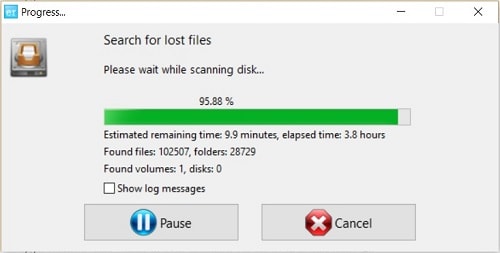 Once it is over, you will be notified and the results would be displayed. Now, you can just select the files of your choice and save the extracted data to a safe location.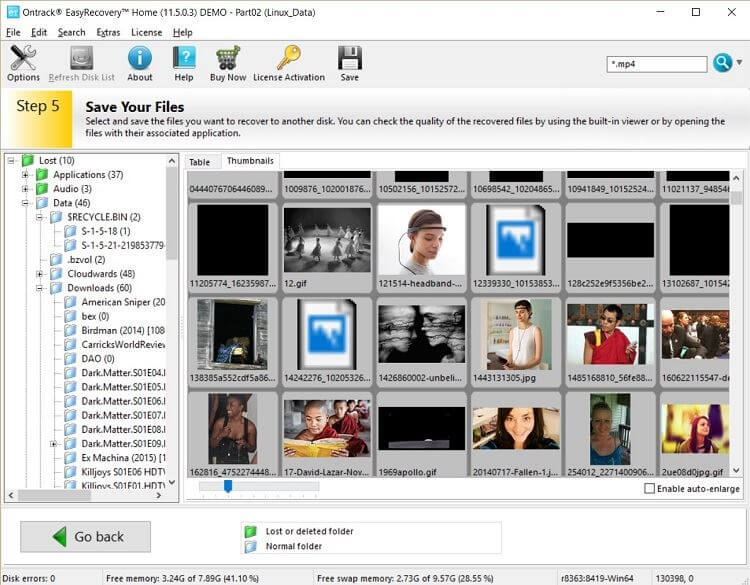 Part 2: Why Look for an Ontrack Data Recovery Alternative?
Although Ontrack Easy Recovery might meet your basic requirements, it can't provide complete data recovery solutions. For instance, you can't use it to create a bootable media to recover data from a crashed system. Also, the tool has a data recovery rate of just 85%, which is a bit low. The interface is pretty complicated and it might confuse new users. To overcome these limitations, users often look for an Ontrack data recovery alternative instead.
Part 3: The Best Ontrack Data Recovery Alternative - Recoverit (IS)
Since Ontrack Data Recovery has so many limitations, users often look for a better option instead. Most of the experts recommend using Recoverit (IS) as it is equipped with so many advanced features and is available for free. The latest version of Recoverit (IS) 5.0 has been released with better features and an intuitive interface. Now, users can easily get back their lost, deleted, or inaccessible content from several sources with just a single click. It supports every major kind of data, file system, and even external devices. This makes Recoverit (IS) a one-stop solution for everything related to data recovery.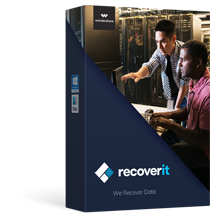 A Life Saver to Solve Your Data Loss Problems!
One solution for all: With Recoverit (IS), you can restore data from the internal drive of your system or any external device.
1000+ data types supported: It supports almost every kind of data. This includes every major extension or data type for photos, videos, audios, documents, emails, compressed files, and so on. Not just that – you can even recover raw content from a source too.
User-friendly intuitive interface: The new Recoverit (IS) 5.0 provides a simple one-click data recovery solution. There is no prior technical knowledge needed to operate this Ontrack recovery alternative.
Advanced data recovery: The application has one of the highest data recovery rates in the industry, making it an obvious choice of experts.
Preview available: Unlike Ontrack Data Recovery, Recoverit (IS) will let you preview the extracted data like photos, videos, documents, etc. on the interface pretty easily. In this way, you can select the respective files you wish to restore.
Premium features: With the Ultimate version of the tool, you can even create a bootable media. This will let you recover your lost data from a crashed computer too.

3,165,867 people have downloaded it
You can easily get back your lost or deleted content under different scenarios using Recoverit (IS) by following these steps.
Step 1

Download and Install the application

If you haven't installed Recoverit (IS) on your computer, then visit its official website and download the installer. Launch the setup file and click on the "Install" button to run it.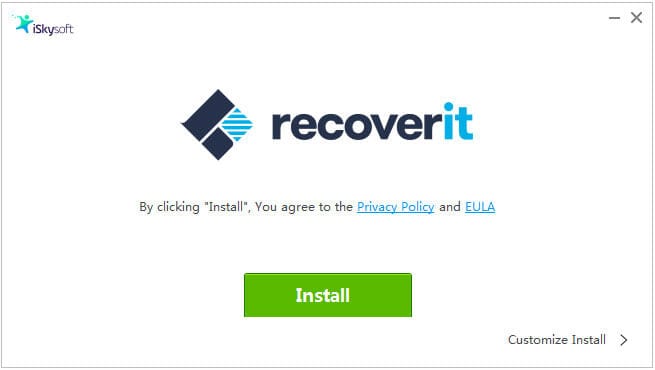 Step 2

Launch the tool and pick a location

Whenever you end up losing your important files, launch the Recoverit (IS) application on your system. On its home, you can view all kinds of available locations like partitions, volumes, folders, etc. Simply select a location or browse to specific folders to scan. You can also attach an external device and pick its location from here as well.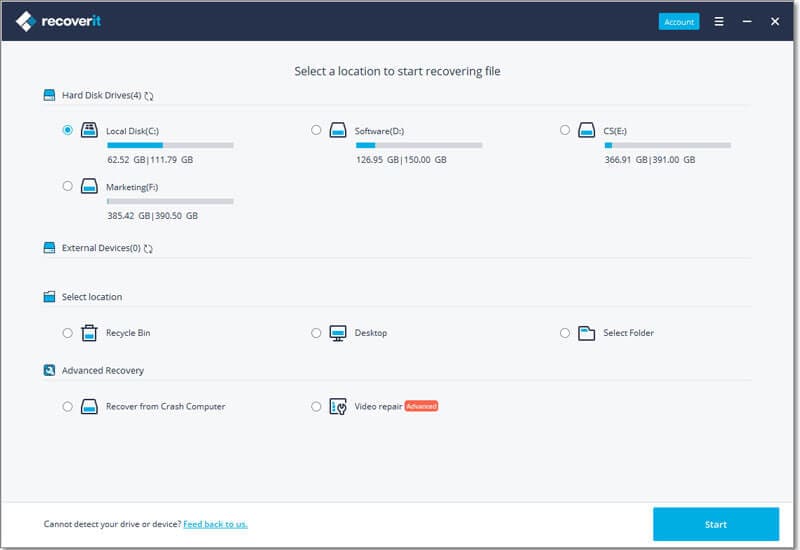 Step 3

Let the application scan the source

Click on the "Start" button and wait for a few minutes as the application would scan the source. You can view its progress from here or even halt it if you want to. Though, it is recommended to let it completely run to get the needed results in the end.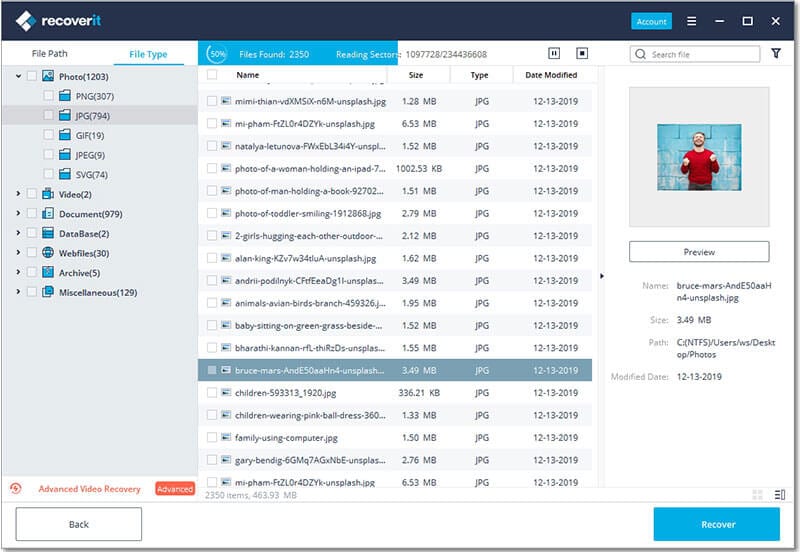 Step 4

Restore your data

That's it! Once the extraction is complete, the application will display all the available content under various categories. You can browse the interface and preview your files here. Subsequently, select the content you wish to get back and click on the "Recover" button. Save it to another trusted location, and not from where it was originally lost.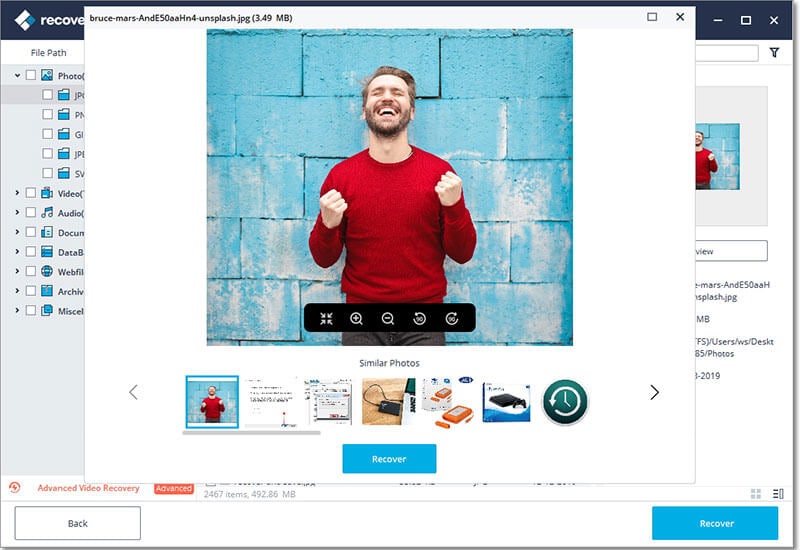 I'm sure that after reading this in-depth review of Ontrack data recovery software, you would be able to know more about its functioning. Apart from listing its major features and pros, we have also included the limitations of Ontrack Easy Recovery as well. To make things easier for you, we have also suggested its best alternative – Recoverit (IS). Go ahead and give this freely available data recovery tool a try and explore it on your own to know more about its advanced features.