"The worst just happened this morning. I've done a hard drive format without backing up my data. How am I going to recover files from formatted hard drive free?"
- a question from Quora
No one can evade such scenarios as they are deemed to happen in a flash of time. In most cases, you only get to realize that your data is gone once you are not able to locate them. This is probably the most difficult situation to be in especially if you are dealing with important data. However, the good news is that your data doesn't immediately disappear. Remember that your computer just erases the information that points to that piece of data. Such data usually remains intact until it gets written over. There are various best free hard drive recovery software that can step in the gap and help you retrieve your lost data. You, however, need to know when your hard drive is yet to die off and ways to prevent further failures. First, let's look at the trigger warnings that your hard drive may be sending your way.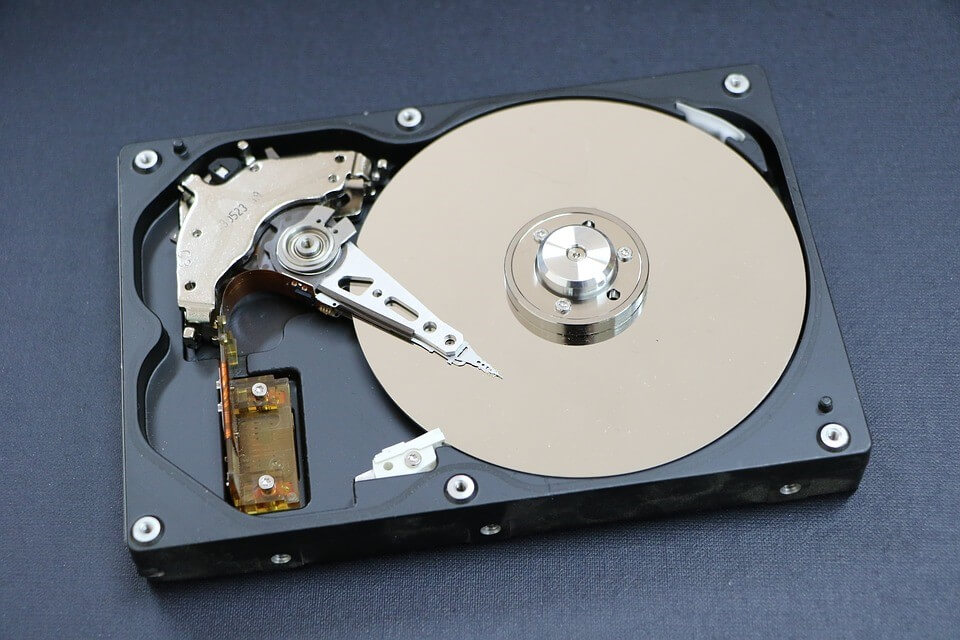 Part 1. Symptoms of Hard Drive Data Loss
Keep in mind that hard drive data loss does not just happen out of the blues. There are pretty sure alarming signs that precede such losses. In an event to prevent extreme data loss cases, it is vital to keep your heads high and detect the slightest change on your machine. These symptoms may just help in making you get prepared in advance and avoid extreme data loss.
There are some times when you may experience whining or clicking noises from your computer. Just know that you should act right because this is a warning sign that something like a crash is about to happen.
Whenever your computer takes too much time to boot, know it is a warning sign. This is probably resulting from hardware failure. Act fast and backup your drive to some external drive before it's too late.
Apparently, this is the most profound symptom anyone can connect with. Whenever viruses invade your files, great havoc is expected. Viruses will eat up files and then end up causing file system corruption and losses.
It is usually termed as 'blue screen of death'; this scenario results to a blank blue screen of your computer. When this happens, it is time to do a quick system repair.
Another tell-tale sign is overheating of the machine. You'll realize that the computer gets heated soon after starting. You can use some coolant to keep the machine at the recommended temperature before it interferes with the hard drive.
Freezing or regular hanging off of the machine is another alarming sign. In most cases, this is usually resolved by doing a hard reboot. It is in such a process that your hard disk may also experience failures leading to data loss.
BIOS failure to detect the hard drive
Electronic failure or power surges may lead to the hard drive not being able to spin up. This mostly happens when the power supply is too low or too high or when an unreliable power source is used.
Part 2. What Is the Likelihood of Recovering Data from Hard Drive?
This is a question that is bound to throng anybody's mind whenever data loss is experienced. Users are more into what is the possibility of recovery more than the ways on how to recover data from hard disk with free software. Whether you already have free software to use or you are still in the process to attain one, know it is possible to recover any type of data from a hard drive.
Here's the kicker; whenever a file is deleted from your computer, its contents are not destroyed but stay intact. The system will only move some pointers, marking the hard drive space as being available for utilization. Point to take home then, is to stop further usage of your hard drive to avoid overwriting the already present data.
Part 3. The Best Way to Recover Files from Hard Drive Free – Recoverit (IS)
The moment you experience a hard drive data loss, you need to act fast and look for free hard drive recovery software to step in. Recoverit (IS) is an advanced tool with the capacity to recover data lost from any scenario. The user interface is friendly, with only 3 steps to recovery.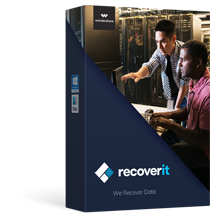 Other features that put Recoverit (IS) at the fore-front include;
Ability to recover data that has been lost from both the internal and external storage devices such as SSD, USB, camera, XD Cards, music players, iMac and much more.
You can use it to recover all file types like archives, videos, images, audio, and other files.
Being an all-in-one data recovery tool, it has the potential to recover data from any loss scenario. These include recycle bin, deleted files recovery, lost partition, and recovery from virus attacks besides many others.
The WinPE is another powerful feature that enables you to access your files without reinstalling windows in the event that there is a system crash.
This tool also reports a high success rate. In the event that a quick scan does not recover all the files you needed, simply do an in-depth scan from the all-round recovery option.

3,165,867 people have downloaded it
User guide
When it comes to matters of data retrieval, you need some patience and hints. More so, in the event that you accidentally format your hard drive, you can get full support from the best formatted hard disk data recovery software free download full version. Let's get it down how to recover files from hard drive using the most recommended tool.
Step 1

Launch the program

The first step is to download the tool and then install it on your computer.
Step 2

Choose scan location

Start Recoverit (IS) and go to the home screen. Select the partition or hard disk where you lost your data and then click on "Start". Wait for a while as Recoverit (IS) scans the disk.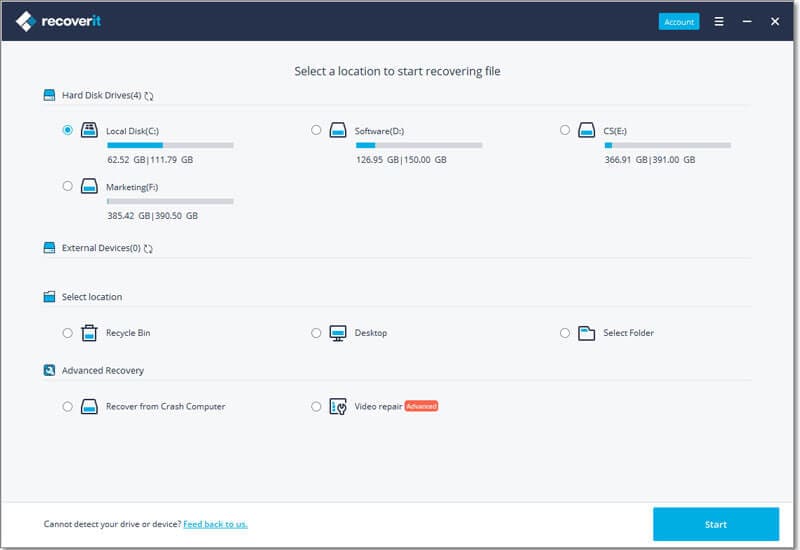 Step 3

Preview data

Once the scanning process comes to a halt, you should be able to preview all the data. Pick all the files that you need to retrieve by checking the little boxes against each of the files.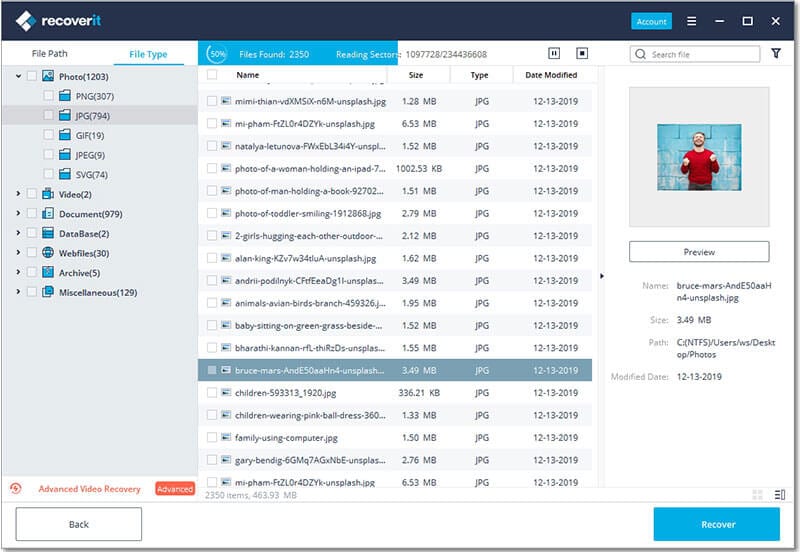 Step 4

Recover data

This drive recovery software free needs those few steps to retrieve your files. Obtain all the files you need from the preview process and save them to your computer by clicking on the 'Recover' button found at the bottom of the screen. It may also be prudent to save your files in another external device for file backups.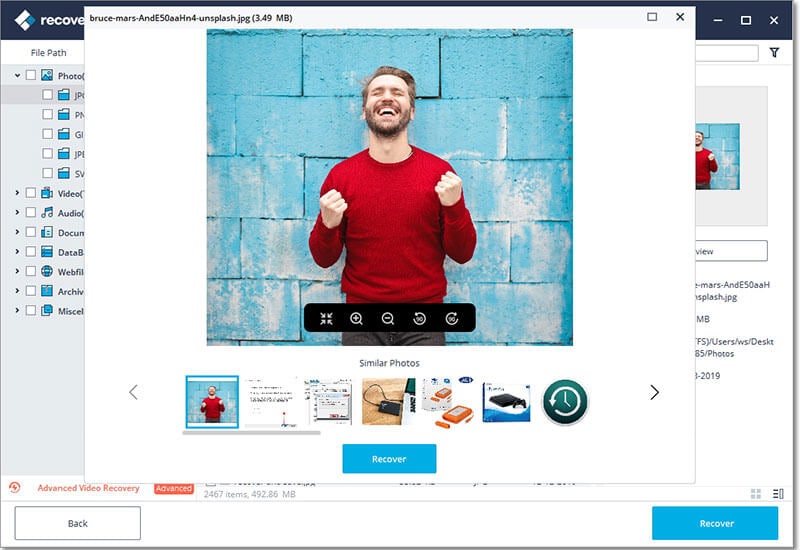 Part 4. Tips to Prevent Hard Drive Data Loss
#1. Backup your data
Keep your data of the original copy in a different disk. You can also make use of Cloud Computing mechanisms like iCloud, Google Drive, OneDrive, iTunes among other storage media.
#2. Keep your computer updated
Perform regular anti-virus update to prevent the issue of viruses invading your files or folders. Additional security measures like firewalls could also save you tons of content.
#3. Don't move your computer when in use
This is pretty common with laptops. Let your machine rest at one point because unnecessary movements may lead to a hard disk crash.
#4. Don't over-tweak the system
Perhaps you want your computer to out-perform beyond its ability. It is risky to overload it with programs that are beyond what it can bear. Keep upgrades to permitted levels depending with the capacity of your hard disk.
#5 Practise proper disk maintenance
These include disk defragmentation after every few months to help arrange the files for easy access.
The Bottom Line
Hard drive data loss is a common phenomenon that has continued to deprive users of very important data. Even though recovery is possible, it only takes the best tool to carry out a successful recovery. You can look around for hard disk recovery software free download full version to help in retrieving lost data. Furthermore, it is vital to keep your hard disk in proper condition by detecting any alarming issues early enough. This tutorial has given you all the hints you need to avert future losses. Besides, you can engage Recoverit (IS), a powerful tool to help in all data loss scenarios.