Google provides you 15GB of space on their drive where you can store your audio, video, documents and mail attachments. It's pretty much better than Dropbox, Box and other providers in comparison to the space provided.
No matter if you have 1, 2 or several Google accounts depending on your usage type, in this guide we would provide you all the ways to hunt down the data that is taking your space for no use. After reading the complete guide you will be able to get your Google drive optimized for a better space for new items.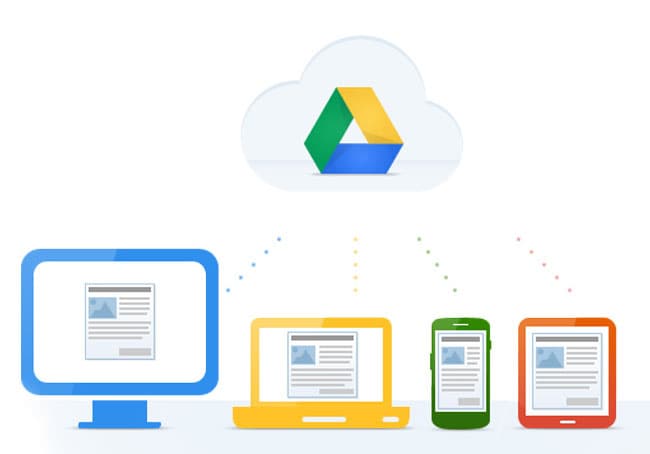 Part 1. How to Empty Google Drive Trash?
Here is the step by step guide to empty Google drive trash:
Sign in to your Google drive account.
Click on the Trash option on the left panel of your screen.
Now, click on the Trash drop down under the search bar.
Select the option that says Empty trash.

Now to confirm the process, click on Empty trash on the pop up.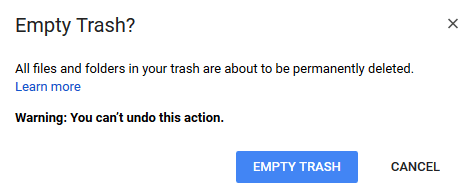 Google has kept all your information safe and secure however if sometime you have made a mistake and deleted one of your important files then it becomes hard for you to get back that file. Getting the data back is not an issue but making the right approach is, let us make you aware about the different sources that you can use to recover deleted files on your Google drive.
Part 2. How to Recover Deleted Files from Google Drive
Method 1: Recover deleted files from Google Drive Trash
Login to your Google drive account.
Click Trash on your left side panel.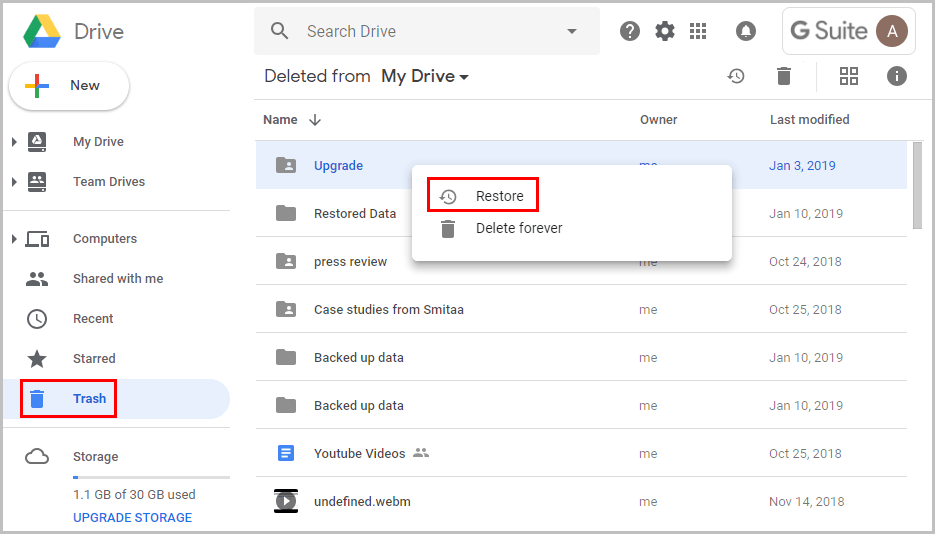 Tap on the file you want to restore with a right click and select Restore.
You will get your file restored to the original location.
Method 2: Recover deleted files using G Suite Admin console
Login to your Google Admin console.
Now, navigate to the Users icon on the Google console.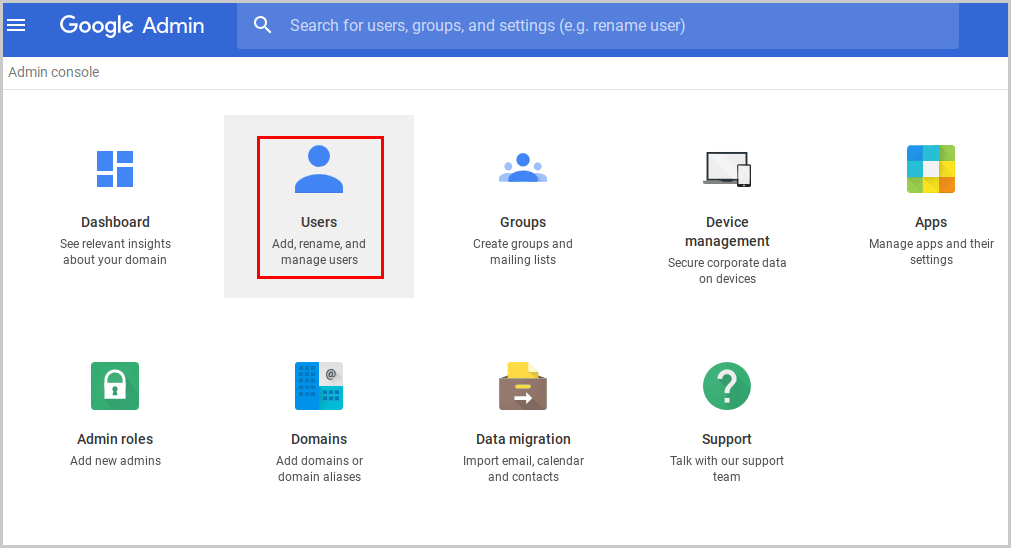 If there are several other users then hover on the user name whose data you want to recover or on your name and click the 3 dots icon on the right panel of your screen.
Now, click on Restore Data on the pop up menu.
You will be taken to a new popup window where you need to provide the date range from and to and Application as Drive.
After filling the required fields click on Restore.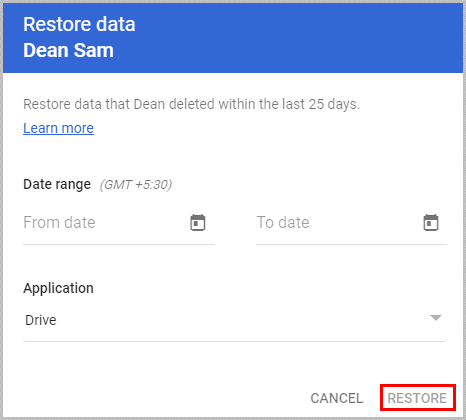 Method 3: Recover deleted files via Google Drive search bar
Sometimes we mistake a lost file with deleted file. It happens many times that the file you are looking for has been saved to another location by you. The search bar helps you to locate such files and recover them. You would find filters by type, name and other parameters however there might be other parameters such as date, owner, period of publication, documents, sender and open for joint editing.
You can access the search bar on the top of the screen.
Alternative way with search bar:
Go to My Drive from the menu on the left panel of your screen.
Now, hover the "i" icon and right click on it.
You will get a dropdown list of files on the Activity tab and you can choose the file you need.
Method 4: Contact Google Drive Support
If you need a professional advice then you can contact Google support. Follow the given below steps to reach them and get it solved.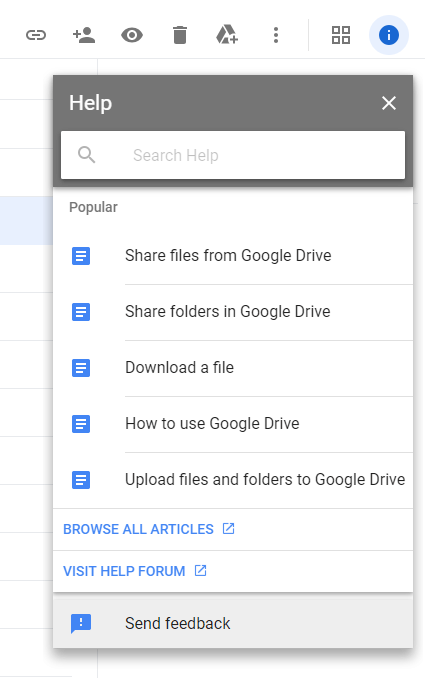 You can send the feedback by using the Help menu.
Now, select the option that you want to opt for in Send Feedback bar, you can choose from chat, email or call.
You must remember some important points that whenever you seek an expert's advice always try to explain as much as you can. As Google is a big organisation with tons of requests and troubleshoots everyday so don't expect they would revert you within 24 hours or so. Be patient if you want to get your files recovered that are permanently deleted.
Method 5: Recover deleted files with Google Drive data recovery software
In this guide you have been told about every possible way to recover permanently deleted items from Google drive. The options that you have seen above are somehow cumbersome and hectic because you have to locate everything specifically but we know you need something easy and simple. Recoverit (IS)y toolbox is the name you can trust at this moment, configured with latest updates and it is capable of recovering your files deep down from the archives.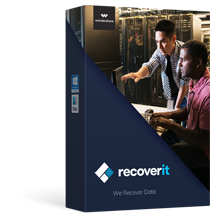 Why Recoverit (IS)y is best for you?
Recoverit (IS)y toolbos has a variety of features that are beyond any recovery tool. It has an easy interface that guarantees that you will never get any leakage in your data. You will either get 100% deletion or 100% recovery, we assure you both as we said it has variety of features according to your needs.
Recoverit (IS)y toolbox supports over 100+ file formats and few that you don't even know exists. In terms of recovery no matter what format you have on your system it would recovery everything for you.
You can get your files recovered in any scenario and once you found your file you can pause the program and restore your file.
We guess there is no other tool like iSkysoft as we have made it with a customer perspective and interface. We understand what are you looking for that's why we made it powerful and simple to use.

3,165,867 people have downloaded it
Step by step guide to recover deleted items from your Google drive:
Step 1

Launch the program and select Recycle Bin Recovery mode

Launch Recoverit (IS)y toolbox and select Recycle Bin Recovery from the main screen.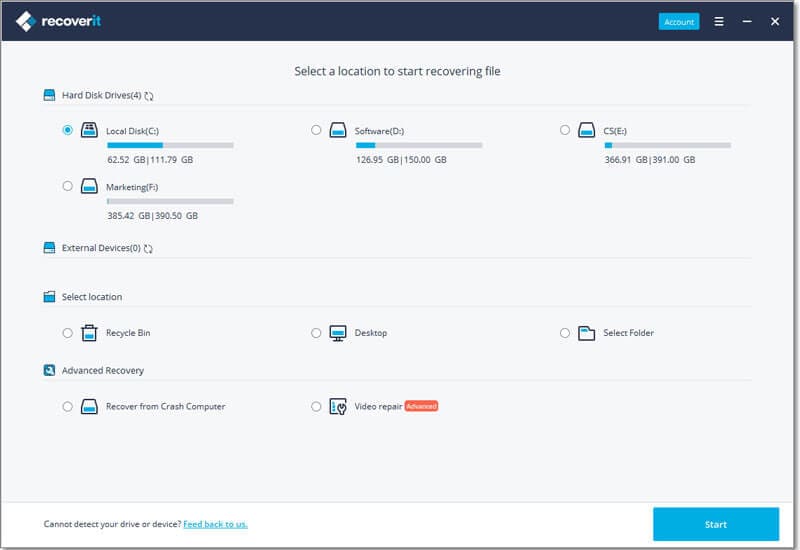 Step 2

Scan for the deleted items in recycle bin

The program will now scan your recycle bin for all the lost file and once the scanning process is done it would display all the files in a categorized format.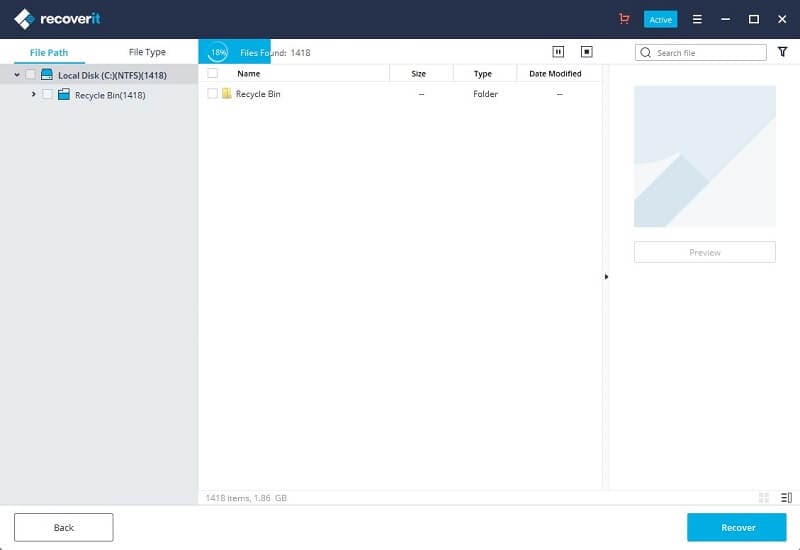 However if you cannot locate the files that you wanted to restore then you can try All Around Data recovery mode. This tool feature would be available onthee left bottom panel of your screen. It would conduct a deep scan of all the lost files on your system and would dig out everything that has been lost for days. It might take some time to process but results would amaze you and it would be worth the time.
Step 3

Preview and recover your deleted files

Now, you have all the files in a categorized format on your left panel. Here you can select each file manually of you can take help from the search bar to locate a particular file. After evaluating your data you need to tick mark the relevant files and hit the Recover option and save them on your computer.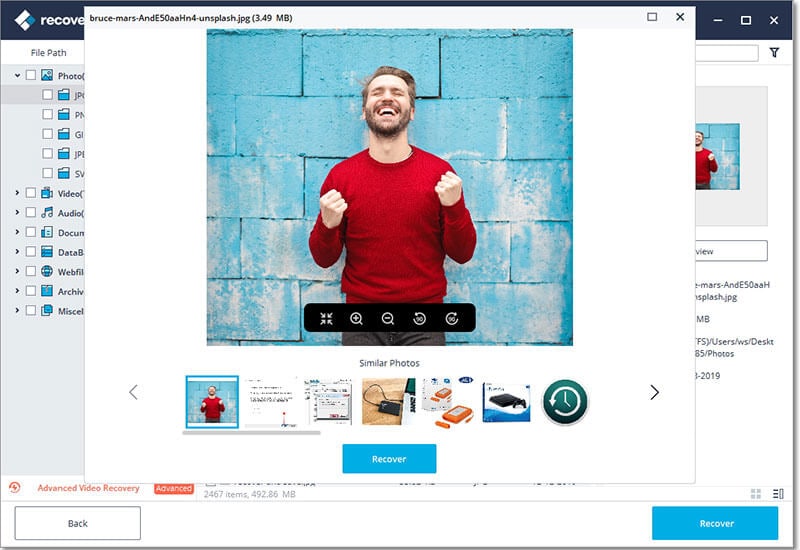 Conclusion
Google drive recovery has been a long process to follow with different types of ways and options that follows. But when Recoverit (IS)y took over, it made everything simple than ever. The best part of this guide is that you have got all the random solutions that you can follow and get your files recovered.
This is the reason iSkysoft is liked by millions of our clients who not only recommend it but also shares it to everyone.
So what holds you back?
Share it with everyone who want to recover their deleted data from Google drive. May be you can bring a smile on their face again and you could get the credit. Copy the link and share it with the person who needs something like iSkysoft.