Apple provides a great Mail service to its users to bridge the gap between their loved ones. Millions of mails are exchanged daily but keeping a track of every important is hectic sometime and in between we delete some of our priority mails accidently.
Next time, you opened your mailbox and searched for that mail but you didn't find it. Is there any way to recover that deleted mail?
This process is irreversible so never delete all your emails until you are willing to do it permanently.
Part 1. How to Delete Emails from Mail in Mac OS X
Step 1 Get in the Mail app on Mac OS X.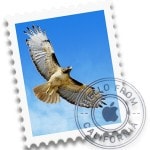 Step 2 Now, under the Mailbox menu option select Inbox.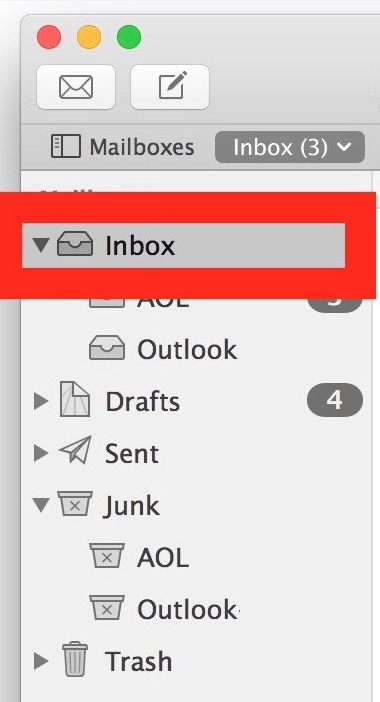 Step 3 Go to the Edit menu and click on Select All. This option would highlight all your messages and emails that you have in your Mail app.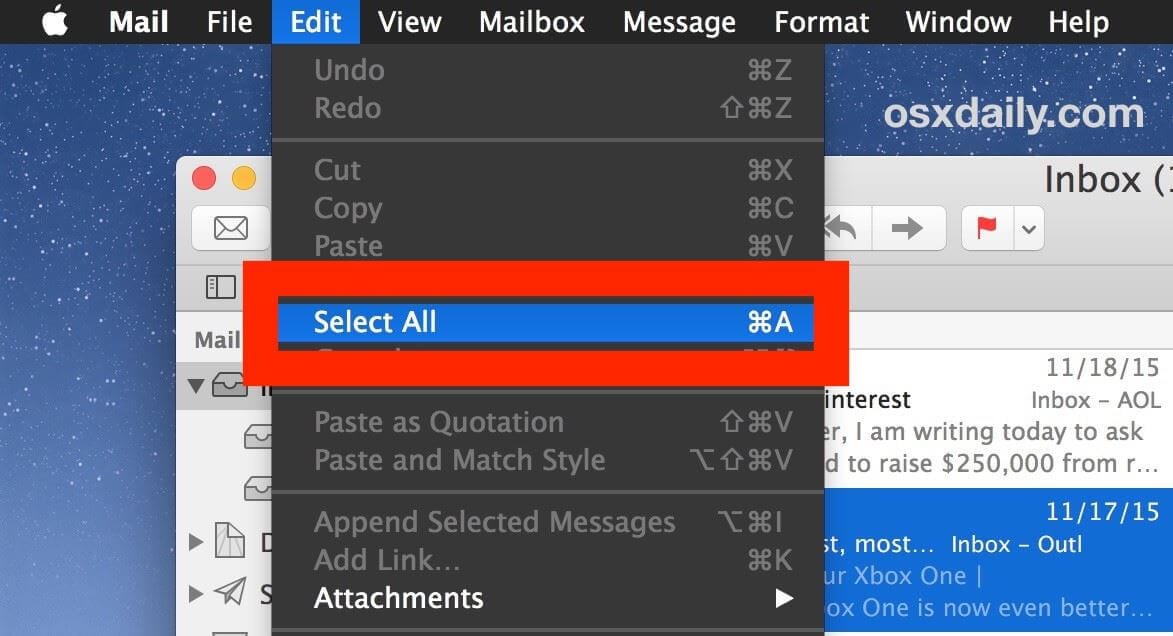 Step 4 Come back to the Edit menu and select Delete. It would delete each and every mail that you have selected on your mail app. All deleted mails would be sent to the Trash of your mail app.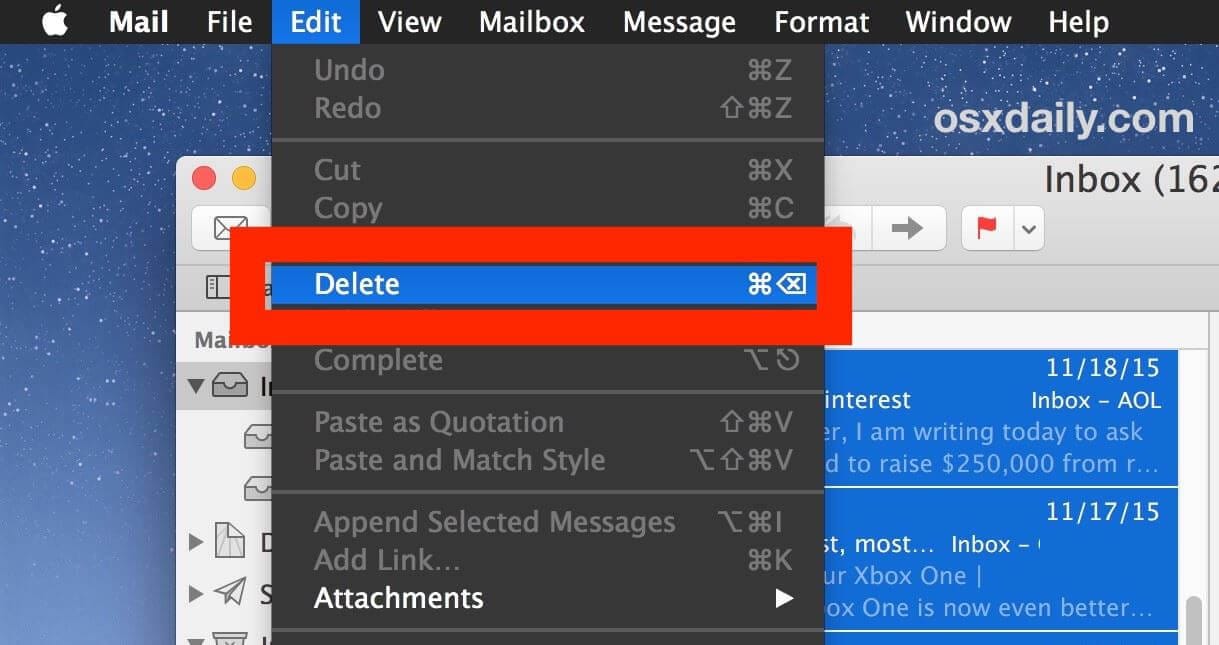 Right click on the inbox and select Erase Deleted Items. This action would permanently delete every single mail on your Mail app in Mac OS X. You would not find these mails anywhere because you have deleted them with a 2 step deletion process.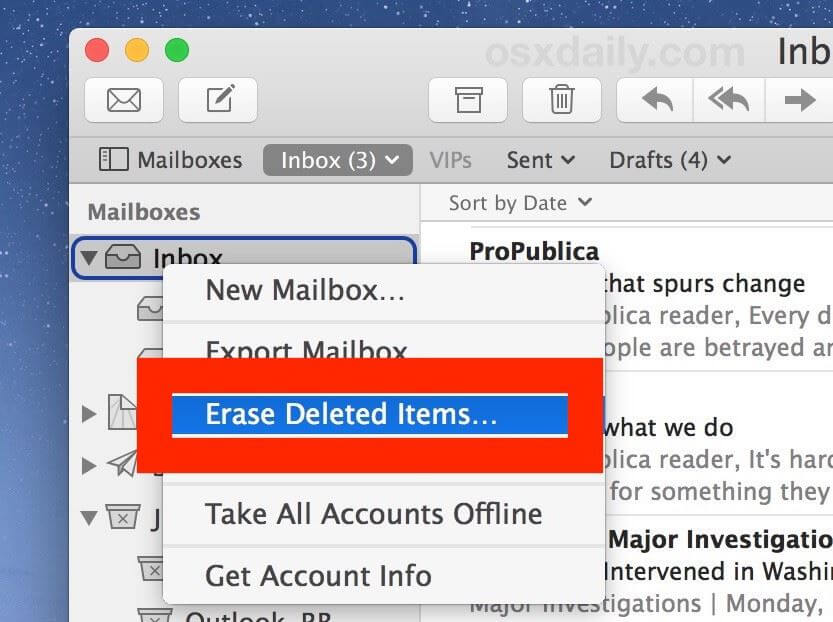 Your mailbox is empty now and there are zero emails as shown below.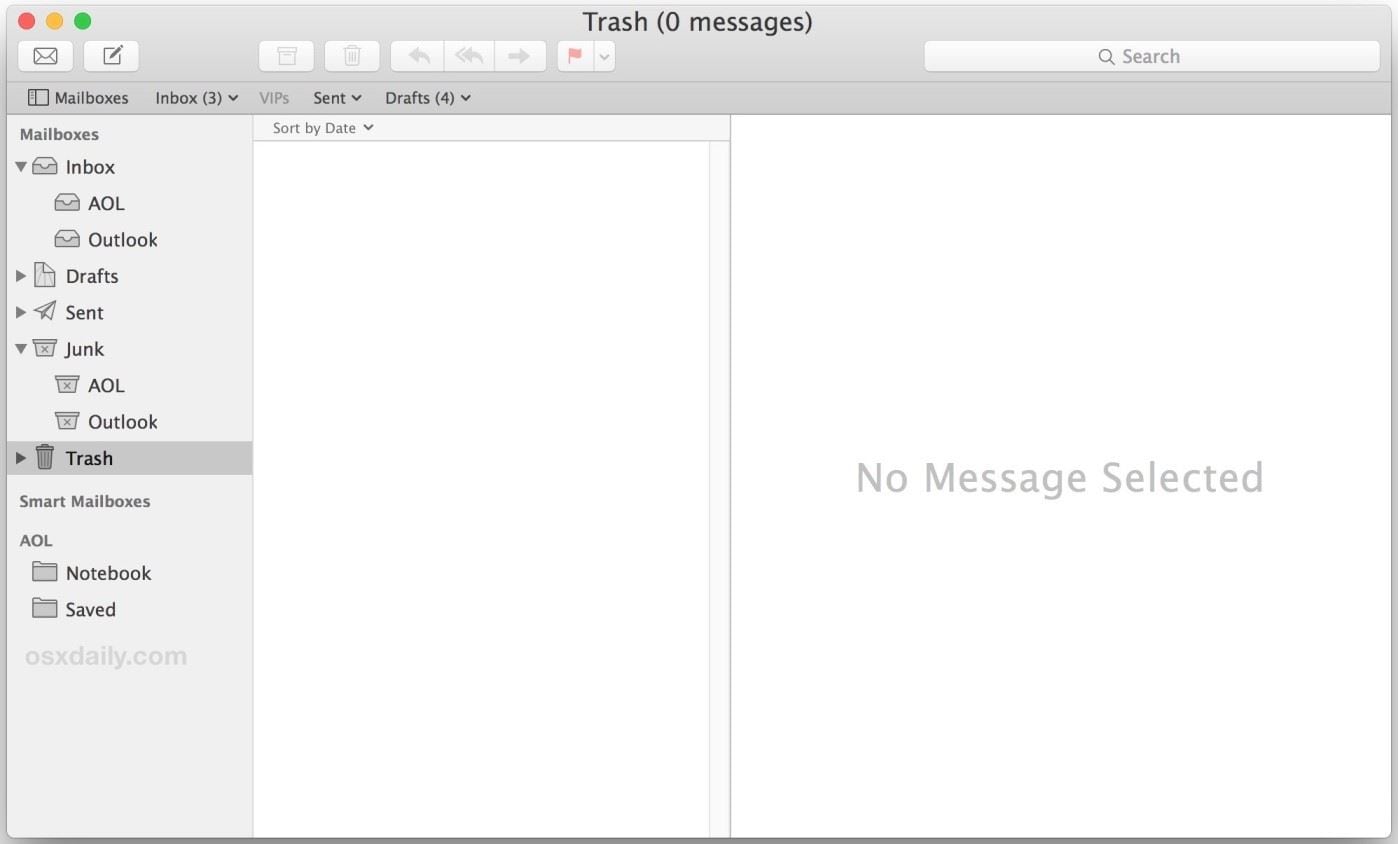 You can repeat this process with Drafts and Sent mails if you desire to do so.
Now, this was a legitimate process that we described. Why we have added this content on this article is because we want to show you that these steps can delete your mail permanently. However, the purpose behind such guide is to prepare you for the situation if you lost all your mails accidently then how would you recover them.
Have you deleted your mails accidently?
Here is a guide for that too, you will find all the steps to recover your deleted mails from the trash can of Mail app.
If you have accidently deleted your mails and you are not getting a way to recover them back, it's easier than you think. You just have to follow few simple steps and you will get your mails restored to your mailbox.
Part 2. How to Recover Deleted Apple Mails from Trash Can
Step 1 Navigate to the Mail icon to access Apple Mail.
Step 2 Click on View on the menu bar and click on Show Deleted Messages.
Step 3 Click on the Trash option in the sidebar and you will get all the deleted emails on your screen.
Step 4 Now, right click on the email you want to recover and select Undelete to restore it directly to your inbox.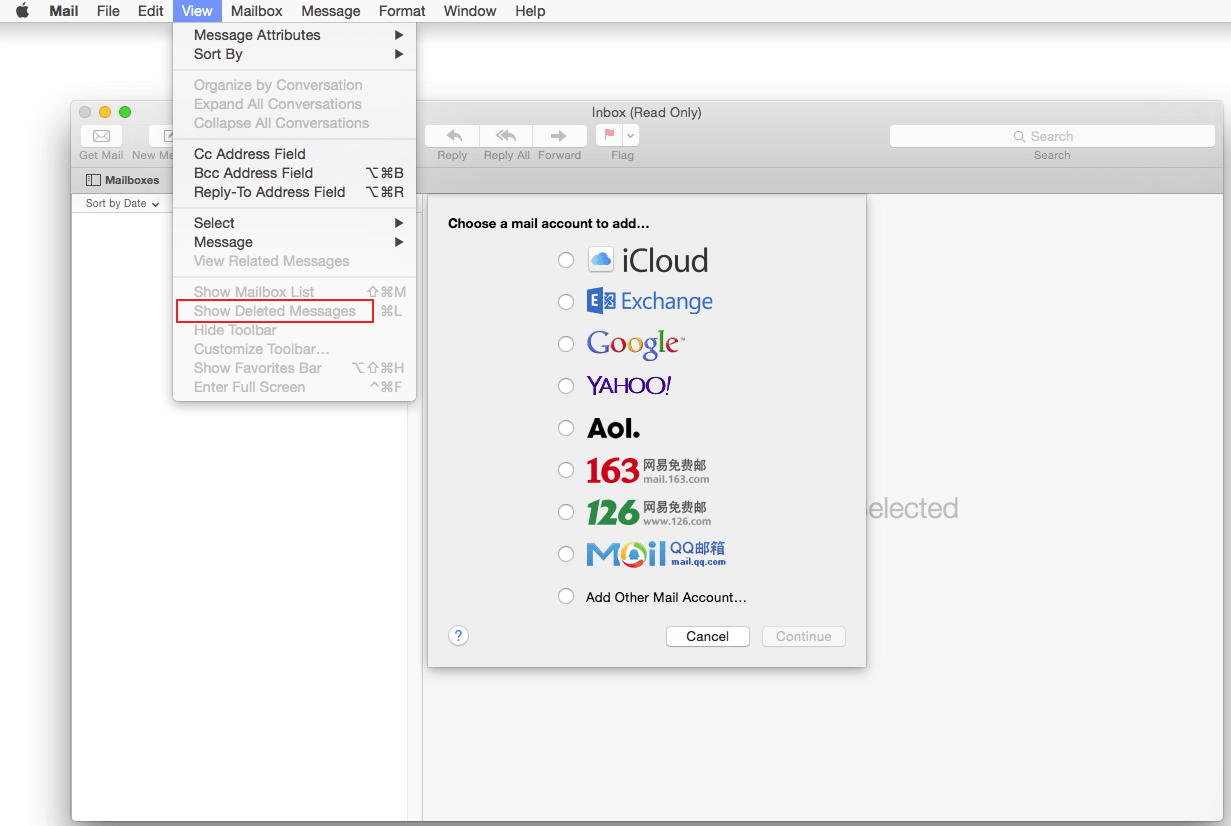 Part 3. How to Recover Deleted Apple Mails with Time Machine
Option 1: Recover Files from Time Machine Backup Disk
Step 1 First of all, connect your time machine hard drive to your system.
Step 2 Open Apple mail app.
Step 3 Now, in the menu bar select the time machine icon.
Step 4 After getting in the time machine, you can use the arrows and dash icons to choose the time on which you want to recover the deleted mails.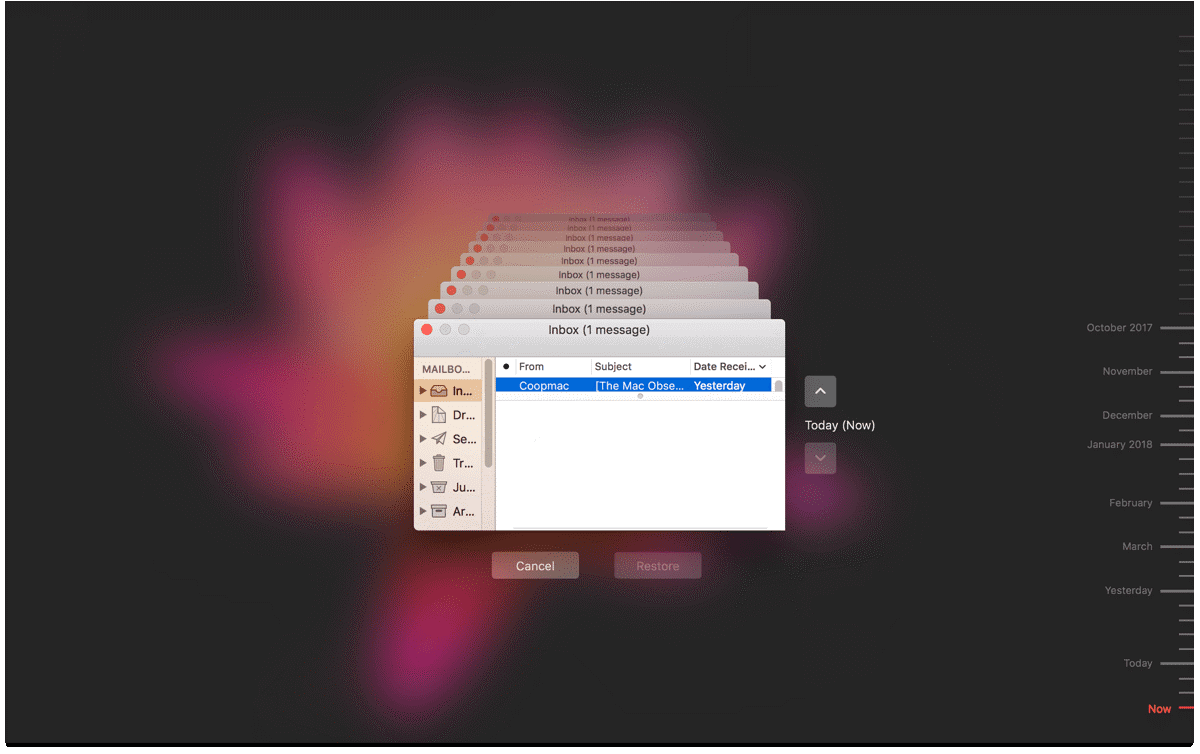 Option 2: Restore files with local snapshots
Step 1 Access Time Machine on your macbook.
Step 2 Choose the option- Enter Time Machine.
Step 3 Now, select the file or folder that you want to recover.
Step 4 You need to select an older version of that file and folder.
Step 5 Now, click on Restore.
Step 6 Time machine will restore the files to their orginal locations on your mac.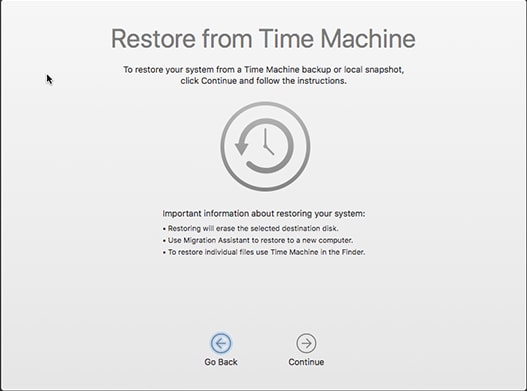 Part 4. How to Recover Deleted Email Attachments with Recoverit (IS) for Mac
Recoverit (IS)y toolbox is a life saver to restore any file that you have lost on your macbook. It would save you from the disaster of losing your important files without taking much time. All the photos, videos, documents and any kind of file format is supported with iSkysoft and now the latest encrypted APFS file system is also compatible with iskysoft data recover toolbox.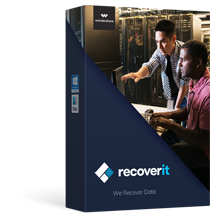 A Life Saver to Solve Your Data Loss Problems!
It is compatible with both Windows and Mac operating system.
It supports a large number of storage device type including hard drives, USB flash drives, SD cards, etc.
All major types of files can be recovered including email, music, images, video, documents, emails, and archives.
It has a deep scan features for in-depth scanning of the hard drive for searching files to recover.

3,165,867 people have downloaded it
Step by step guide to recover deleted email attachments:
Step 1

Choose the Recycle Bin Recovery mode.

After launching the program you will enter an interface as seen below. Now, select Trash Recovery option to proceed ahead.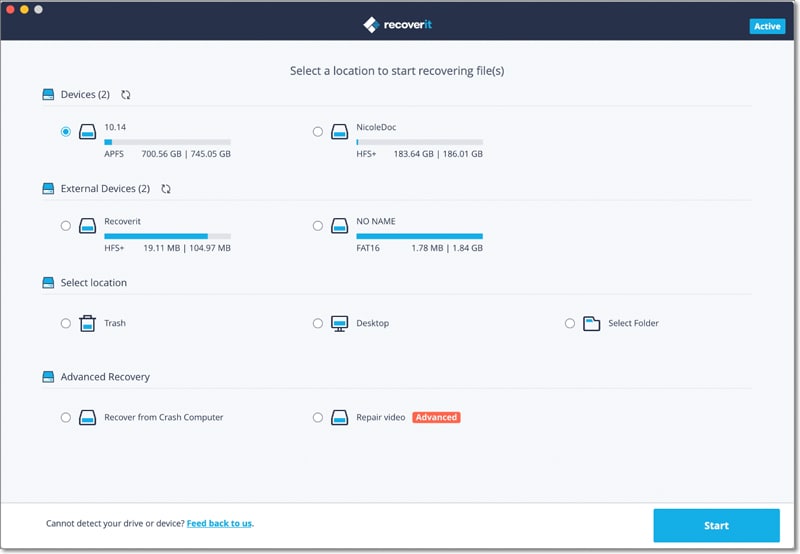 Step 2

Quick scanning of your recycle bin.

A quick scan will be done on recycle bin and after a good scanning for lost files, all your data files will be categorized according to their formats and file types.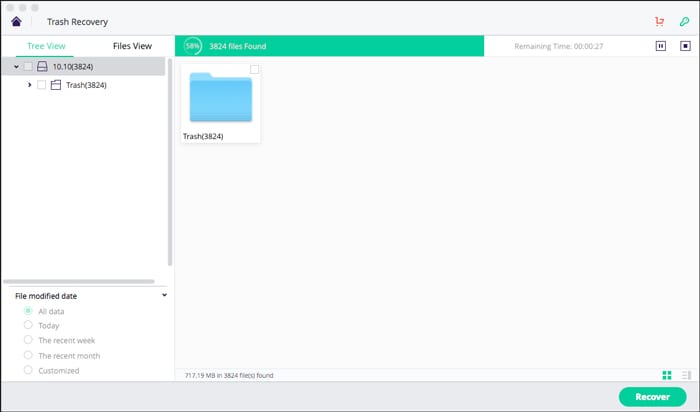 There could be a mild possibility that after this quick scan you would not be able to get your files back however for that purpose you could use the All Around Recovery mode. This feature is available on the left-bottom of the program panel. It would run a deep scan for your lost files on the recycle bin and might take few moments of your precious time.
Step 3

Preview your data and recover it easily.

Now, you have got all your files on board. You can choose them category wise on the left panel of the screen. You can now preview your files by clicking on the folder or directly type the file name in the searching bar to get your file information fast. Once you locate your lost files in the preview mode, checkbox the thumbnail and hit the Recover button to save them on a safe drive of your computer.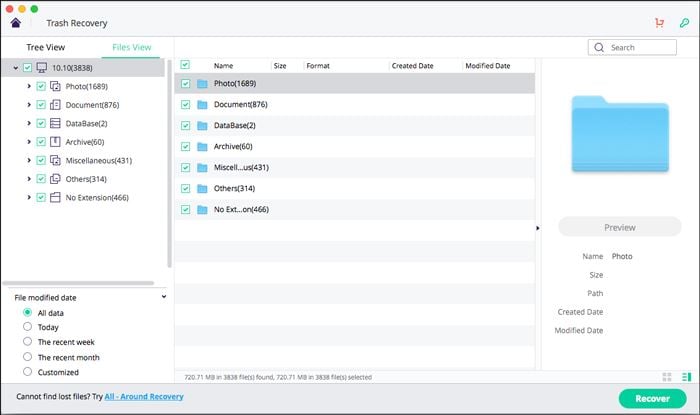 Conclusion
This guide provides you all the information that you were looking for. It has all the steps from deleting your mails permanently to recovering them again. However, to perform each action you have to choose a device or a different app and that might confuse you.
But Recoverit (IS)y toolbox provides you a one stop solution to your all mac problems. It has the best interface that makes it easier to use and smooth to operate. You can use it even if you have no technical knowledge. You just have to follow the steps written here and your work is done.
If you are satisfied with the result and want to spread the happiness all around then you can share our program with anyone who is going the same dilemma. It never costs you to share and make people aware about a good software that could help them.
Sharing is caring!