Do you wish to empty trash from your Mac and as well from your iPhone? That's Great because most of us don't even think about the fact that how much the unnecessary trash on our Mac and iPhone affects their performances. You need to empty the trash can, as the trash sitting there will start eating in the storage space and memory management of your Mac and iPhone, and this will affect their performances. But for many, the question remains "How to empty trash on my Mac", or "How do I empty trash on my iPhone". But don't worry, we got it all covered, stay with us till the end and learn how you can empty trash from your Mac and iPhone easily.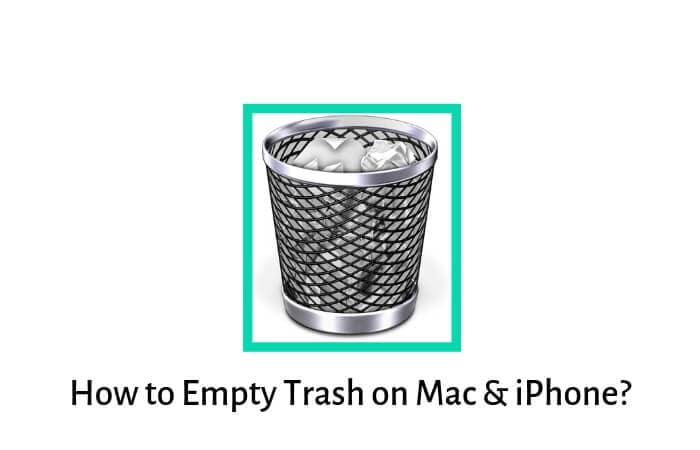 Part 1. Most Simple Methods to Empty Trash on Mac
Emptying trash on Mac is really important for its performance and also to keep your sensitive deleted data out of wrong hands. It is really easy to empty trash on Mac; there are two ways to do so.
One is the way that simply deletes trash from your trash can, but it doesn't guarantee the permanent deleting of the trash from your drive. That means the data deleted from the simple method can be recovered and used later. But the other integrated method provided by the Mac OS itself assures that the trash gets deleted permanently and securely from your Mac. So, go through both the methods below to learn how you can empty trash on Mac.
i. Empty Trash from Your Mac
Step 1 First of all, switch on your Mac, stay on the homepage, and get to the Trash Bin icon in the Dock of your home screen.
Step 2 When you are at the Trash Bin icon, just click it and hold it for a popup menu to appear.
Step 3 Once you have the popup menu in front of you, you will notice a listed option "Empty Trash", all you need to do is to click on that option to empty trash and convert your over packed trash can into an Empty trash can.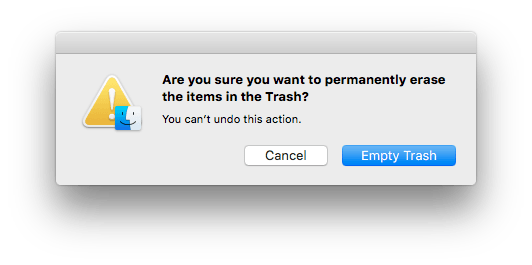 ii. Empty Trash Securely and Permanently from Your Mac
Step 1 You need to keep the first step the same as the above method.
Step 2 In the second step, you need to make a simple change. Instead of simply clicking and holding the trash icon, you need to hold the "Command Key" first, and then click and hold the trash icon.
Step 3 You will see a popup menu, but this time the "Empty Trash" option would be replaced by an "Empty Trash Securely" option. Click on the "Empty Trash Securely" option to empty your trash securely and permanently.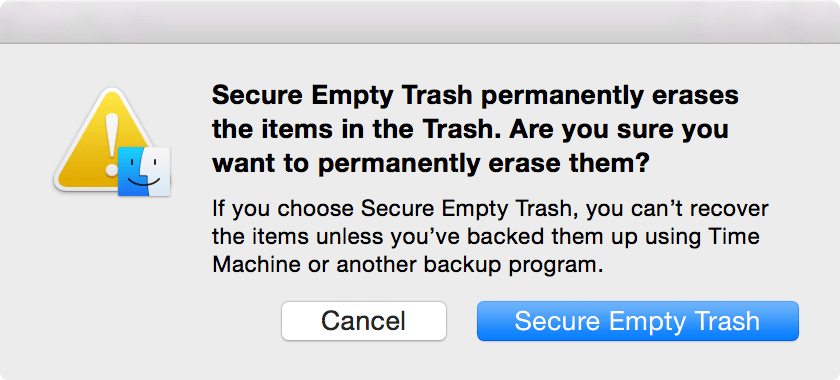 Now, as you know both the methods to empty trash and empty trash securely from your Mac, it's your choice to go with the one. One of these methods will keep the data in the background so you can recover it if you accidentally empty trash. But the other one will ensure that it gets deleted permanently and never gets in anyone else's hands.
Part 2. How to Empty Trash on Your iPhone?
Now, similarly, like Mac, the iPhone's performance also gets affected if you don't empty trash from it. Your phone carries a lot of data and its trash as well, as usually whenever you delete something, it doesn't get deleted but will stick to your phone's storage in form of trash.
But unlike Mac, iPhone doesn't have a specific trash bin for all the trash data, that means you can't delete all the trash at once. The trash of the respective type of data is stored in the apps itself, so you need to empty trash by going in the apps separately. The process for each is easy but requires assistance. So, go to all the below-mentioned methods to empty trash from different apps separately.
i. Empty Trash from Photos App
Step 1 It's simple, start with having your iPhone handy and unlocked. Just go to the photos app on your iPhone through the Main Menu, and scroll down until you reach the "Recently Deleted" folders.
Step 2 Now, this is the folder where all your recently deleted photos and videos are stacked up as trash. All you need to do is to click on the folder. Once you do so, click on the "Edit" button on the top shelf, and then click on the "Delete All" button that appears.
Step 3 Complete the process of emptying trash on iPhone for photos app by confirming the action in the popup window that appears.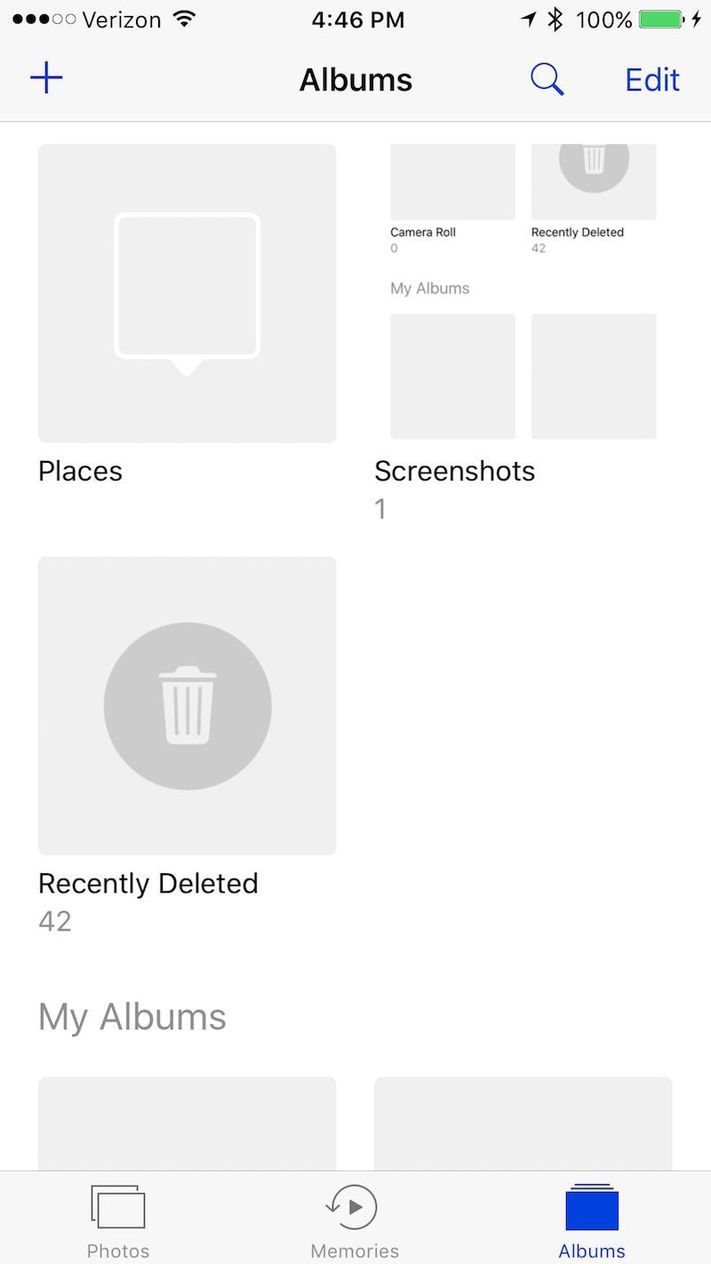 ii. Empty Trash from Mail
Step 1 Simply go to the Mail application on your iPhone.
Step 2 If you have multiple accounts running, choose the one from which you want to Empty trash for mail.
Step 3 Now, go to the "Mailbox", and then navigate to the "trash" option and click on it, click "Edit" from the upper menu shelf right after.
Step 4 Now, to complete the Empty Trash for Mail in your iPhone, tap on the "Delete All" inside the Trash, and confirm it.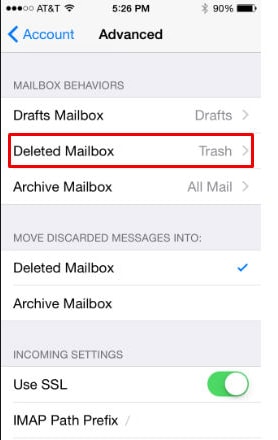 iii. Empty Trash from Notes
Step 1 To start, open the "Notes" app on your iPhone. Usually, it should open in the "Folders" screen, but if it doesn't, simply navigate to it by tapping the back arrow in the top left corner.
Step 2 Here, you will spot a "Recently Deleted" folder, tap on it. Once you are into it, just tap on the "Edit" button on the top shelf.
Step 3 Once you have done all, just select "Delete All" option from the bottom shelf to Empty trash of the notes from your iPhone.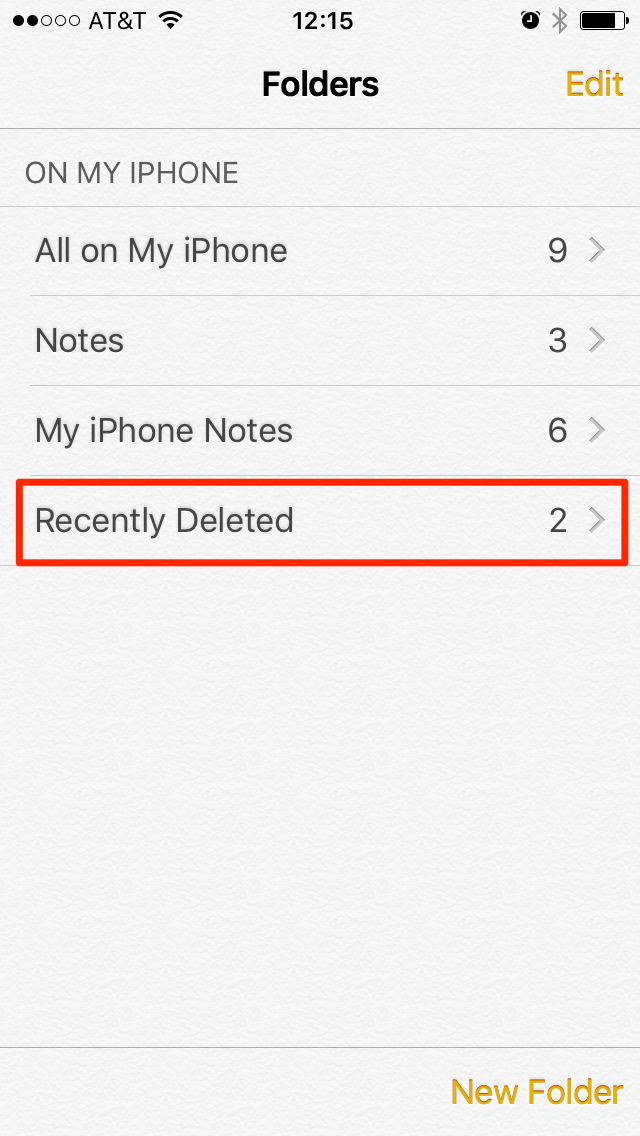 Now, as you have deleted most of the trash out of your phone, you might be looking to empty trash from music, Contacts or SMS, etc. But these apps don't have a separate trash bin for their trash. All of the trash from Music and other apps simply stays in your iPhone's storage, but you can't delete them by yourself, you need the help of a 3rd party software to delete that trash from your iPhone. Check out iSkysoft iPhone Data Eraser Toolbox to empty trash from your iOS devices.
Part 3. Use Recoverit (IS) for Mac to Recover Accidentally Deleted Trash from Your Mac
If you have done the empty trash procedure intentionally, that's good for your device. But what if, you emptied the trash accidentally, it's not at all good for the important data that you might wish to restore someday. But don't worry, the Recoverit (IS) for Mac is there to help you out of such situations.
iSkysoft can recover the deleted trash from your Mac so that you don't lose your important data in an accidental trash delete. There might be other recovery software out there, but iSkysoft is most trusted, efficient, and powerful among them all. The feature list of Recoverit (IS) software proves its capabilities.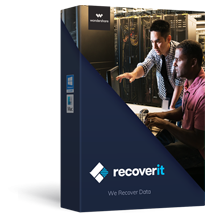 The Powerful Features of Recoverit (IS) for Mac
The iSkysoft can undo empty trash and recover your deleted trash files with the "Trash" recovery mode. It can recover all kinds of data with the help of multiple recovery modes.
The iSkysoft is the most efficient and powerful data recovery software out there. It can recover all the trash and other data no matter how deep inside they are hidden.
The iSkysoft supports external devices for recovery and other purposes. That means you can recover trash and other data from all of your devices such as mobiles, PC, Camera, Hard drive, etc.
All it takes for iSkysoft to recover your trash is 3 clicks. It is very easy and simple to use by anyone with any level of expertise.

3,165,867 people have downloaded it
How to Recover Trash from Your Mac?
Step 1 First of all, you need to have the program on your Mac. Just go to the iSkysoft official website, choose the Mac version of Recoverit (IS), and download it and install it on your Mac.
Step 2 Launch the Program on your Mac, and choose the "Trash Recovery" mode for your recovery need. Once you choose the mode, your Mac Trash Bin will go under deep scanning for all the recoverable files.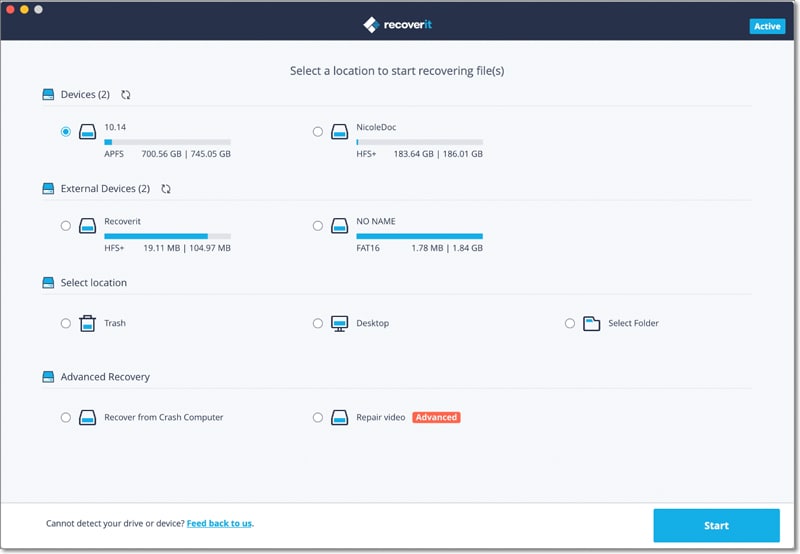 Step 3 Once the scanning is done, you will get to see a preview of all the recoverable files from your trash sorted according to their types. Now, simply go through it to find the files you want to recover, or simply search for it from the search bar.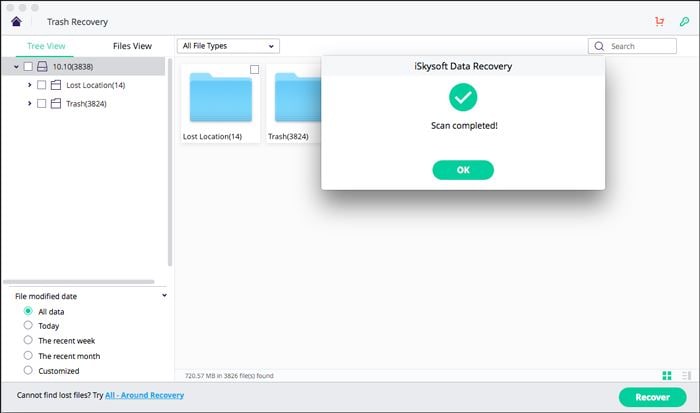 Step 4 Once you choose the File, click recover and confirm the location on your Mac to undo empty trash for that selected file and recover it to your Mac.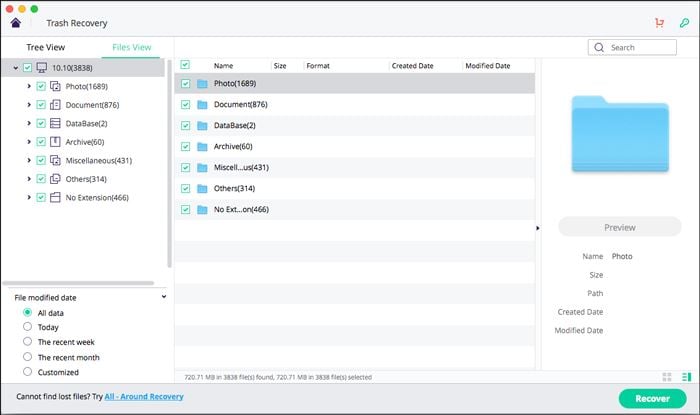 It's really important to empty trash from your Mac and iPhone, and it is more important to securely empty that trash. But you need to know which method you want to apply; you should know which kind of data you have in your trash to delete it the right way. But if you accidentally delete the wrong trash, simply take the help from the Recoverit (IS)y.