"I accidentally pressed the Delete button on Recycle Bin. Is there any way I can get back my deleted files now?"
- a question from Quora
Recycle Bin is a system folder found in all Windows computers. Its purpose is to store deleted items such as different files and folders temporarily. It exists only to ensure that you don't end up losing your important files with an accidental click. If your files are in the Recycle Bin, you're still safe as you can always restore them to their original location whenever you want.
On the other hand, if you want to permanently delete these files from your computer, you can hit the button "Empty the Recycle Bin" and trash them forever. But sometimes doing that can land you in a tough situation especially if you end up emptying the Recycle Bin without reviewing the files being deleted. You see, you might lose some important files as well in this process.
So, if you too have ended up with a similar situation, then worry not, we're here to help you learn how to restore deleted files from Recycle Bin.
In today's article, we'll take a closer look at the following:
Part 1. Basic Reasons Behind Data Loss from Recycle Bin
With computers having become so normal and such a huge part of our lives today, it's only natural that we rely on them so much. You, like most other people, may have a lot of important files on your computer and would never want to lose them. Recycle Bin is there to help you with just that, however, you can still end up losing your files as computer files get deleted due to so many reasons.
Let's take a quick look at some of these potential reasons:
Files deleted by accident: you could end up deleting them manually thinking they're not that important only to find sometime later that you're in urgent need of the same files.


Files deleted due to size: if the size of the deleted file is more than 10% of the size of Recycle Bin, it ends up bypassing the Recycle Bin completely and instead gets permanently deleted sometimes.


Files deleted at the time of restoration: there are times when you need to restore your Windows computer to an old state using a backup. In such a situation also, you could end up losing all the new files that were not included in the back up as they didn't even exist then.
Part 2. Is Data Recovery from Recycle Bin a Possibility?
That's the big question we are here to answer today. Yes, data recovery from Recycle Bin is definitely possible. This is due to the fact that even though it may seem to you that the files removed from Recycle Bin have been permanently removed from your computer, it isn't exactly true. These files may still exist in a fragmented format on your computer's hard drive and with the help of a specialized data recovery tool, one can restore deleted files from Recycle Bin.
Well, it's time we take a look at the various ways you can restore files from Recycle Bin.
Part 3. Best Solutions to Restore Deleted Files from Recycle Bin?
Whenever you end up emptying Recycle Bin, all that's really happening is that the computer is simply hiding the files from you permanently. What it means is that the files deleted from Recycle Bin still exist somewhere on your computer's hard drive.
Here are the different methods you can use to restore files from Recycle Bin.
Method 1: How to Get Back Deleted Files Stored in Recycle Bin
The first method is for the situation wherein you've deleted the files but they're still stored in Recycle Bin of your computer.
So, in order to save them from permanent deletion and restore them back to their original location on your computer, you have to take the following steps:
Step 1 Open Recycle Bin on your computer, do a right click and then select the 'Open' option or simply do a double click on the Recycle Bin icon.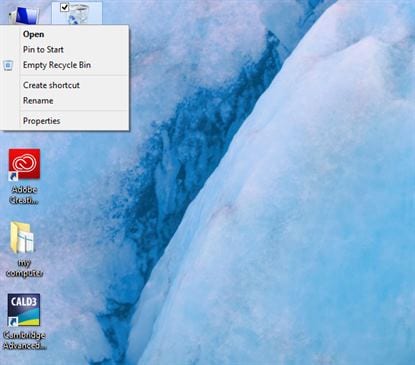 Step 2 Once the Recycle Bin window has opened, find the files that you would like to restore and right click on them
Step 3 Lastly, select 'Restore' from the list of options. You would have now successfully restored deleted files from Recycle Bin.
Note: You can go back to the original location of the file you've just restored to check if it's there.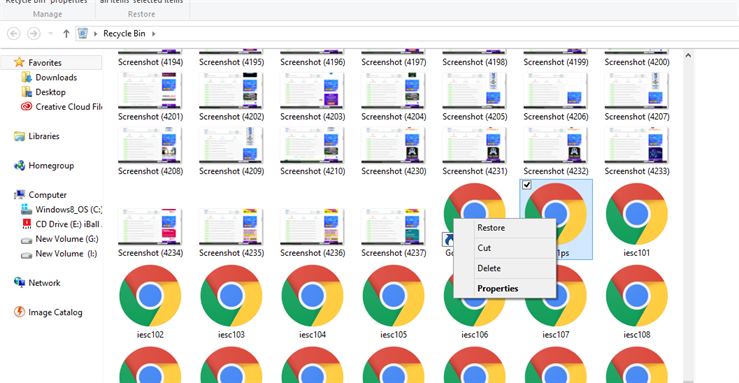 ---
Method 2. How to Restore Deleted Files from Empty Recycle Bin
This is the situation wherein you need a data recovery software. The best data recovery software that you can get your hands on today is Recoverit (IS) software. With Recoverit (IS) for Windows, you can recover an unlimited amount of lost files and that too in any format.
So, here's a quick look at some of the most important features of the amazing Recoverit (IS) software.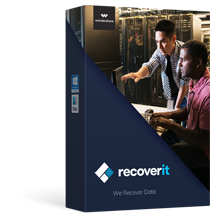 A Life Saver to Solve Your Data Loss Problems!
Data recovery of all types: iSkysoft toolbox allows you to recover all kinds of files, including videos, audio, images, emails, word documents and more.
Recovers data lost from anywhere: The software recovers files from a deleted or formatted or even a missing Windows partition. It can also restore deleted files from Recycle Bin, External Hard Drive, USB, Memory Cards, HDD, etc.
No data loss guarantee: The Recoverit (IS)y tool promises 100% security to your data which means that there will be zero data loss during the recovery process.
Here's how you can use Recoverit (IS): it offers four recovery modes that cover all kinds of data loss situations including restoring files from Recycle Bin.

3,165,867 people have downloaded it
Step 1

Install Recoverit (IS) for Your Computer

When installing for the first time, it's recommended that you install Recoverit (IS) on a separate partition on your computer. This will help prevent any overwriting of the data that you want to recover. Once installed, launch the program and select the relevant data type which in this case would be the 'Recycle Bin' option.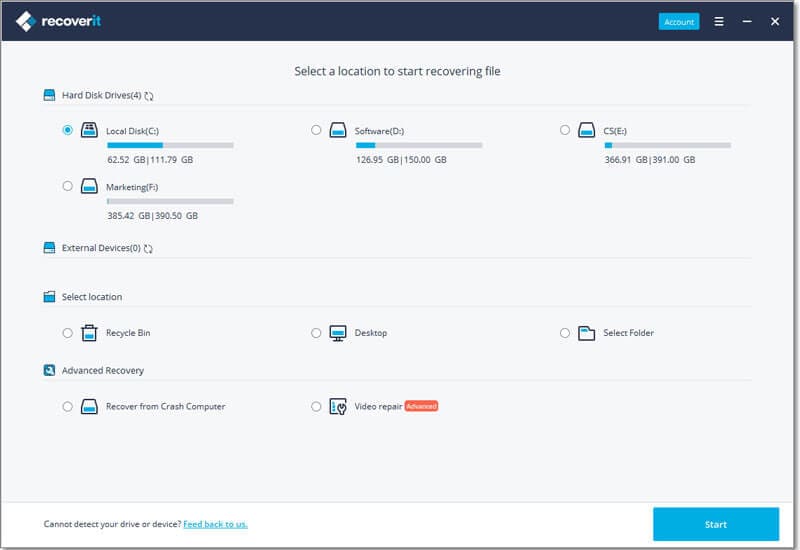 Step 2

Scan the Files before Recovery

You'll see that each one of your partition has its own Recycle Bin as shown in the image below. Go to the Recycle Bin where you lost the data from and then hit the Start button to begin the scanning process.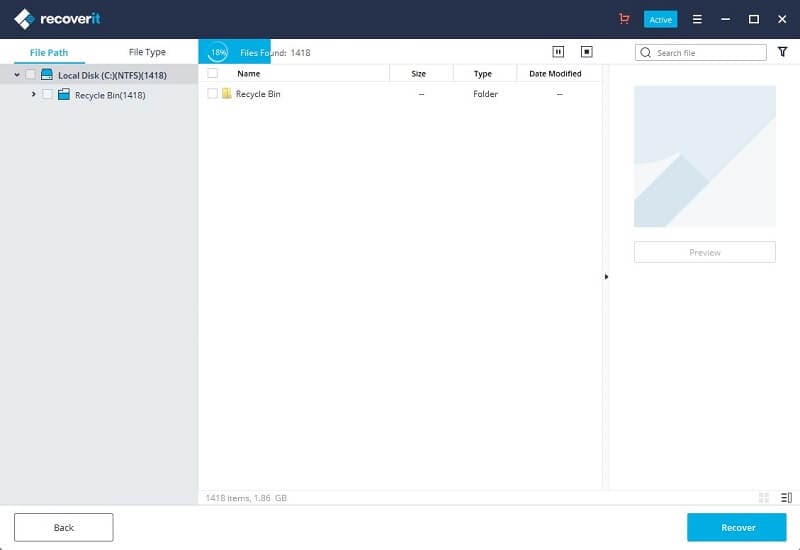 Step 3

Preview and Recover Lost Data

Once the scanning is complete, you can do a preview of all the files that can be recovered from within the results window. Now to restore items deleted from Recycle Bin, select the files as per your need and hit the Recover button from the bottom right-hand side of the program window.

Note: Depending on the size of your files, it'll take a few seconds to a few minutes or sometimes even more for the recovery to finish.

Once done, you should be able to see and access the lost files on your computer.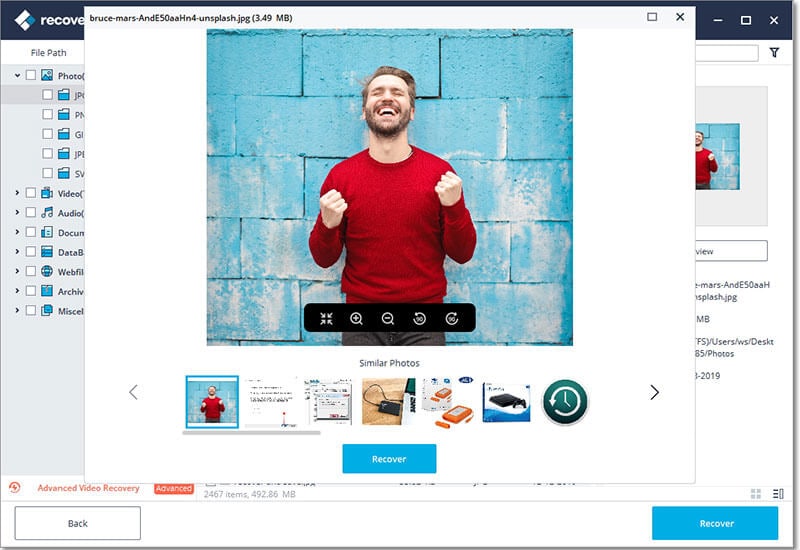 Part 4. How Can I Restore the Recycle Bin Icon?
If you had hidden the Recycle Bin icon from your Desktop sometime back, but would now want to access it, you can restore the Recycle Bin folder or icon back on your screen by following the steps below:
Step 1 First of all, right-click anywhere on the empty space on your Desktop and click the option of Personalize.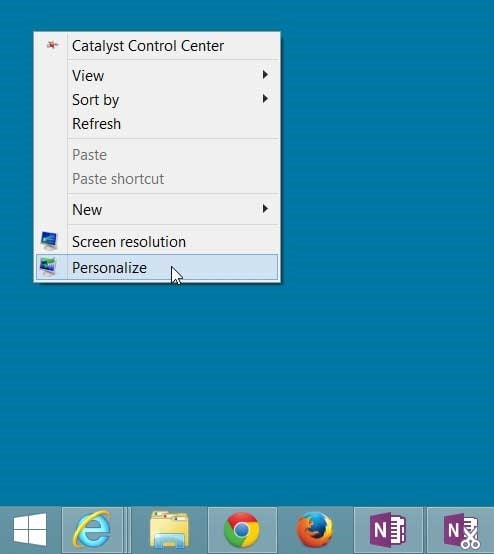 Step 2 Then click the 'Change desktop icons' options from the sidebar on the left.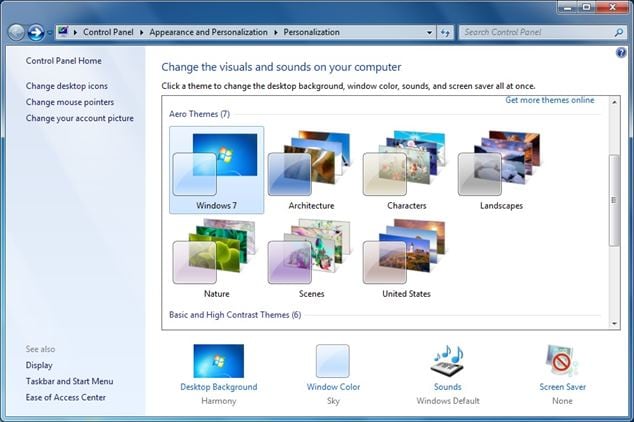 Step 3 Once the Desktop Icon Settings window has opened, check the box next to Recycle Bin as shown in this image.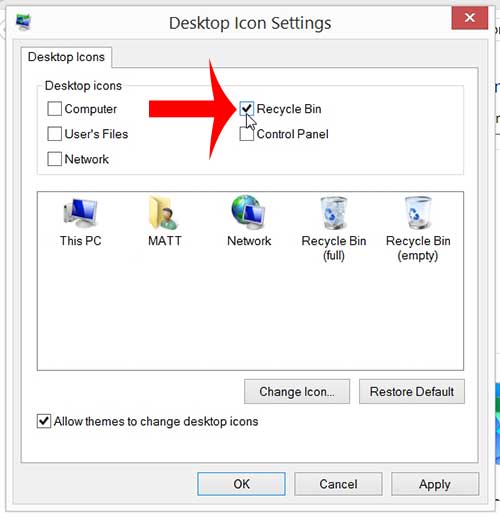 Step 4 Finally, just go back to your Desktop and confirm that you have restored Recycle Bin icon back to your desktop.
Conclusion
As computer users, deleting files is a frequent practice. That is also the reason why you might end up losing some important files as well in the process as it is so easy to do. However, now you know that the files deleted from Recycle Bin are not necessarily lost permanently. Hence, if you have the right tools with you, you can always restore deleted files from Recycle Bin on your computer.