"I was reformatting my laptop and accidentally deleted my saved files in the Recycle Bin. What should I do now?"
- a question from Quora
Almost everything comes to a standstill if you have lost your most important files. If you are a photographer, then losing your most treasured photos can ruin all your hard work. For those of you who work in offices, losing your essential office documents, like presentations, statistics, data files, etc. would be a humungous rework. Imagine how tedious it would turn out to be if you have to work for hours to create those files again. Many of you think that only useless and trash data is dumped in a Recycle Bin, while partially it is true, but then Recycle Bin has been created to save your data from permanent deletion. You never know when you are in need of the trash files in your Recycle Bin.
As per a worldwide survey, nearly 10 percent of the total disk storage space of the computer is used by the Recycle Bin. That is how important a Recycle Bin is.
Hence in this article today, we shall learn ways of restoring your data from different stages of Recycle Bin which would include:
So, let us start our journey to explore the different ways on how to recover deleted files from Recycle Bin.
Part 1: How to Recover Deleted Files from a Loaded Recycle Bin
Most of you I am sure to know how to retrieve the files that are not deleted from the Recycle Bin.
Believe me, you are lucky if you have not deleted your files from the Recycle Bin as it takes just a few easy steps:
Step 1 Your first and foremost step would be to double click on the Recycle Bin icon available on your desktop.
Step 2 Now on the Recycle Bin window that appears on the screen, search for the file that you need to restore back to the folder.
Step 3 Once the file is located, right-click by keeping the cursor on the file. A pop-up menu will appear on the screen.
Step 4 Here, click on the 'Restore' from the available options on the pop-up menu.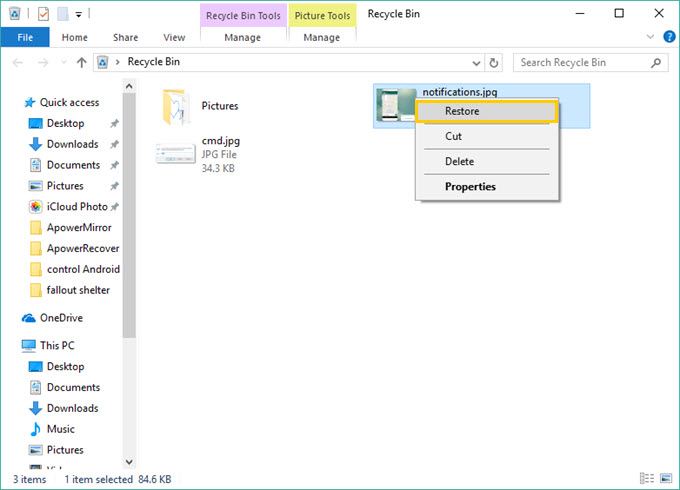 That's all, the files in the Recycle Bin will be restored to the location from where it was once deleted.
Part 2: How to Recover Deleted Files from Empty/Deleted Recycle Bin

First of all, Stop Writing on Your Hard Drive:
Step 1: Go to Start and Select Run. Then type 'regedit' and press Enter. This will open up the registry editor.
Step 2: Now to stop writing anything on your External Hard Drive, you have to select Start from the right pane and change the value to 4. This will disable the windows from writing on your External Hard Drive.
Tips: You may also lock your hard drive with a password to stop it from writing on the External Device.
Method 1: Use Restore Previous Version to Retrieve Deleted Files
For example, you have a deleted file from a particular folder, to restore that image, you can follow the steps below:
Step 1 First, go to the folder, right-click on it to select Restore previous version.
Step 2 Thereafter, choose the right previous version and simply click on the Restore button to the recover deleted file.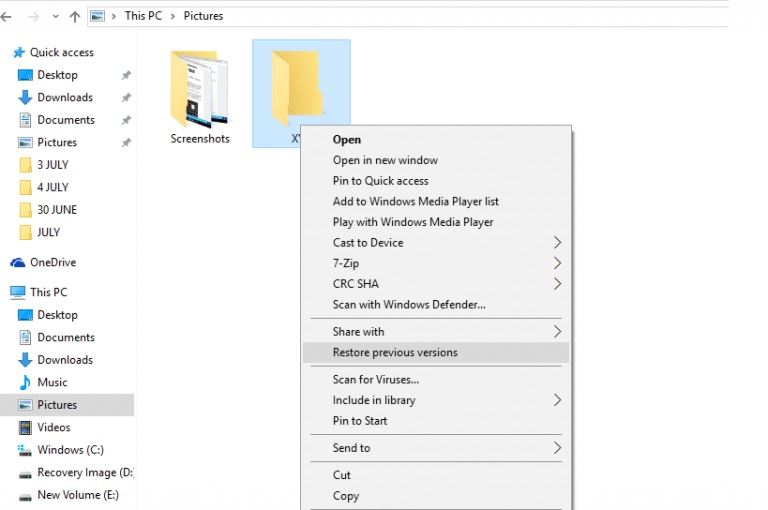 ---
Method 2: Recover Deleted Files from Recycle Bin with Command Prompt
Step 1 For this method, first press the Window key +R and type CMD in the search box.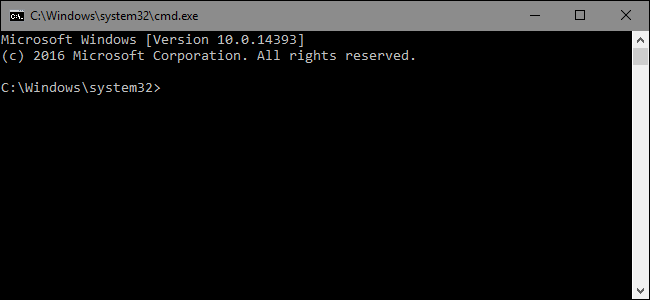 Step 2 Now, type command as chkdsk 'drive letter's /f and press enter.
Step 3 Press 'Y' key until the command starts again and then type the drive letter again and press Enter.
Step 4 Now type a command as follows, [drive letter:\>attrib-h-r-s/s/d*.*]. This command will recover all the files in the drive.
Soon after this process is completed, a new folder will be created in your drive. You can now go ahead and change the file format, save the file and finish the process.
---
Method 3: Recover Deleted Files with a Data Recovery Software:
The Recoverit (IS)y software can seamlessly restore all your deleted files from the Recycle Bin by performing a quick scan.
Here we are going to look into the steps for recovering the Recycle Bin data.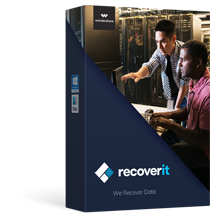 A Life Saver to Solve Your Data Loss Problems!
It is compatible with both Windows and Mac operating system.
It supports a large number of storage device type including hard drives, USB flash drives, SD cards, etc.
All major types of files can be recovered including music, images, video, documents, emails, and archives.
It has a deep scan features for in-depth scanning of the hard drive for searching files to recover.

3,165,867 people have downloaded it
Steps to Recycle Bin Recovery Using Recoverit (IS) Software:
Step 1

Launch and Run

To recover deleted files from Recycle bin, first, launch and run the Recoverit (IS)y software on your PC.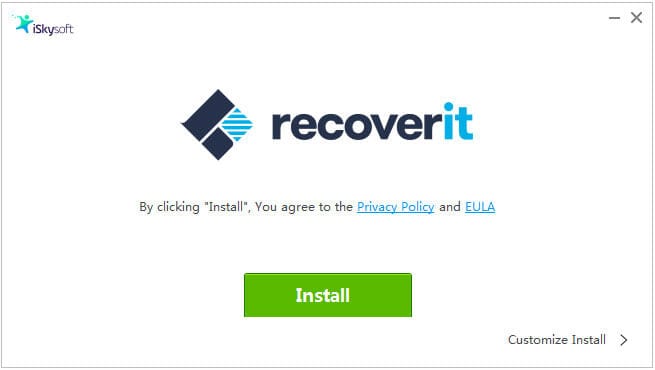 Step 2

Select and Scan

Now select the "Recycle Bin" under "Select Location" to move on. Post your selection, the software will start the scanning of all the available and deleted files on the Recycle Bin.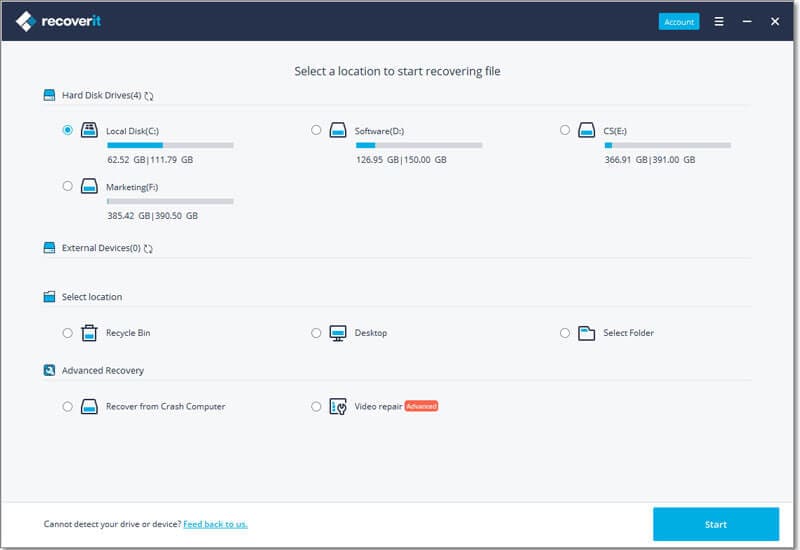 Step 3

Preview and Recover

In the end, once the scanning process is over, the iSkysoft toolbox will show you a list of deleted data from your Recycle Bin.

You can either select the files you want or select all to recover the deleted files from Recycle Bin.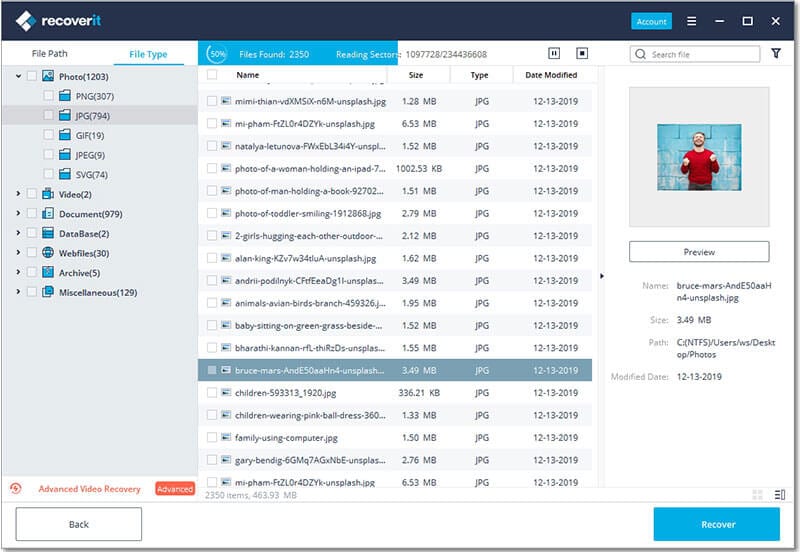 Part 3: Precautions to Avoid Data Loss in Recycle Bin
It is quite terrible to recreate something you have already worked upon and saved and losing important files are an absolute hassle. However, by taking precautionary measures while saving files can actually help you restore the file even if it is deleted.
There are a few ways which can keep you from losing your files and end-up looking for ways to recover deleted files from Recycle Bin.
The most important precaution is back up. You can either back up your files on an external drive like SD card, Hard Disk, etc or you may regularly perform Windows backup. This will save you a lot of time and energy if you ever face data loss.


Secondly, you can prefer to keep the Recycle Bin icon on your desktop hidden. So that even by accident you aren't able to delete its contents, however, the Recycle Bin will keep saving your deleted files silently.


Lastly, take care of your computer. Always keep your anti-virus updated and keep your laptop/desktop away from heat, dust and any other harmful material.
By following these simple tips you can prevent your files from being deleted.
Conclusion:
From this article today, you have learned the various ways to restore your deleted files from an empty as well as loaded Recycle Bin. You also learned how you can recover permanently deleted files from Recycle Bin with Recoverit (IS) software. Also, we have shared with you some important tips which if you follow diligently will save you from losing your precious data from your computer.
So, go ahead and try the exclusive data recovery tool called iSkysoft toolbox today for a free trial and do not forget to share it with your friends and family too.