"After spending a sleepless night working on an important presentation, I have just lost a big chunk of it. I can't see the graphs and other essential statistics that are meant to carry the day. Please advise on how to recover deleted powerpoint?"
- a question from Quora
PowerPoint is a very common Microsoft Office tool that's used for the presentation of projects and other workouts. But nothing beats the odds of losing such data at the eleventh hour. Imagine having worked so hard for three days on a presentation, only to lose it on the morning of the done day? You check all your file folders but it's gone; no trace at all. If you are currently in this situation, just don't panic. You are at the right place.
Here's the thing – Microsoft has a way out. But remember not to disable the Auto recovery at any point. If you are an Office365 user, you can restore deleted PowerPoint files from the cloud or better still, MS office does it from the Auto recovery section. Let's also see at other available means of recovery.
Method 1. How to Recover Deleted PowerPoint Using Recoverit
[Recommended]
It could be that the above options didn't work for one reason or another. If that's the case, there is a plethora of tools that you can engage. The recommended tool, in this case, will not only restore deleted PowerPoint file but it will also recover data lost in any scenario.
Recoverit is intertwined with the latest art of technology to perform recycle bin recovery, formatted disk recovery, virus attack, and system crash data recovery among other scenarios. It is also compatible with most operating system versions, enabling it to work on a wide range of platform. When you ask "How do I recover a permanently deleted PowerPoint?" It can give you a hand on that.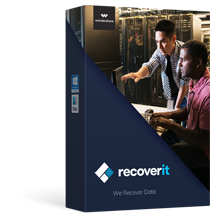 Best Software to Recover Deleted Powerpoint
Use Recoverit to restore data from any storage device including your computer, SSD, USB drives, Micro SD Card, Laptop, Cameras, and other devices.
This App can rightly perform virus attack data recovery, all-around recovery, external devices recovery, and many other scenario losses. This makes it an All-in-one recovery tool.
Be it documents, videos, graphics, or other files that need to be recovered, Recoverit is in the right place to recover them. This goes beyond 1000 data types.
The ability to recover data from a crashed computer system is worth taking note of. This App lets you create a WinPE bootable media to help you get your files even from a dead computer.

3,165,867 people have downloaded it
Now, let's dive deeper to answer you "How do I recover a permanently deleted PowerPoint files with Recoverit.
Step 1 Select the partition area where you lost data
Launch Recoverit tool and go to the home screen. Pick the right location where your lost PowerPoint file was initially saved. Then click on the 'Start' button for the tool to commence scanning on your files.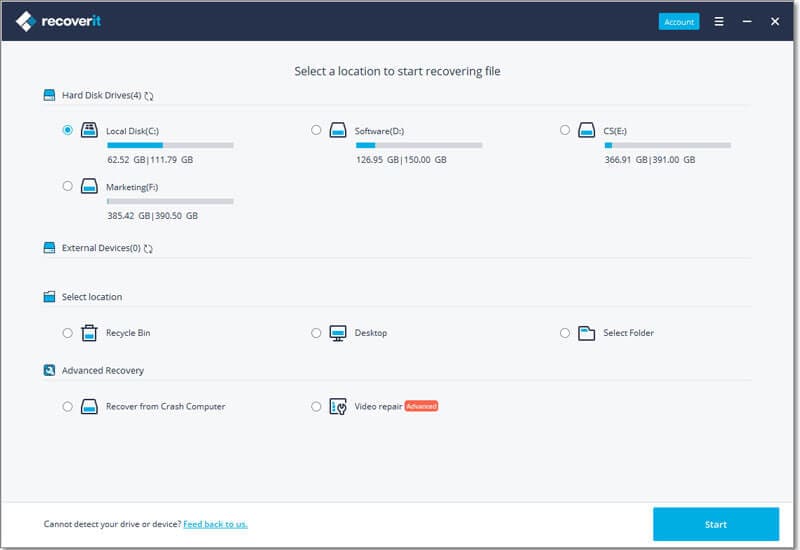 Step 2 Scan the location
A scanning process is meant to help you locate your deleted files. After the scan, Recoverit will present you with available files that are recoverable.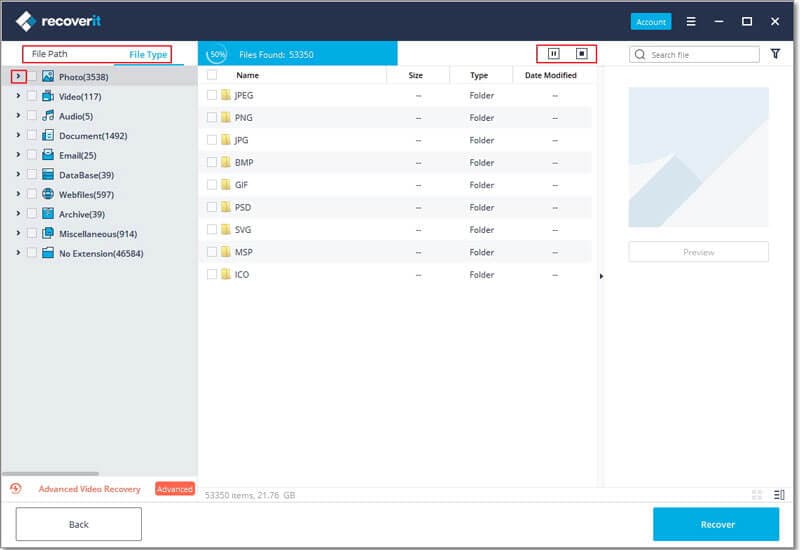 Step 3 Preview and Recover your files
The preview feature lets you check at first hand, your recoverable files. Pick on the files that you need to recover. Then hit on the 'Recover' button to get them back. Remember not to save them in the same location as earlier before. Either choose a separate location or save them in an external storage media.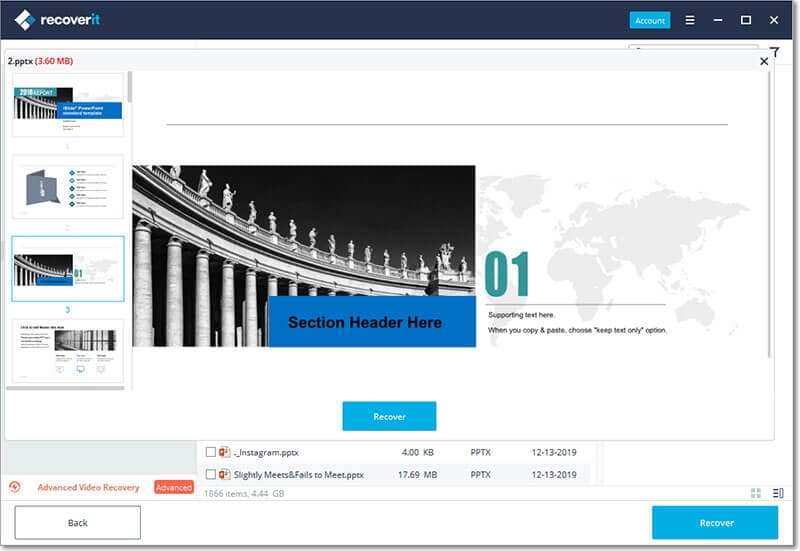 Method 2. Recover Deleted PowerPoint from Temporary Files.
It is also possible to restore a deleted PowerPoint file from temporary files. Generally, any file that you create in PowerPoint creates a corresponding temporary file. Hence, it becomes automatic that you can get on the network drive from where it was originally stored if no additional data has been saved to the hard drive.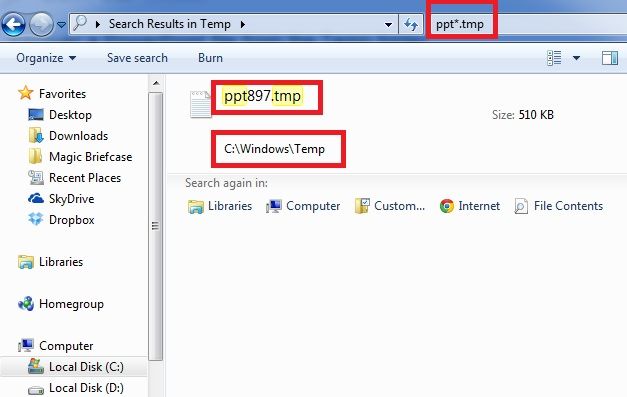 Step 1 Go to the 'Search' box and click on it. You should find this at the top-most right corner of your PC window screen.
Step 2 Type in ppt*(dot)tmp and then click on the 'Enter' key then wait for search results to appear.
Step 3 Right-click the available icon of the (dot)tmp file. Remember to check that the file's name starts with 'ppt'.
Step 4 Rename your found file by assigning it a new name. Then change its extension from (dot)tmp to (dot)ppt and then confirm the change by pressing the 'Enter' key.
Step 5 Open your just renamed file by double-clicking on it. It should open in PowerPoint.
Step 6 Click on the 'Save As' option to save your PowerPoint file with a new name. Select a suitable save location separate from the initial temporary files folder. Lastly click on the 'Save' button for your files to be recovered and saved.
Method 3. How to Recover Deleted Files in PowerPoint from Auto Recovery Folder
As earlier attested, PowerPoint MS application comes with an automatic feature that enables you to recover any lost or unsaved file. The Auto Recover feature! Follow these steps for a successful restore.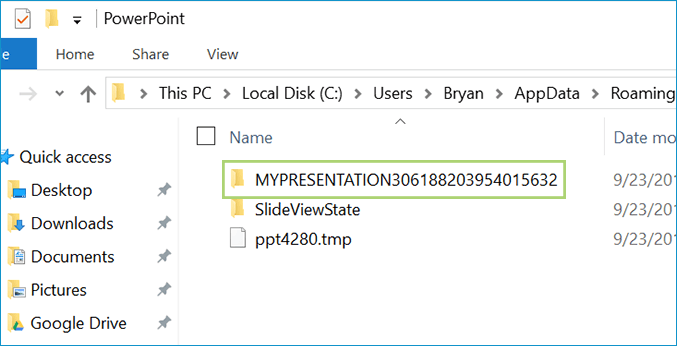 Step 1 Check the 'documents' folder for the path next to 'Auto Recover file location'. Then copy that file.
Step 2 Paste the copied path on the address bar of your Windows Explorer. Next press the 'Enter' button to find it.
Step 3 Once found, open it and save your PowerPoint file to another secure location.
Method 4. Restore Deleted PPT Files from One Drive.
Many users understand the art of backups and will in most cases synchronize their system with cloud accounts. One Drive is one such cloud that can help you to restore deleted PowerPoint file presentations if you accidentally delete them.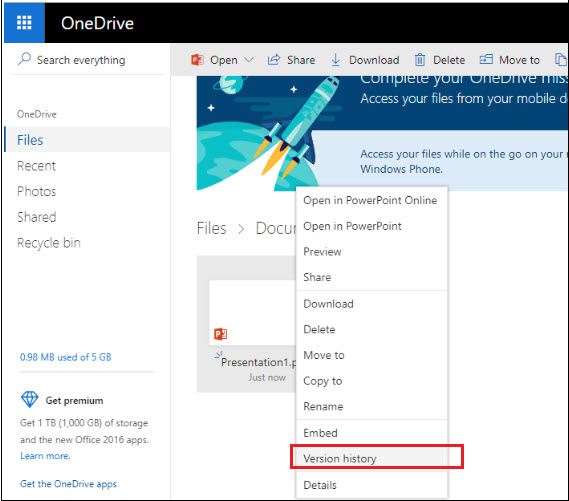 Step 1 Sign in to your One Drive account and select the 'File' option and then the 'Documents' folder.
Step 2 Check out on the presentation file that was shared to your One Drive account.
Step 3 Click on the 'Version History' option to check and choose the recoverable versions.
Step 4 Download the needed PowerPoint files and then save them in a different location.
Method 5. How to Recover Deleted PowerPoint From Recycle Bin
The recycle bin is the most prone region where any deleted file may go. It is our number one suggestion on how to recover deleted PowerPoint presentation because it's the quickest mode of recovery.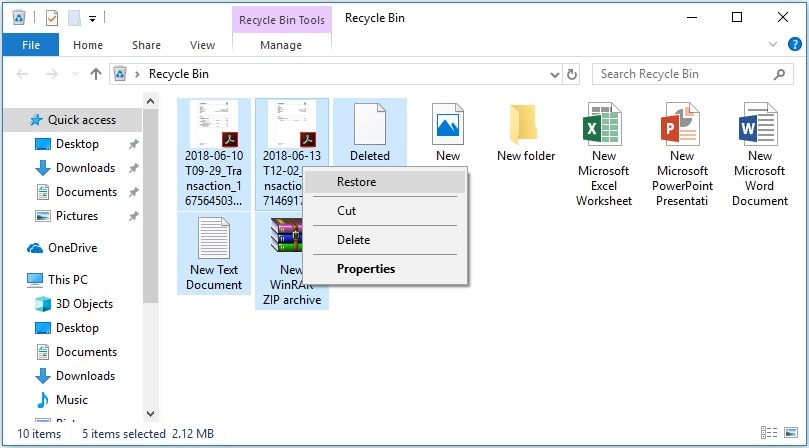 Step 1 Open the 'Recycle bin' icon. This is found at your PC's desktop as a shortcut. Double click on the 'recycle bin' icon.
Step 2 Search for the desired presentation. Check out for the file that you have been working on either by searching for popular keywords or the file name.
Step 3 Restore the file. Right-click on your lost file location and then click on the 'Restore' option. Your accidentally deleted file will then be restored to its initial location.
The Bottom Line
From the stated recovery methods, it is clear that there are many ways on how to recover deleted PowerPoint files. The good news is that the steps are easy to follow, making it easy for even beginner users to salvage their lost PowerPoint presentation files. But if all hell breaks loose, Recoverit is here to get you your files in few steps.