"I recently received some important official documents to my Yahoo email. It so happened that even before I could retrieve and save them, my email address showed "empty inbox". Is it possible to recover lost emails and how can I retrieve deleted emails from yahoo?"
- a question from Quora
Just like clearing your office desk or table, email deletion is an important aspect of occasional cleanup. You may sometimes decide that there is a lot of overcrowding in the inbox and finally hit the delete button. However, a turn of events may lead you to accidentally delete emails that are still important.
It's at this juncture that you're thrown into the disarray of how to retrieve deleted mail from yahoo. There is no need to panic when such a scenario occurs. We'll explore various means on how to recover your deleted email in simple steps. But first, get to know what happens when Yahoo Email deletes from your system.
Part 1: How Does Yahoo Email Get Deleted from Your System?
When Yahoo email gets deleted, remember that it doesn't get lost at an instance. Yahoo! Mail automatically transfers your data to a waiting section called the "Trash" folder. However, such data is only kept for about 30 days after which they are permanently deleted. When this happens, you may require the help of third party tool when you are looking for ways to restore deleted yahoo emails.
Part 2: Is It Possible to Recover Deleted Yahoo Emails?
The most freaking aspect is whether there is a possibility to recover deleted yahoo emails. Yes! It is possible to get back your emails after unintentional deletion. Yahoo Mail has two options via which you can get back your deleted emails. You can either retrieve emails from the 'Trash' folder or send a restore request to Yahoo to get back your emails. Once the request is successful, you stand the chance of restoring your mailbox to its original state. All these are done from a backup copy that Yahoo! Mail creates for the good of its users.
Part 3: How to Recover Deleted Emails from Yahoo.
Let's explore 3 available modes of how to retrieve deleted messages in yahoo mail.
Method 1. Restore Yahoo Emails from Trash Folder
The 'Trash' folder is the default holder of all the deleted yahoo emails. To retrieve your emails, follow these steps:
Log into your Yahoo! Mail account and then navigate to the 'Trash' folder to check out for your deleted emails.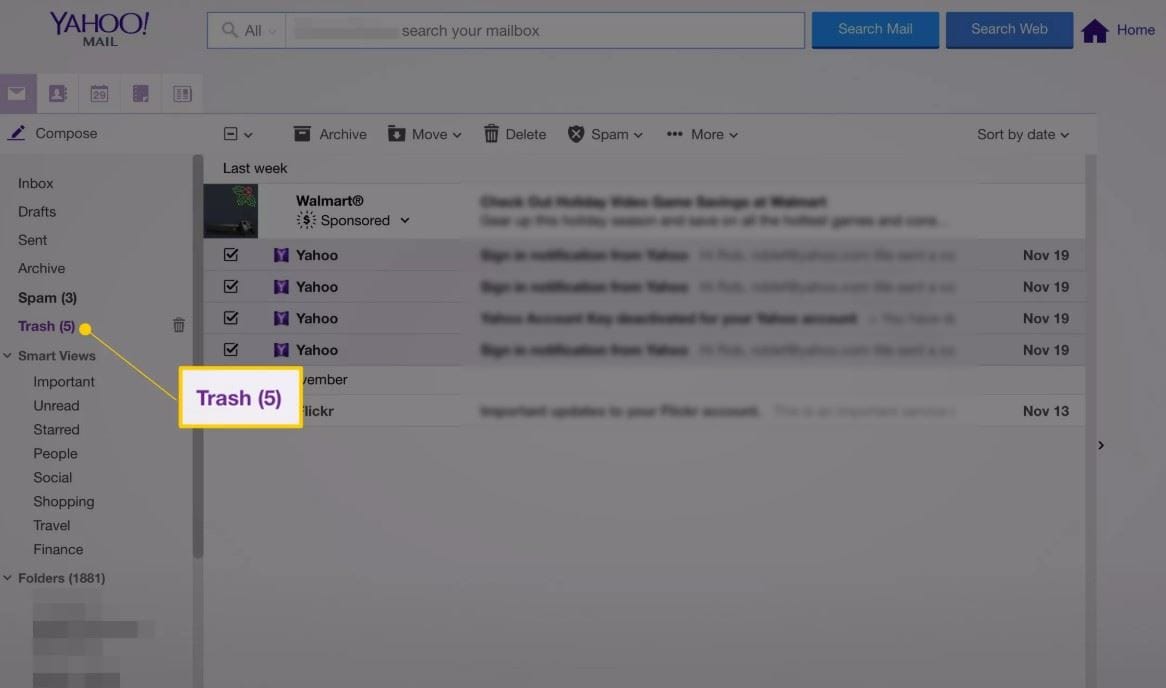 Get to the email that you want to restore and then select the 'Move' option. Find this in the Yahoo! Mail toolbar. Remember you need to specify the folder that you want to transfer your emails to. Select a folder of your choice to enable recovered emails to be transferred to it.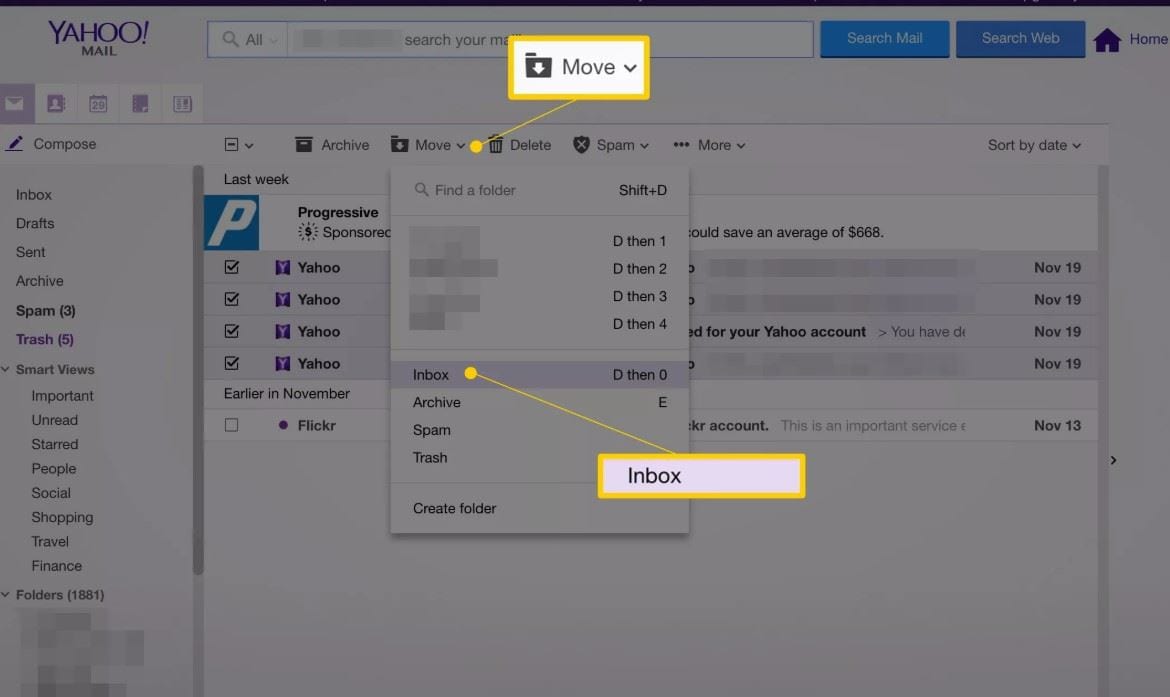 It may be hectic going through all the deleted emails. Instead, use the 'Search' option found in the upper section of the PC window. Type the sender's email address or any related keyword and click on the 'Search' option. This method will search and restore your emails to the specified folder.
Method 2. Restore Yahoo Emails by Submitting a Restore Request
The other method on how to restore deleted emails in yahoo is by submitting a restore request. Yahoo! is smart enough to store your deleted data for a given duration of time. So, if you happen to lose your data in the past 7 days, this method will work out for you.
Download all the recently received emails and save them to your PC. You may also send them to another email address. Do this before heading to the 'Restore Request' to ensure your emails are safe and secure.


Next, go to the 'Yahoo! Mail Restore' Help Form and select the 'Send a Restore Request' option.


This platform will populate a drop-down menu. Select your issue, which is 'Mail', then click the 'Accidentally deleted messages on WebMail' option.


Keep in mind when you last saw your missing messages. Next, you'll need to select the time range when you last saw the emails.


Next, type in your email address in the provided field and then type in a second email address that you can access.


There is a 'CAPTCHA' field that you'll be provided with. Fill it and then select the 'Create Request' button.


The email service should be able to restore your Yahoo! Mail accounts to enable you to recover your deleted emails.
Method 3. Recover Deleted Emails from Yahoo after 30 Days
[Important]
Perhaps it has been over a month and you are still looking for ways how to recover deleted emails from yahoo. This is the point by which third-party tools come to your rescue. And since the first two methods cannot recover your Yahoo! Mail after 30 days, the better option is to settle for this third option. Recoverit (IS)! This tool comes with advanced features that enable you to retrieve data that has been lost in any scenario. Whether it is intentional deletion, virus attack, system error or device formatting scenario, be rest assured of a successful outcome.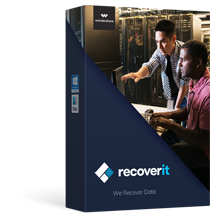 Some features that make Recoverit (IS) a most trusted tool.
It stands a chance to recover over 1000 data types such as graphics, documents, videos, audios, and other files.
It's easy to use with just a 1-2-3 to the successful recovery.
It also gives you a platform to create a WinPE bootable media that enables you to perform a system crash recovery from a computer that has crashed or with the blue screen of death situation.
Use Recoverit (IS) to salvage data from any storage device like Zip drive, camcorder, video player, and much more.

3,165,867 people have downloaded it
User Guide: Find Deleted Emails in Yahoo Mail using Recoverit (IS)
When it comes to retrieving lost data, the options aren't widely spread. And given the magnitude at which some data are important, it's high time you learn the basics as expressed in this guide. Let's walk through how to retrieve deleted emails from yahoo.
Step 1

Select which location your lost data is in

Remember that this is the partition that should harbor your lost data. Launch Recoverit (IS) and go to the home screen. Once you identify and select the partition, click on the 'Start' button. The App will begin scanning the disk in a short while.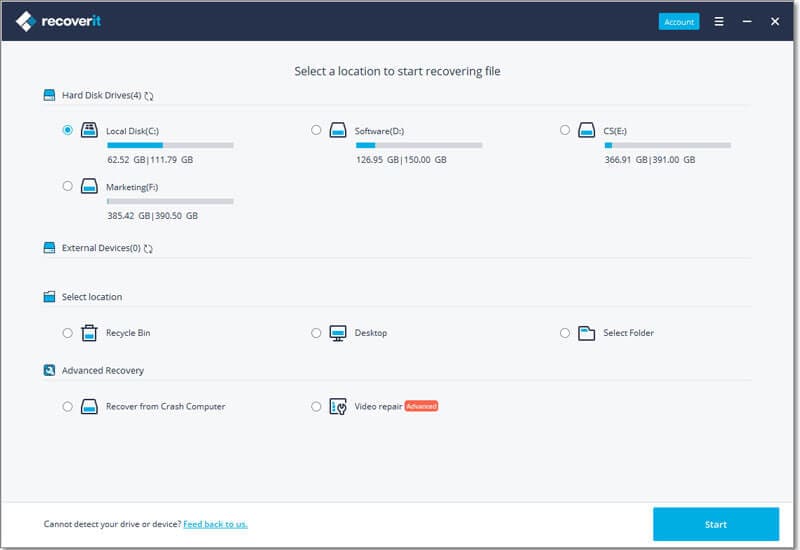 Step 2

Scan your lost Yahoo Mail

The App will commence the scanning of your selected partition. A variety of retrieval Yahoo Mail should be populated after a while. You can as well make your work easier by refining the scanning process. You can pick a particular file type to scan for faster retrieval.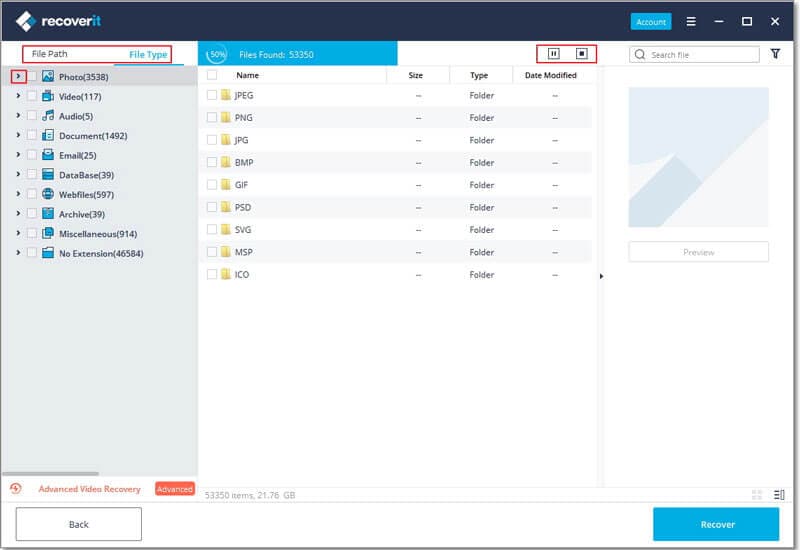 Step 3

Preview your scanned data

Recoverit (IS) gives you the option to preview your data before recovery. Simply check all the boxes against the Yahoo Mail that you need to recover.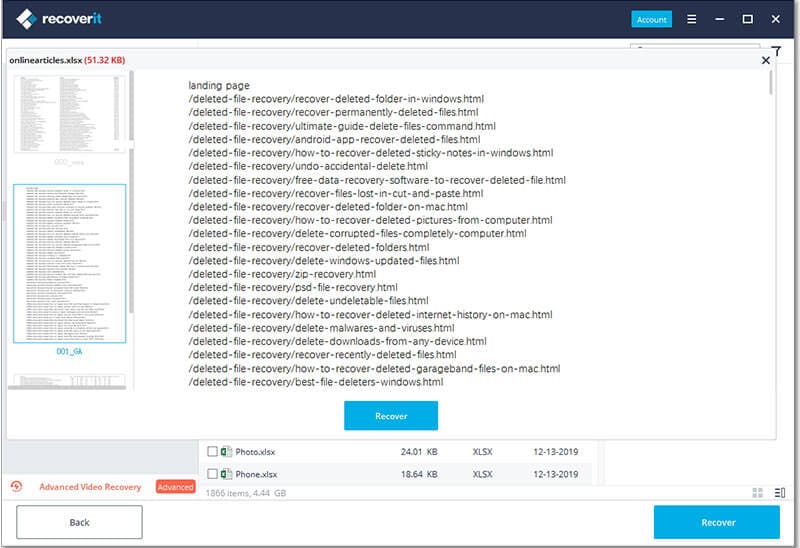 Step 4

Recover

Take note that all the checked Yahoo Mails will be recovered. Hit the 'Recover' button to get them back to your computer. Save your recovered data in another location or to an external hard disk apart from where it was lost.
Conclusion
A simple action on your computer may lead you to lose important data from your Yahoo! Mail. It is a good practice to keep backups of your data at all times. Nonetheless, things may go out of hand and you find that some data have not been backed up. Thanks to Recoverit (IS) tool that can come to your rescue when you are wondering how to get deleted emails from yahoo. The steps to recovery are simple and easy to follow.