"I have used my Windows 7 PC for so many years but I have never experienced a system crash. I just realized that my files have been permanently deleted after this terrible crash. Please, I need help on how to recover deleted files from pc windows 7. Any help?"
- a question from Quora
It happens to most of us. You delete a file and then realize you need it back. And data loss is a serious problem—especially for a business of any size. Fortunately, it is easy to recover deleted files in Windows 7 or any other operating system.
The ease of retrieving depends on the way you've lost the file. But before thinking of how to recover deleted files in Windows 7, let's dig a little deep in how data get lost. After all, you don't want the incident of accidental or unintentional data loss to happen again.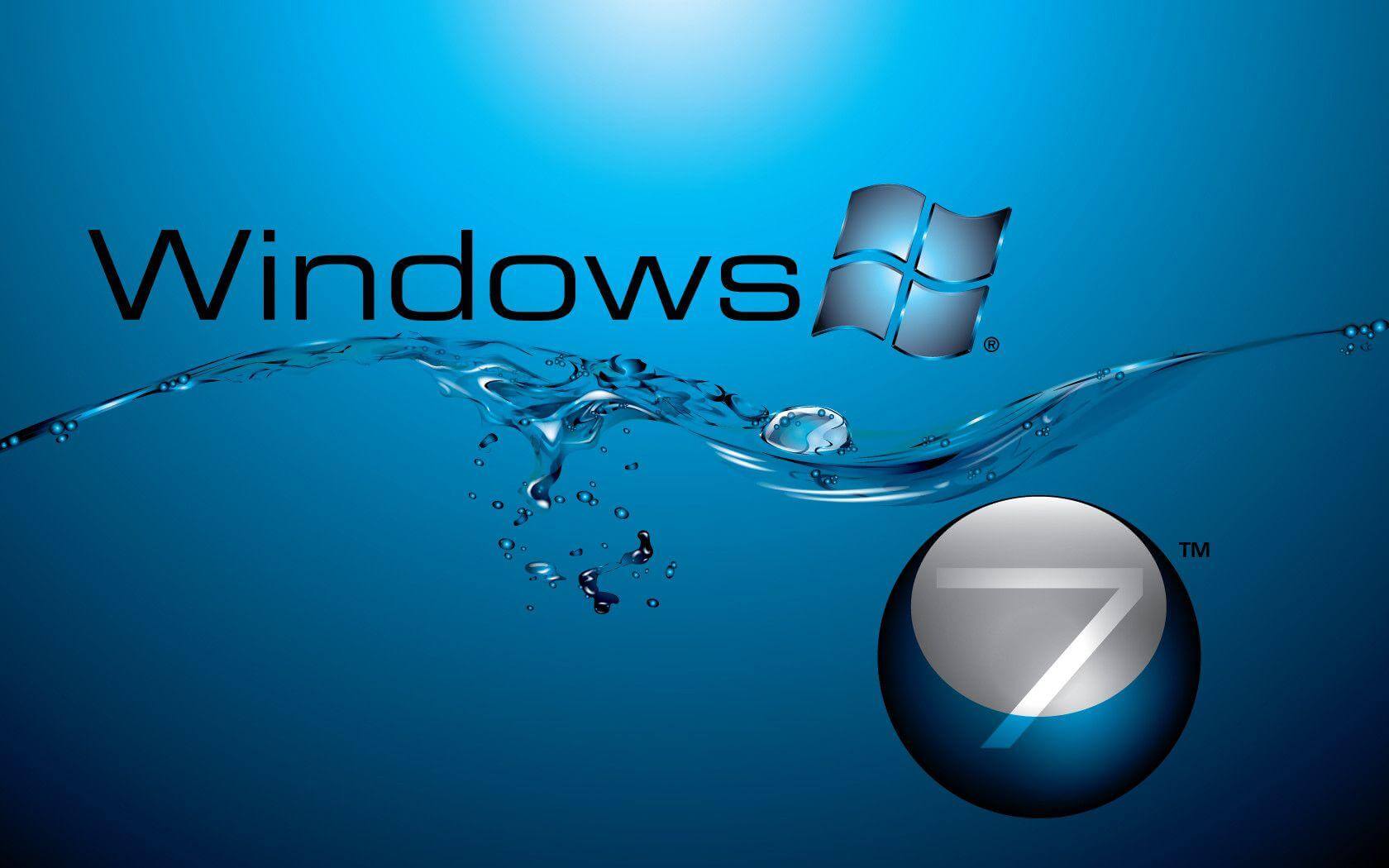 Method 1: Retrieve Deleted Files from Recycle Bin in Windows 7
If you just clicked 'delete', and you've not emptied the Recycle Bin, here is a step-by-step guide to undelete files in Window 7 to its original location. It is easy as 1, 2, and 3.
Step 1 Open the Recycle Bin by double left clicking on its icon. Alternatively, you can right-click on the Recycle Bin icon and select the 'Open' option.
Step 2 Locate the files you wish to recover from the list of the deleted folders and files.
Step 3 Right-click on your selection and hit the 'Restore' option. Alternatively, after selecting, find the 'Restore This Item' tab on top of the section of the Recycle bin Window.
Suppose you're not sure of the initial location of the file, right-click on the item and select the 'Property' option to navigate the previous position.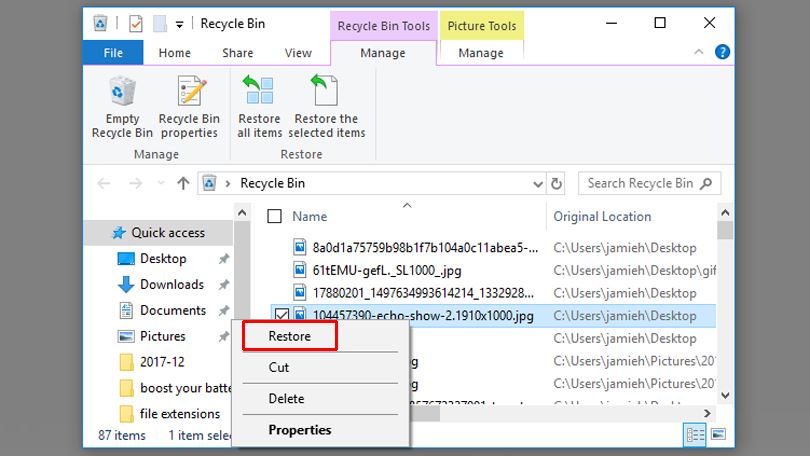 Method 2: Restore Deleted Files in Windows 7 from Backup
This method is efficient to restore permanently deleted files in Windows 7. To restore data from a backup, you must have initially set a restore point. Here a definitive guide to getting your data back:
Step 1 Hit the start button, the key in Control Panel is the text bar and head over to system and security.
Step 2 Under System and Security, head over to Backup and Restore and select Restore my files and follow what the wizard directs.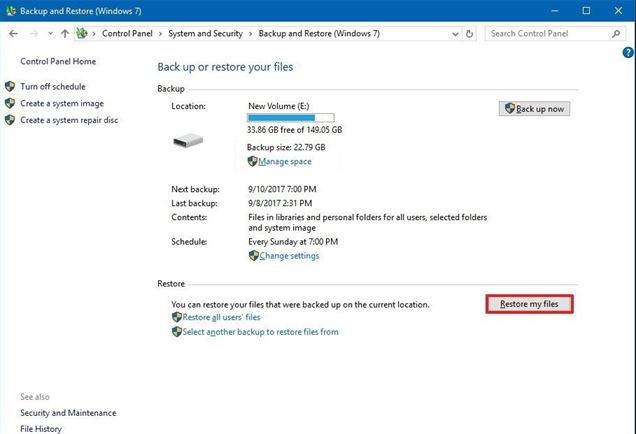 Method 3: Recover Deleted Files by Restoring the Previous Version
Suppose your files have got corrupted by a virus or system crash and you've tried the previous Windows-recovery method without success, it might be time you jump to restoring a file to the previous version. Mostly, the previous versions are copies of files and folder that Windows backup or copies automatically as restore points.
Depending on the type of file or folder, you can open and save to different location. It is appropriate in recovering data corrupted with a virus.
Here is a definitive guide on how to recover deleted files from previous version:
Step 1 Right-click on a file or folder, a drop-down menu will popup. Click on the 'Restore Previous Version'
Step 2 Hitting the Restore Previous version opens a new window with multiple available previous versions, select one and hit the 'Open' option to check if that's the version you want.
Step 3 After confirming the previous version you wish to restore, hit the 'Restore' button.
This file replaces the current file version. If the restore version isn't available, you cannot restore the file or folder to its original location. However, you might be able to open it and save it to a different location.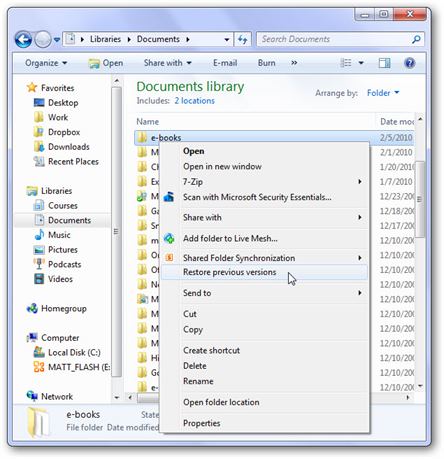 Method 4. Recover Deleted Files on Windows 7 with Recoverit Windows Recovery Software
[Most Efficient Way]
You might have tried all the Windows-recovery option, and none get your data back. It might be a type of data loss that Windows cannot recover.
But there is a smarter way to recover files in Windows 7. Data recovery software that can execute nearly any type of data loss can come handy. But there are hundreds of data recovery software you can choose from out there. And it can get confusing.
Fortunately, we're going to review one that offers the best-in-class solution to undelete Windows 7— Recoverit tool.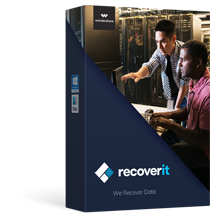 Best Software to Recover Deleted Files Windows 7
All-in-one data recovery — the tool recovers formatted storage devices, permanent deletion, data loss from virus attack, and nearly all other scenarios of data loss. It is non-selective.
1000+ types of file recovery — Recoverit software come with a lineup of utilities that recovers almost all data types—photos, pdfs, doc files, videos, emails, audios, and even more. It is non-oppressive when it comes to data recovery.
Recovers computer data as well as any other storage device—The tool supports the recovery of any data storage devices with files system NTFS, FAT16, FAT32 or exFAT. Better yet, it can recover data from Hard Drive, SSD, RAID, SAN,DAS, USB Drive, Micro SD Card, laptop, Desktop, Macintosh, Camera, Camcorder, Music Player, Video player, iPod, CF/SD Card, Zip Drive, Pen Drive, Floppy disk, and even more.
Recovers even from a crashed computer. iSkysoft understands that computer crashes and software seize functioning. It comes with Windows PE a function that enables you to recover data even from a crashed system
Pain-free data recovery. The tool user interface is seamless to interact with only scan, preview, and retrieve functions to execute to have your files back.

3,165,867 people have downloaded it
Recoverit allows you to execute Windows 7 recovery in 3 simple steps. And below we'll explore how to use the tool on Windows platform.
Step 1

Download and Install Recoverit tool

Download and install the program to a separate partition from that where your lost files were initially in.
Step 2

Select the location where your lost data was initially in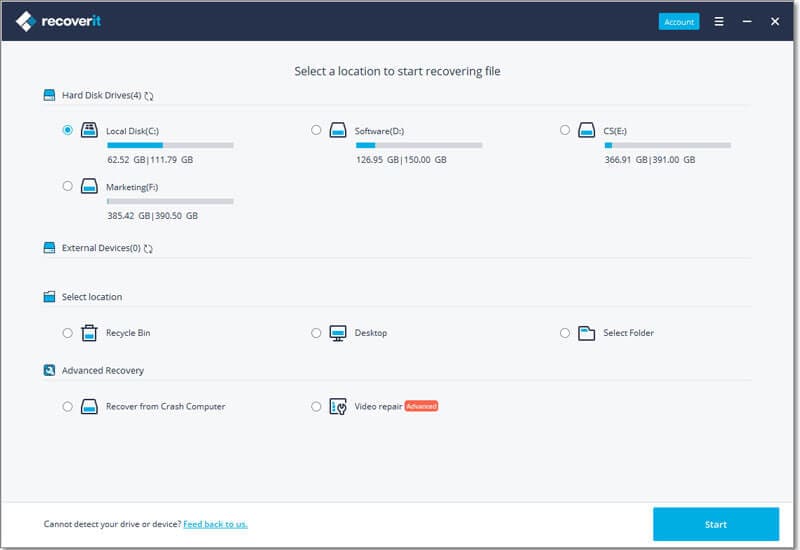 On the home screen of Recoverit tool, select a location or a partition where your lost files were initially in.
Step 3

Scan for your lost data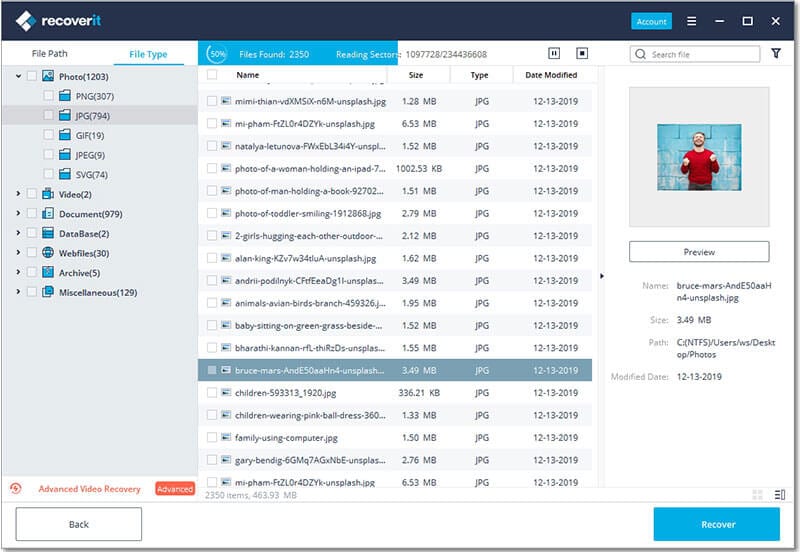 Hit the "Start" button to execute the scan and wait while the tool crawls deeper into your storage device. The scan period depends on all the data type and sizes of the files that were initially on the location you select.
You can use the filters button to refine your scan. For instance, you can choose to scan a specific file type or file path. Even more, you can pause or stop the scan as soon as you locate your lost data.
Step 4

Preview and Recover Data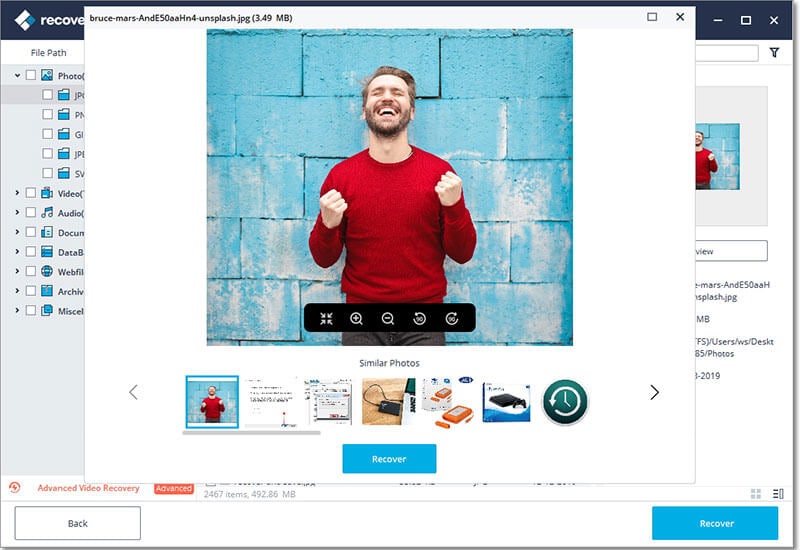 The tool comes with a preview function that allows you to check on a file before recovering it. To preview files, hit the "Preview" feature.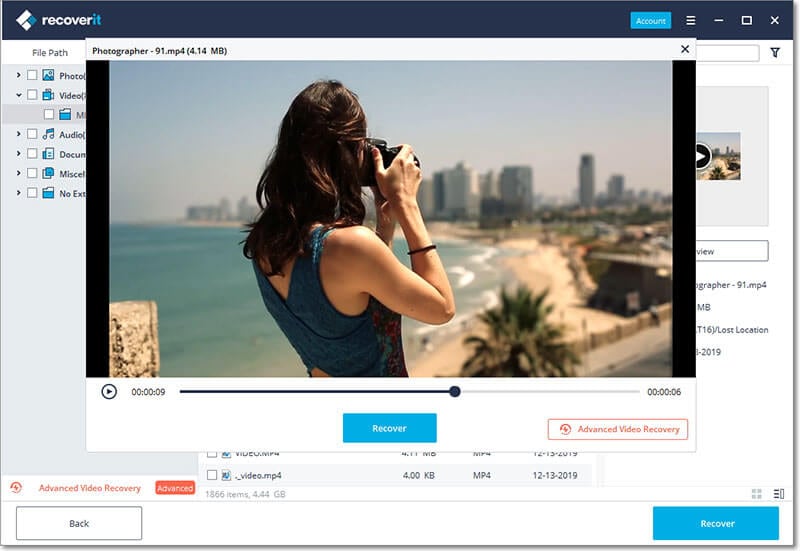 After previewing your files, hit on the "Recover" button to retrieve your data and launch your lost files. Save the data you have retrieved on a different location or save it on another storage device.
Scenarios of File Deletion in Windows 7
Literally, there are hundreds of ways data get lost in Windows 7. But let's focus on the most common ways.
System Deletion

This where a computer automatically deletes files maybe as part of routine clean up. On this type of deletion, the data will not go through the recycle bin. To undelete such data loss in Windows 7, you can opt to restore from backup or use data recovery software.

User-Initiated System Deletion

For instance, when you clear internet history or uninstall a program, your computer deletes files that will not go through recycle bin. Getting back such data is only possible by a data recovery tool.

Third-Party Tools

This is a situation where you can run a deletion tool like Avast Cleaner, and accidentally lose data you didn't intend to delete. Such data do not go through recycle bin. It will require you extra effort to retrieve your data.

Hitting Shift and Delete keys simultaneously

This combination perfect-deletes a file. Meaning the file will not go through the recycle bin. No data get recorded in the recycle bin.

Viruses and Malware

Viruses can steal and delete a trunk of data. A computer usually gets an infection from an email-based attack or through phishing that might attempt you to click a corrupted link. The link then allows the virus or malware to enter your computer system.

Data deleted by virus or malware is only recoverable by restoring your system to the previous version or by use of data recovery software.

Hard Drive Damage

Majority of data deletion takes place as a result of hardware malfunctioning. Hard drives are the most fragile part of a computer, and they are prone to crashing.

Crashing is majorly a result of misuse or mishandling, including dropping a computer or a laptop. Also, the hard drive can get damaged due to computer overheating, overuse, or dust build-up on the computer.

The best way to prevent data deletion due to hard drive damage is by backing up your hard drive. Fortunately, some data recovery tool can recover data even from a damaged hard drive.

Power Outage

Power outage disrupts computer operations without any warning. This leads to loss of unsaved data, can corrupt an existing file due to improper shutdown procedures. If a computer shutdown while it is writing to the hard drive system, it may never start up again.

Even if you don't lose data during a power outage, the improper shutdowns can result in a long-lasting impact on your hard drive. If the power surges happen frequently, the life span of a hard drive will significantly reduce, and it is more likely to crash.

Liquid Damage

Spilling liquids on a computer can cause a short circuit, which might cause permanent data deletion—you might never retrieve such data.

Software Corruption

Improper or unexpected software shutdown might appear innocent on the surface but can cause serious issues for your data. Improper shutdowns can corrupt data or delete progress, wasting your time losing valuable data.

Hard Drive Formatting

Accidental formatting can cause instant data loss. And it mostly happens when one misunderstands system prompt or error messages. Updates also can trigger data formatting.

Those are the 10 most common scenarios where data get deleted. By no means does it mean a complete list. There are more. But let's trail to how to retrieve data after you've lost it. We'll start with the most readily available method to the most advanced techniques.
Bottom line
There are several ways to recover deleted files in Windows 7 for free. Windows provides several free recovery methods, but they might not be powerful enough to offer an all-round recovery solution. Software to undelete Windows 7 might come handy. The most reliable recovery, Recoverit brings you advanced capabilities for data recovery. Besides being easy to use, it is intertwined with a state-of-the-art technology to recover data lost in any scenario.