"I have recently started using Snapchat and accidentally deleted some important photos from it. Is there any way to recover deleted Snapchat pictures?"
- a question from Quora
While Snapchat is a popular and secure social app, it does suffer from a few pitfalls. Due to its dynamic interface, a lot of users face the same issue and end up deleting their Snapchat memories by mistake or Snapchat memories gone after automatically. It doesn't matter what the situation is – now you can also learn how to recover deleted Snapchat memories like an expert. In this guide, I have listed 5 proven solutions on how to get deleted Snapchat memories back.
Part 1: Can You Recover Deleted Snapchat Memories?
Yes, you can recover deleted snaps from your device. Before we teach you to retrieve deleted photos from Snapchat, check if they are saved in Memories or not. Ideally, if you have previously saved the snap, then it can be retrieved from the Memories section. Just go to your Snapchat home and swipe up to access the saved snaps.
If the snaps are deleted from memories or were not saved altogether, then you need to take some drastic measures. For instance, you can take the assistance of a recovery tool, check your phone's cache, or the linked cloud account to recover deleted snaps.
Part 2: Recover Deleted Snapchats with 5 Methods.
As stated above, there are several ways to recover deleted Snapchat pictures that were saved on your phone. Let's explore the 5 major ways on how to recover deleted Snapchat history.
Method 1: Recover Snapchat Pictures with Recoverit
If you want to take the assistance of a computer to learn how to recover deleted memories on Snapchat, then try Recoverit. It supports data recovery on all kinds of SD cards. Therefore, you can only follow this approach if your snaps were saved on your Android's SD card. Since it is a user-friendly solution, you can follow this on your own without any trouble.
If you lost important data after malware attack, please click here Recover data after malware attack on PC.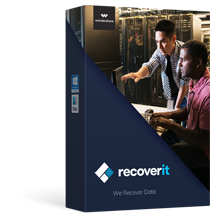 Best Software to Recover Deleted Snapchat Memories
The application has one of the highest data recovery rates in the industry and offers a free basic version.
It can recover all kinds of photos and videos in every leading format like JPEG, PNG, BMP, GIF, TIFF, MPE4, FLV, and many more.
SD cards of all types and from every major manufacturer like SanDisk, Kingston, Sony, Samsung, HP, etc. are supported.
The interface will first let you preview the extracted photos and videos before saving them.

2,965,271 people have downloaded it
To learn how to recover deleted a Snapchat from your SD card, watch this video tutorial and follow the guide below.
Step 1
Connect your Android Phone
Connect your Android Phone with storage card to the computer. Please notice that your mobile serves as the external device and will be recognized by the PC before the recovery started.
Step 2
Select "External device" Option
As your Android phone serves as the external device, you can select the "External Devices" option and then click the "Start" button to continue the scanning process.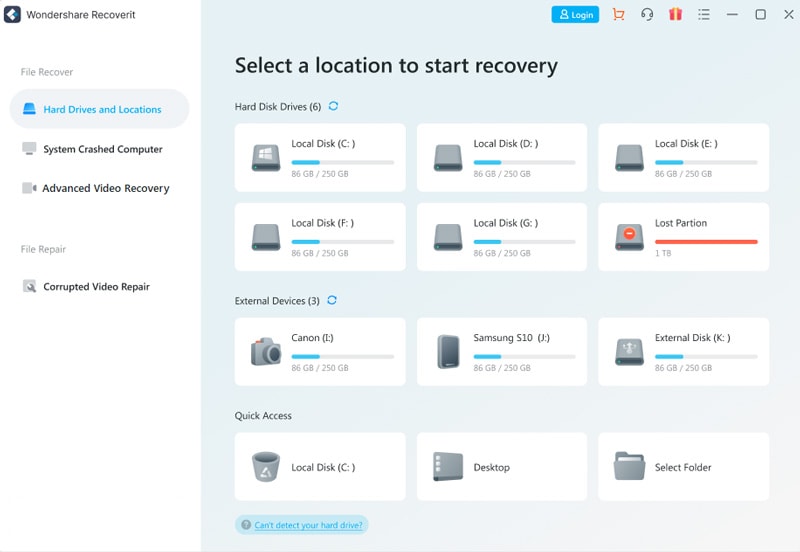 Step 3
Scan the SD card for lost snaps
Give the application a few minutes as it would scan your data. It will display the retrieved results on the go and would display the progress via an on-screen indicator.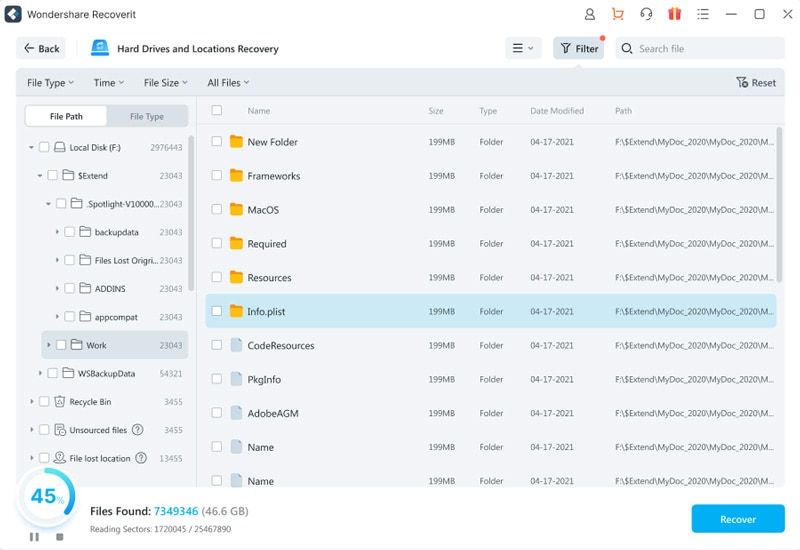 Step 4
Preview and recover your snaps
In the end, all the extracted photos, videos, docs, etc. would be listed under different categories. If you want, you can preview the photos and videos here and select the ones you wish to save. Now, save your snaps to your computer or any other secure location by clicking on the "Recover" button.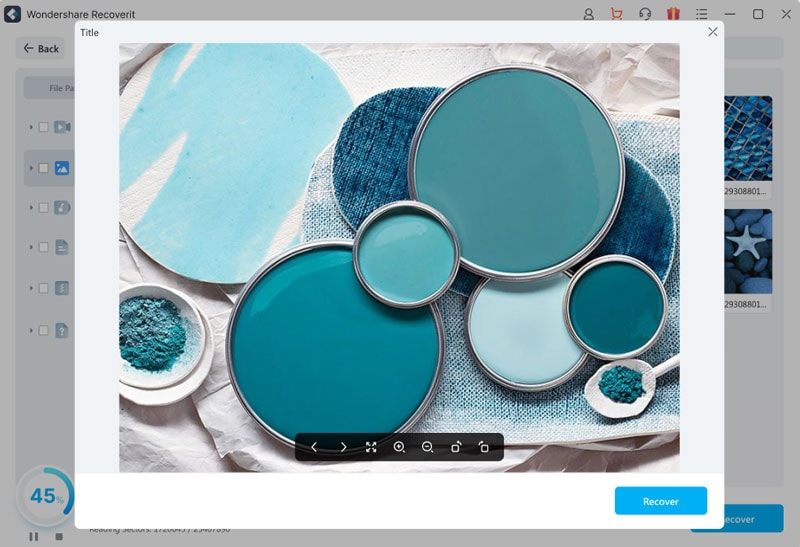 ---
Method 2: Recover Snap Files from the Device Cache
If you want, you can also try to recover deleted snaps from Android's cache as well. Ideally, cache is the temporary data that is stored by an application to make it's working faster and provide a better user experience. Therefore, even if the snap has been deleted from Memories, chances are that it might be present in the device's cache. Though, the likelihood of retrieving a deleted snap from a mobile's cache is pretty bleak. Nevertheless, you can take a chance and follow these steps to retrieve deleted Snapchat memories on Android.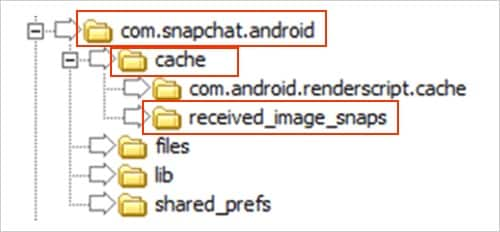 Step 1 Firstly, you need to access your Android's file system. To do this, you need to take the assistance of a dedicated file explorer/manager app on Android. Alternatively, you can just connect it to your Windows PC as well.
Step 2 Once you can access the device's internal storage, browse to its Snapchat folder. Mostly, it is saved on Android > Data > com.snapchat.android.
Step 3 That's it! Now, you can just look for the Cache folder here and view the saved snaps. Move them to any other location and change their extensions to access them the usual way.
---
Method 3: Recover Snapchat Files via Google
By default, all the Android devices are linked to a Google account, which gives us an option to save our snaps on the cloud. If you have also enabled the syncing of Snapchat data with your Google account, then you can easily recover your deleted snaps. You can go to the official website of Google Photos or enable the syncing on your device. Here's how to get back deleted Snapchat memories via your Google account.
Step 1 Go to your Google account that is already linked to your device. Now, navigate to Google Photos and view all the pictures that are saved on the cloud.
Step 2 Simply select the snaps that you wish to get back and download it on the local system. You can later transfer them to your Android as well.

Step 3 Alternatively, you can also go to the Google Photos app on your Android and visit its archives. If the snaps are deleted from here too, then visit the Trash folder on the app.
Step 4 Now, just select the images you wish to get back and tap on the "Recover" button to save them to your device.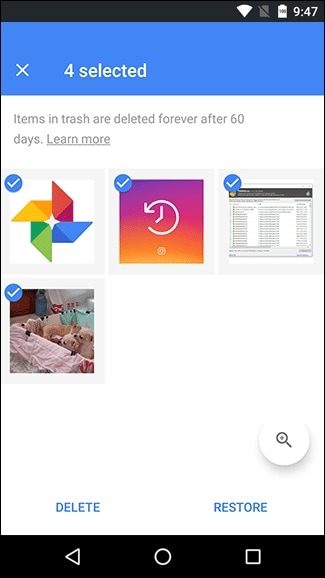 ---
Method 4: Restore Snapchat Files via iTunes
Let's have a look at some solutions for iOS as well. Most of the iPhone users take the assistance of iTunes to backup their device. In case if an existing backup is present on iTunes, then you can just restore it to your device.
Beforehand, be sure that your lost snaps are present in the backup. Also, please note that this action would restore your device and delete its existing data. If you are ready to take this risk, then follow these steps to learn how to recover deleted photos from Snapchat via iTunes.
Step 1 Simply connect your iPhone to the system and launch iTunes on it. Select the iPhone from the devices section and go to its Summary page.
Step 2 Under the Backups section, you can see solutions to backup and restore your device. Just click on the "Restore iPhone" button to proceed.
Step 3 A pop-up window will launch from where you can select the appropriate backup file. Click on the "Restore" button again and wait as the data would be extracted on your iPhone.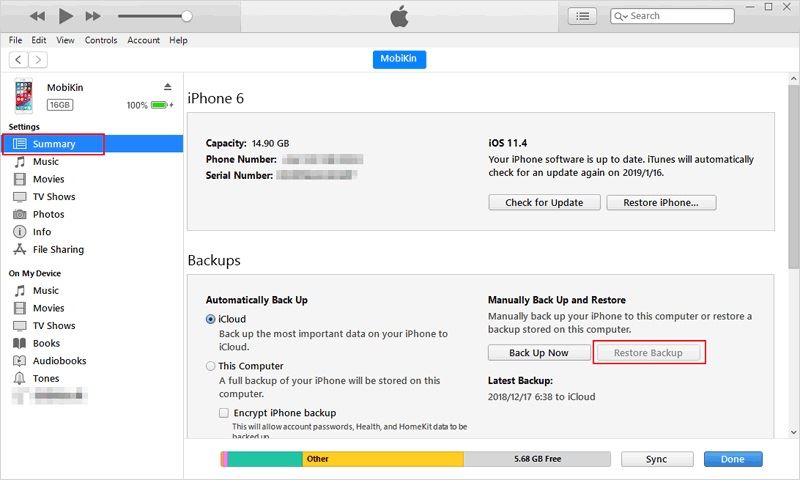 ---
Method 5: Retrieve Snapchat Files via iCloud (iOS)
Just like iTunes, a lot of iPhone users also take the assistance of iCloud to save their data as well. If this is the case, then you can easily retrieve your lost snaps from the connected iCloud account. To do this, you can restore the entire backup or visit iCloud's website to save particular snaps. If you wish to restore an entire iCloud backup, then you need to reset your device first. Here's a stepwise guide on how to recover deleted Snapchat chat history via iCloud.
Step 1 If your snaps are already saved, then simply go to the official website of iCloud and log-in to your account. From its home, visit the "Photos" section.
Step 2 Here, you can view all the saved snaps on iCloud. Simply select the desired pictues and tap on the download icon to save them on the local storage.

Step 3 Alternatively, you can restore an entire iCloud backup too. Beforehand, go to your device's Settings > General > Reset and tap on "Erase all Content and Settings".
Step 4 As your iPhone would restart, perform the initial setup, and choose to restore it from an iCloud backup. Log-in to the same iCloud account and select an existing backup to restore.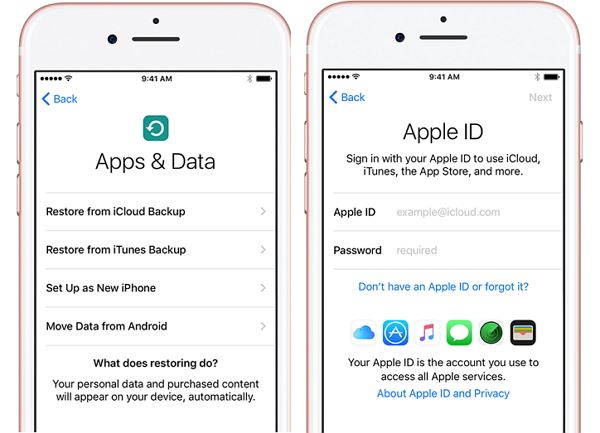 Conclusion:
I'm sure that after reading this guide, you would be able to recover deleted Snapchat photos like a pro. As you can see, we have listed 5 different solutions to restore deleted snaps for both Android and iPhone. If you want, you can also try Recoverit to get back lost content from your SD card as well. So what are you waiting for? Go ahead and give these solutions a try and share this guide with your friends to teach them how to recover deleted Snapchat images.