Memory sticks may seem slender and short, but they are one of the best ways by which you can store or share data without carrying a bunch of wires or a bulky hard drive. Memory sticks are commonly used in video recorders and cameras, but nowadays, with a USB adapter you can use them as pendrives or a highly portable data storage device.
Recovering data from memory sticks can be a hassle if you don't know the exact and safest way to do so. In this guide, we will be going through the common scenarios where memory stick data loss may happen.
Part 1. Common Reasons Why Memory Data Loss Happen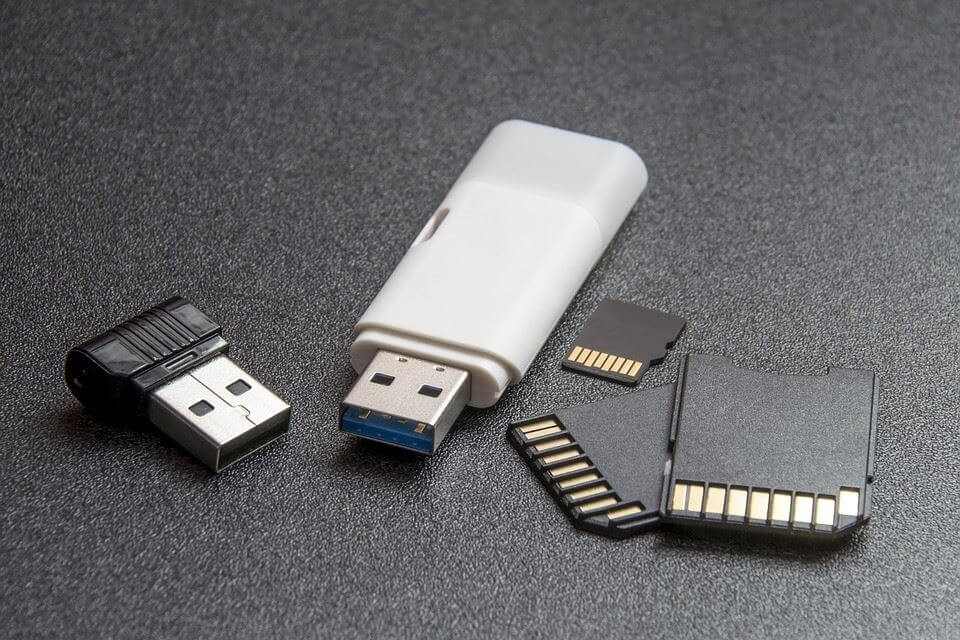 Memory sticks are designed to be portable and they are always on the move. This means that there is more probability for the memory to suffer damage or data loss. We will discuss some of them so that you can take the necessary steps to make sure you can prevent them from happening to you.
Careless handling: The absence of any moving parts in a memory stick makes it the perfect option to take on your travels. They are designed to serve this purpose as camera devices are always on the move. But this doesn't mean that you can just toss it in your bag without any care in the world. Sharp objects can scratch the semiconductors which can cause the memory stick to fail. Always carry Memory stick in soft carry case.
Virus or malware: The next common reason that leads to memory loss on memory sticks is virus or malware. These malicious programs can delete and corrupt files on your memory stick without your knowledge. Make sure your computer or the computer the you plug your memory stick is free form viruses or malware.
Bad sectors: The storage in memory stick is made up of tiny sectors. These sectors are the storage spaces that store data. Any damage suffered by the sector will also reflect on the data in it. With bad sectors or damaged sectors, your data on it will also be damaged.
Formatting error: Formatting a memory card is a simple process, but sometimes formatting can go wrong and the data on the memory will get damaged along with it. Formatting errors are unpredictable but it is also dependent on factors like the condition of the memory stick and its age.
External factors: External factors like temperature and moisture can mess up your memory stick. Again, you can prevent a large extent of these harsh external factors by properly taking care of the memory stick like storing it in room temperature and ensuring that it doesn't get too hot or too humid.
These are some of the common factors that lead to data loss in memory sticks. It is really frustrating to lose your data especially when you don't have any copies of it. But we have a solution for you!
Part 2. How to Recover Deleted Files from Memory Stick
In this part, we will help you recover lost files from Memory stick. We do so by using a powerful recovery software that checks each sector of the memory stick for data. Then the data is recovered without damaging the individual files.
The software in question is Recoverit (IS) Tool. This is a data recovery software that you can trust. The powerful algorithm used by the software can scan file with very high precision. The whole procedure is easy and effective.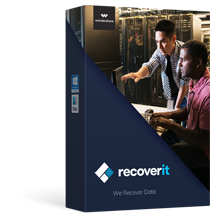 Features of dr.fone
Windows and Mac compatible: The Software runs on both Mac and Windows machines.
Full coverage of Media files: iSkysoft supports a wide variety of media files and office files.
Deep scanning: An advanced scanning algorithm can be used for more in-depth scanning.
Preview mode: Files can be previewed before the recovery process.

3,165,867 people have downloaded it
The dr.fone has many features within it that makes it a perfect companion for your storage devices. Here are some of the standout features that makes ISkysoft Data Recovery tool a class above the rest.
The impressive feature set of the Recoverit (IS) tool makes it a must have software for anyone who handles a lot of data on a day to day basis. Since memory sticks often used by content creators, having iSkysoft installed on your computer gives you that added confidence that even if something happens to your data, you have a great chance of getting it back in one piece.
Let's see how you can use iSkysoft Data recovery tool to recover lost files from a memory stick.
Step 1

Download the latest version of Recoverit (IS)

You can download the software directly from iSkysoft website. After download, install the software on your computer. Do not trust software from third party websites.
Step 2

Choose the Recovery Mode

Out of the option, select a Recovery Mode that best fits your requirements.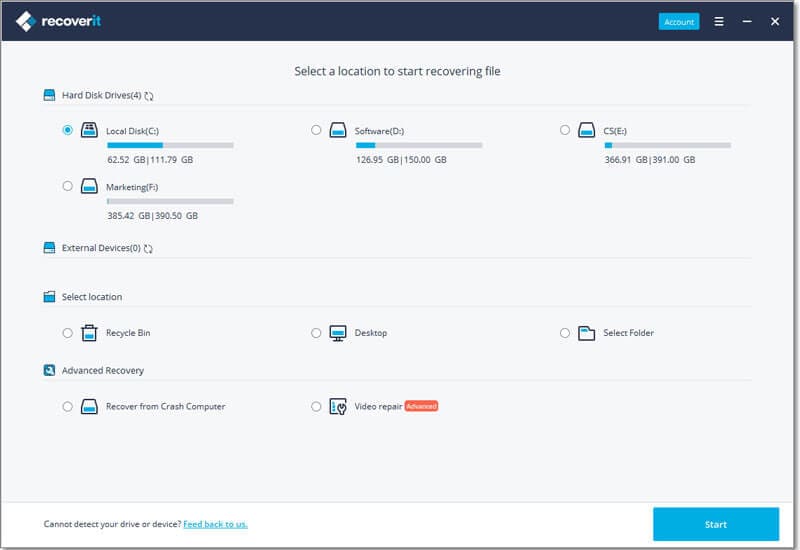 Step 3

Connect the Memory Stick to your computer

Use a card reader or USB adapter to connect the Memory stick to the computer. Click on Next to continue.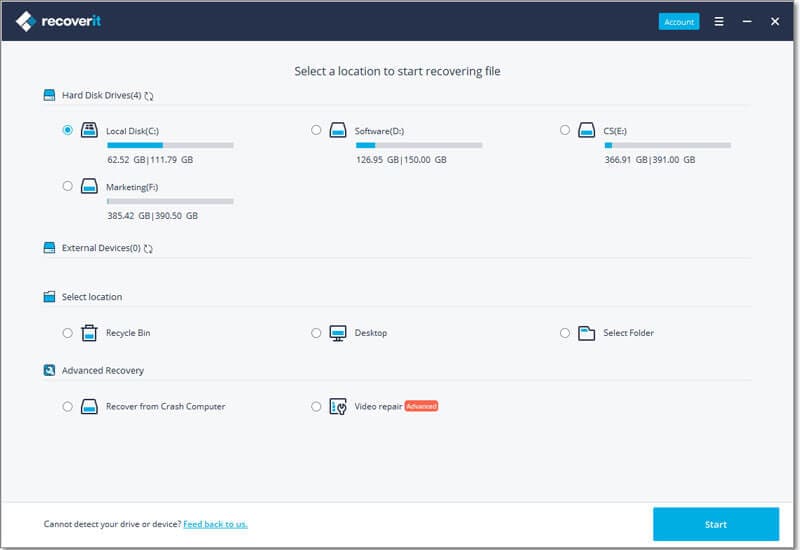 Step 4

Select the Memory Stick

The software will now scan for all the drives connected to the computer. Select the Memory Stick and click Start.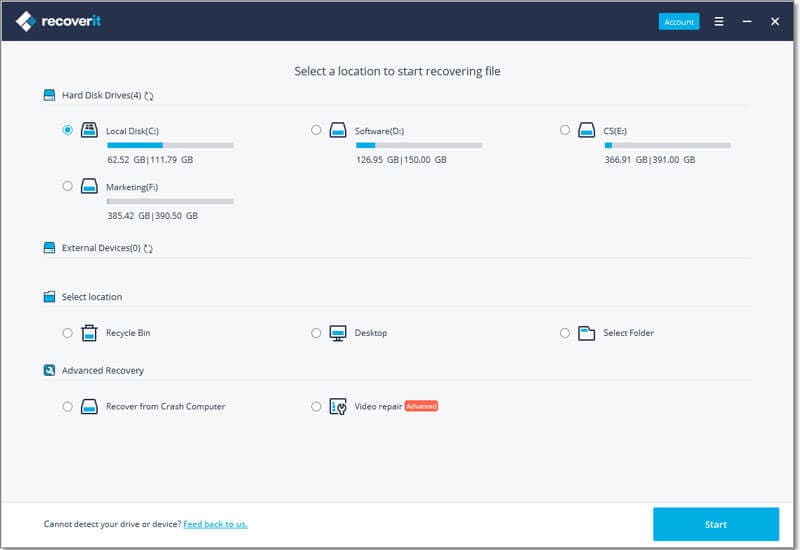 Step 5

Recover files

You can preview and recover the files. Click on the file to see a preview and click on Recover.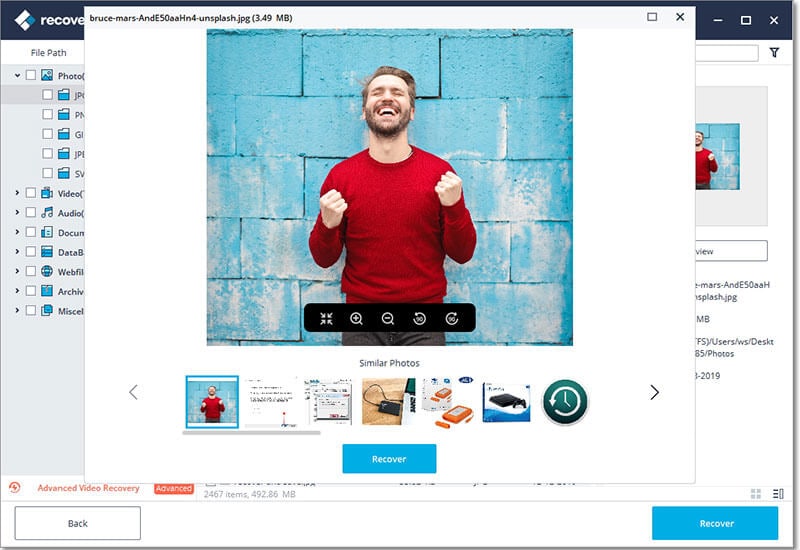 With Recoverit (IS), you can have peace of mind knowing that your data can be recovered if the drive malfunctions or if you accidently delete/format the files.
Part 3. Safety Tips to Avoid Data Loss from Memory Stick in Future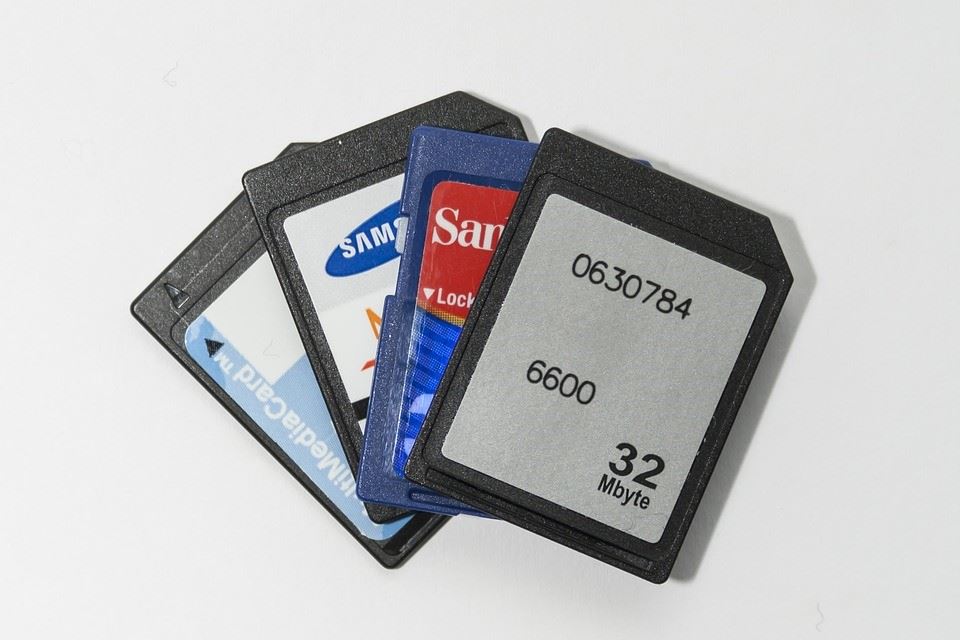 As we all know, prevention is certainly better than the cure. If you know how to keep your memory stick safe from hazards, then you don't need to panic over data loss. Here are some tips to avoid data loss in Memory sticks.
Protect them with a case: There are many cases available today in which you can store your memory stick. The soft interiors of the case ensure that the drive does not get damaged. If you are travel a lot with your memory stick, put it in a case and then store it in your backpack or pocket.
Maintain secure connection: Memory Sticks are generally slid into the ports of a device. So when you insert the memory sticks into a device, make sure you do it properly. If the memory stick is not inserted properly, it may move around when data is being the transferred into the memory stick which can cause corruption of data.
Clean the contacts: The data transfer between a memory stick and a computer is done through electrical contacts, no through wires or cables. So make sure that the contacts of the memory stick are clean. If you see any mold or dirt on the contacts, clean it before for connecting it to any device.
Keep the memory stick away from magnets: Semiconductors can be influenced by strong magnetic fields. And if you were to bring a memory stick to a powerful enough magnet, then it will start to distort the data within each sector, causing complete corruption of data.
Store the Memory sticks in room temperature: The common electronics that we use tend to work best in room temperature. Too much humidity to high temperatures can damage the memory stick or cause it to malfunction.
Conclusion
Data loss can happen without notice. The semiconductor storage devices like Memory stick can fail without giving any sort of warning. So the key is to be ready in any case. Having a powerful data recovery tool like Recoverit (IS) can help you a great deal when something inevitably goes wrong.