A huge user group will naturally have different usage habits. Some users will regularly back up the data in their Mac based on their work needs. However, due to the large data capacity, ordinary SD cards and disks cannot meet the requirements, so they usually use external hard disks. In many cases, it will even solve the problem of insufficient computer memory but the price of an external hard drive for mac is expensive. Therefore, you have to choose an external hard drive according to your budget. In this article, we will provide you with the best 7 external hard drives that you can use accordingly.
Part 1. Best 6 External Hard Drive on Mac in 2021.
Apple did not make it completely easy for its customers to upgrade the internal hard drives of Mac computers. If the price of a Mac with a large hard drive is not so outrageous, then this one problem alone will not be a tricky one. If your Mac is bothering you with insufficient storage space and you are not ready to buy a new hard drive, you should buy an external hard drive to enjoy up to a few terabytes of additional storage space without disrupting your banking business.
1. Seagate Backup Plus
Seagate backup plus is an ideal external hard drive for mac, which is highly recommended. This is a good portable hard drive for mac. This external hard drive is known for its slim and stylish design. Its capacities are 500GB, 1TB, 2TB, and the latest 4TB. This external hard drive for Mac can be used interchangeably with the Windows operating system. Seagate backup plus is designed with three connection modes, namely USB 2.0, USB 3.0, and Thunderbolt. The Seagate external hard drive for Mac is formatted as HFS+ files, making it compatible with MacBook or MacBook Pro without formatting.
The Seagate Backup Plus hard drive makes your life simple with its huge storage capacity. These external hard drives for Mac are perfectly integrated with backup software. The only flaw of the software is the lack of security options to protect the data.
2. Western Digital My Passport
Western Digital My Passport is another best external storage for MacBook. It offers minimum storage capacities as low as 500GB, 1TB, and up to 3TB. It provides two connection modes, namely USB 2.0 and USB 3.0, which can transfer data faster. This Western Digital external hard drive for Mac is compatible with the Windows operating system after it is formatted to a supported file system, such as FAT or NTFS. The plus point is that you can save your hardware with a password. This is one of the best external hard drives on the Mac, with high transfer speeds of different sizes and capacities. Compared with other external hard drives, its price is slightly higher.
3. Buffalo MiniStation Extreme NFC
If you are looking for a mac compatible external hard drive, then Buffalo MiniStation Extreme should be your first choice. It is compatible with Mac and Windows computers and is very flexible, equipped with a sturdy, dust-proof and waterproof housing and an integrated USB 3.0 cable. The sturdy case not only protects your data from bumps and drops; it also has 256-bit AES security functions and NFC (Near Field Communication) functions. If you want to keep your data safe and secure, this is an external hard drive that is perfect for your Mac. Many professionals prefer to use this external hard drive due to its many good features. Its price is lower than other types of external hard drives.
4. G-Technology G-Drive USB
With its perforated front grille and stylish all-aluminum casing, the hard drive looks and feels as expensive and sophisticated as a Mac computer. There are different types of capacities to choose from. As it is connected via a very fast USB 3.0 interface, the data transmission takes much less time and the response time is also very short. It is a fast and reliable external hard drive for Mac. Compared with any USB 3.0mac external hard drive, it records high transmission and reading speed. Add it to be portable and provide enough external storage space. One disadvantage of this kind of external hardware diving is that it does not have any software packages.
5. iStorage diskAshur2
Due to its physical safety and sturdy design, this is considered an excellent external hard drive for mac. If you are worried that the external hard drive is stolen and someone can access your data, then the iStorage drive is your ideal choice. This is the best option if you want to keep your data safe from others. In addition, the data is encrypted using 256-bit AES protocol with multiple protections to ensure that no matter how stubborn, bad people will not enter. With all the extra security, the price won't let you down. It is more expensive than other drives of its capacity, but the extra security it provides is worth it for many people.
6. LaCie Rugged SSD Pro
If you want to backup mac to external drive, you choose LaCie Rugged SSD Pro for this purpose. This is suitable for filmmakers and other professionals due to its very fast speed. You can use it on mac and windows as well. This is a small, lightweight, portable, and reliable external drive that you can use for different purposes. Professionals use this drive due to fast data transfer speed, rugged construction, and other features. This is a portable hard drive for mac that you can use according to your needs and requirements.
Part 2. Can I Recover Data from External Hard Drive on Mac?
With an external hard drive for Mac, people can use it to store business data or personal data. However, wrong protection can cause data loss on the external hard drive. Data on the external hard drive is lost or formatted due to accidental deletion of data. In these situations, you need an external hard drive data recovery tool to help you retrieve the lost data from the external hard drive.
Recoverit can recover deleted/lost files or formatted partitions from external hard drives, hard drives (HDD and SSD), USB flash drives, memory cards, digital cameras, camcorders, music players, and various mobile devices. With this tool, we can easily recover data from external hard drive on Mac.
Here are the steps to recover lost data from external hard drive on mac.
Step 1.

Download Recoverit on your Mac and select a location where data lost.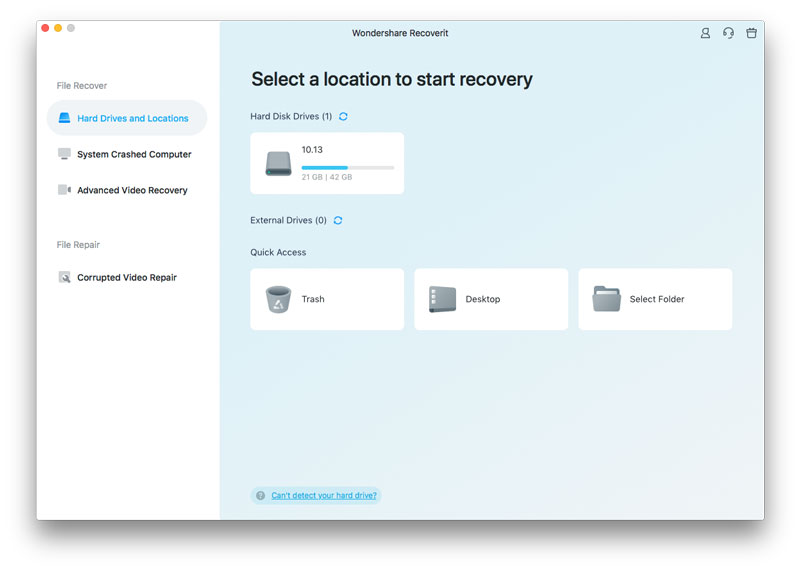 Here please choose "Hard Drive and Location" to recover data from external hard drive.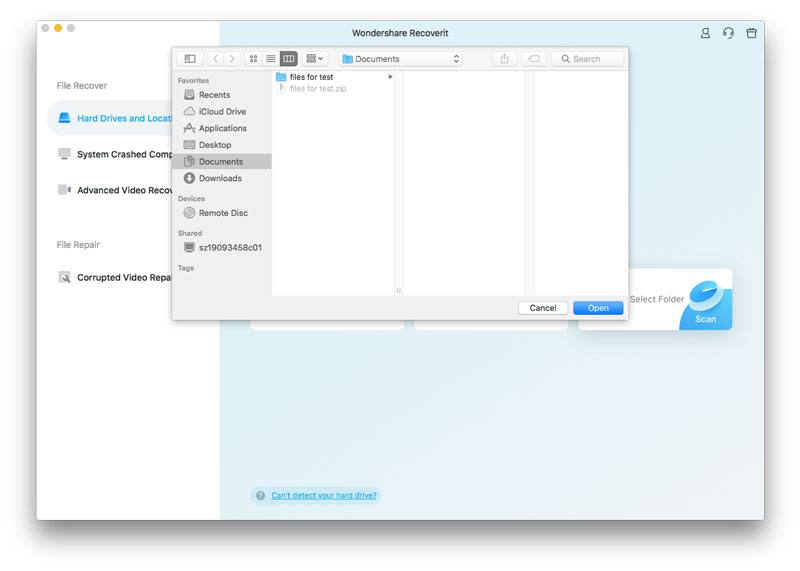 Step 2.

Start to scan lost data.

After choosing the external drive, you have to start scanning the target drive. Here system will find and show all your lost data within a few minutes or seconds according to data volume.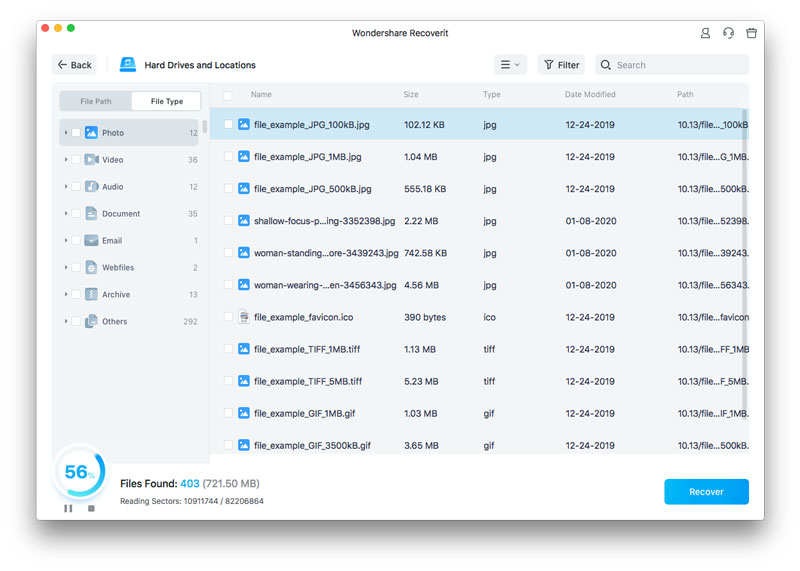 Step 3.

Preview and select wanted data to recover.

After the process completion, you will see all your lost data on the screen. You will see music, videos, pictures, and other files. Now you have to select the required data and then click "Recover" to recover your lost data on mac.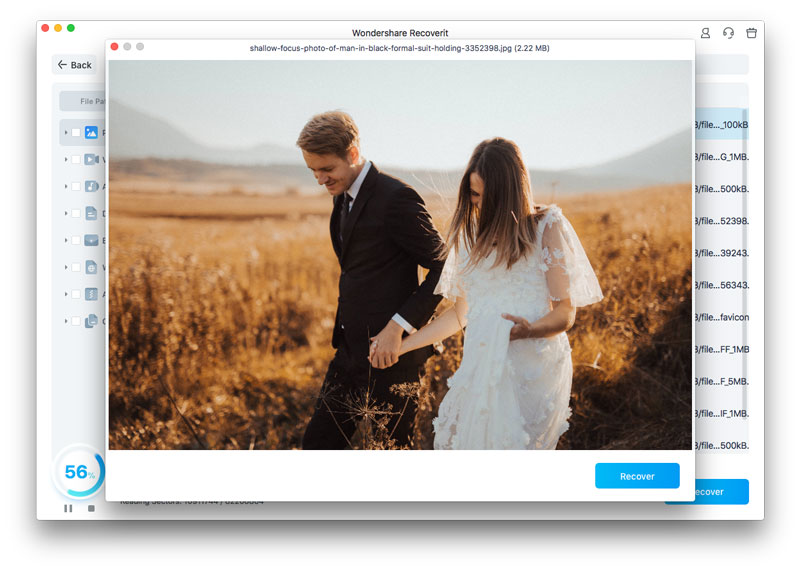 In a word, Recoverit can quickly help recover the lost data on external hard drives and other data storage devices. As an important data backup task, an external hard disk must be compared in many ways when purchasing. Genuine security is the first element. In addition, it must be used safely during use, and beware of the influence of external forces or viruses. Of course, when the service life is insufficient, the data must be migrated to the new external hard drive in time.
Part 3. Tips to Protect External Hrad drive Data from Losing
Many people tend to store so much data in their computers, such as their files, images, videos, audios, applications, etc. That is why it is very convenient to use an external hard drive to save big data to free up space on your computer. Here are few tips to protect external hard drive data from losing.
1. Backup data regularly
Regularly back up the running operating system and your data. Sometimes it makes sense to save personal files such as photos or music directly on the backup hard drive. This ensures that even if the backup program is no longer available, the file can still be read.
2. Buy a hard drive with good quality
It is very important to buy a good quality hard drive for the best results. A low-quality external drive can create different problems including disk crash, low durability, slow speed, and formatting issues. Therefore we should always try to buy a reliable external hard drive.
3. Protect hard drive from physical damaged
In case of material damage such as a drop, liquid, or overvoltage, we should use a professional data protector. Furthermore, we should keep the external drive in a safe place to avoid these types of issues and problems.