"Is it possible to fix an external hard drive without formatting it? I think my Seagate drive is corrupted and now I can't seem to access my stored data on it anymore!"
- a question from Quora
A friend of mine texted me this last week as he was not able to fix his external hard drive. While external hard drives have come a long way in the last few years, they can suffer from an unwanted issue. For instance, getting a corrupt sector or losing the stored files are common situations that can lead to external hard disk failure. The good news is that there are several native and third-party ways that can help you do external hard drive repair. In this post, I will let you know how to do an external hard disk repair for free and extract its inaccessible/lost data.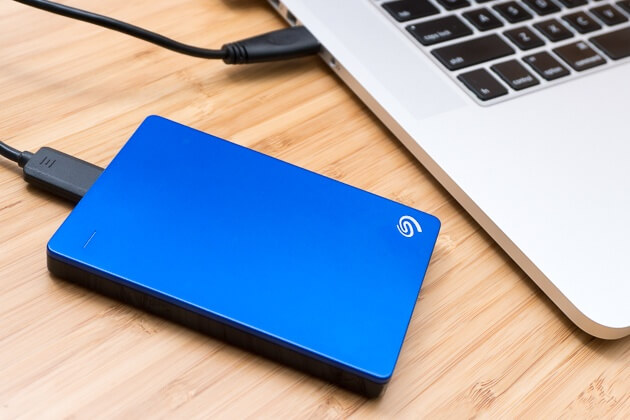 Part 1: Why Would an External Hard Drive Fail?
To learn how to repair an external hard drive on Windows 10/8/7/XP, you need to understand its causes first. It is only after learning what could have caused your hard disk to fail, you can take the needed steps to fix it.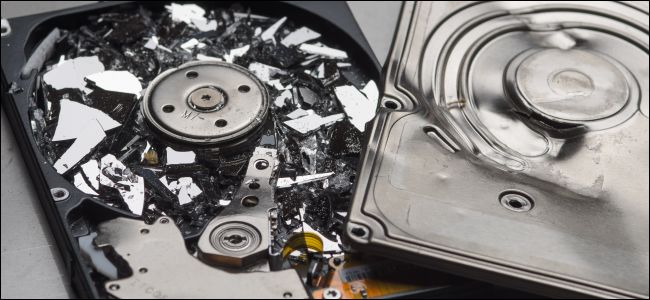 Part 2: How Can I Recover Data from a Damaged External Hard Drive?
While we can't avoid an external hard drive from getting corrupt or failing, we can take the needed measures to minimize its impact. For instance, if you have lost some important data from your hard disk, then you can take the assistance of Recoverit (IS). The application runs on every leading Windows and Mac version with a dedicated data recovery solution. The best part is that it yields exceptional results under every data loss scenario and supports all kinds of external hard disks.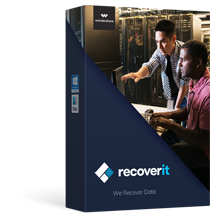 A Life Saver to Solve Your Data Loss Problems!
It supports SSD and HDD hard disks from different manufacturers like Seagate, Sony, Patriot, Kingston, HP, Lenovo, and so on.
Apart from external hard disks, it also supports numerous other sources like SD cards, pen drives, digital cameras, drones, and more.
You can recover thousands of different kinds of data for content like photos, videos, documents, music, etc.
No harm is done on the external hard disk while recovering its lost data.
The tool is extremely easy to use and will even let you preview your files before saving them.

3,165,867 people have downloaded it
You can try the free version of Recoverit (IS) or buy its premium subscription from its official website. Once the application is installed on your Windows, just follow these steps to extract data from an external hard disk.
Step 1

Connect and select your hard disk

To begin with, just launch Recoverit (IS) on your Windows system and connect your external hard drive to it. On its welcome screen, you can view all the connected sources. Just select your hard drive from here and start the recovery process.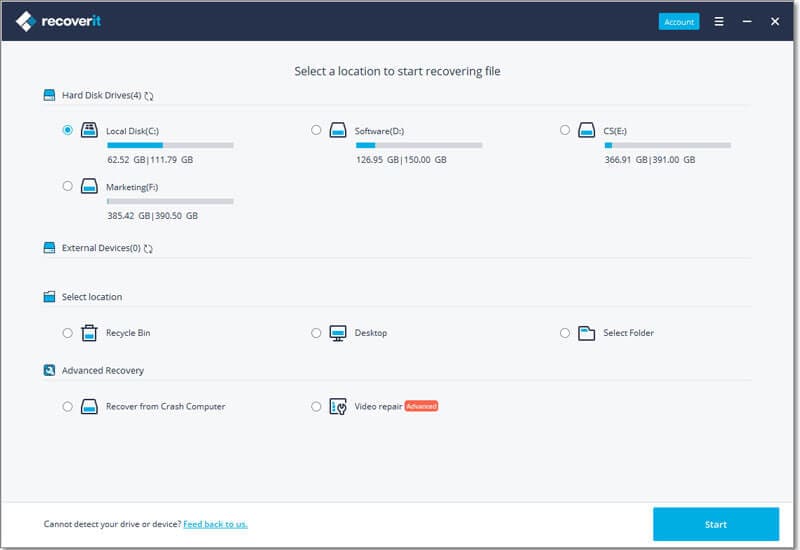 Step 2

Wait for the scan to be over

Kindly wait for a few minutes as iSkysoft would scan your external hard drive and extract all the inaccessible or lost content. If you want to get positive results, then make sure that your hard drive stays connected to the computer till the end.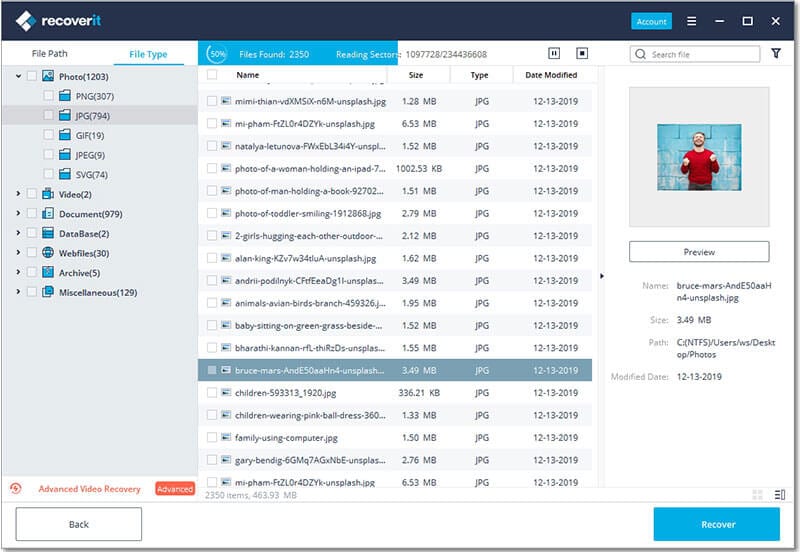 Step 3

Save your files securely

When the recovery process is completed, all the extracted content will be listed under different sections. You can preview your data from here and select the files that you wish to save. Click on the "Recover" button in the end and save your files to a reliable location (not on the external drive).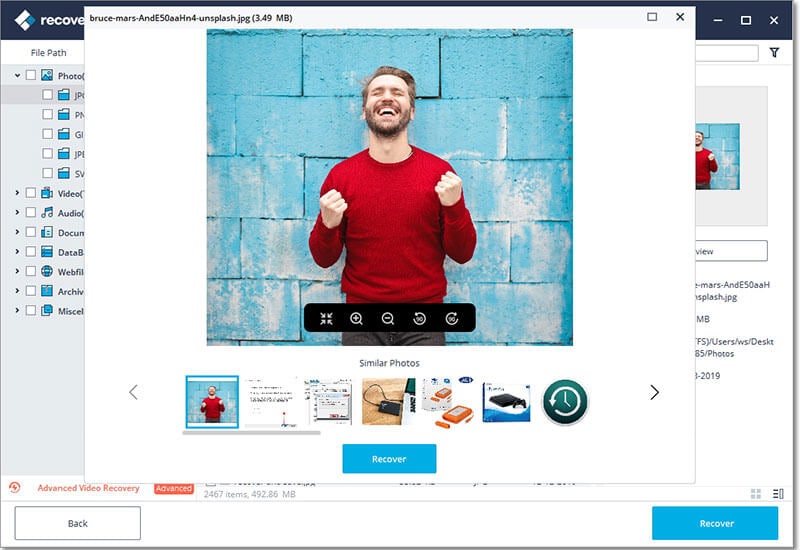 Part 3: How Do I Fix a Corrupted External Hard Drive?
There are several things that you can do to fix an external hard drive on your Windows computer. I would recommend following these solutions that can help you do external hard drive repair without using any third-party tool.
---
Solution 1: Check the Power Supply and USB Connection
Before you take any drastic measures, make sure that you have connected the external drive in the right way. Simply plug it off and connect it once again to your system to check if it gets detected. Also, use a dry cloth or a pin and carefully clean the USB port on your system as well as the USB connector. If there is too much dirt of debris on the port, then it can cause some connectivity issues.
Furthermore, check the USB cable that you are using to connect your hard drive to the system. If the hard drive needs a power supply, then make sure it is constant. You can also connect your hard drive to any other computer as well to further diagnose the issue.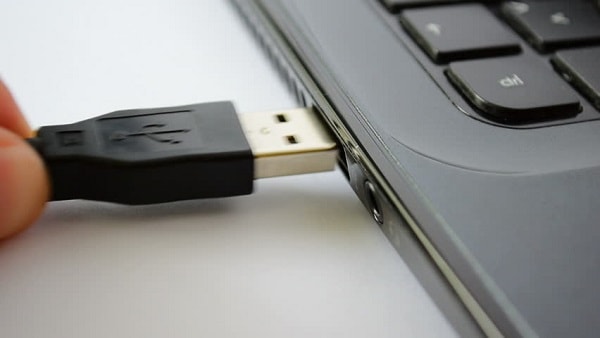 ---
Solution 2: Run CMD to Check Hard Drive Problems
One of the best things about Windows is that it lets us check any internal or external hard disk for various errors. With the help of the CHKDSK (Check Disk) command, you can check if the disk has any issues. Not just that, it can also help you fix all kinds of logical errors with your hard disk, a bad sector, or any other related problem. Here's how you can perform external drive repair using Command Prompt on Windows.
Step 1 Firstly, go to the Start menu on your Windows and look for Command Prompt. Simply select the application and run it as an administrator.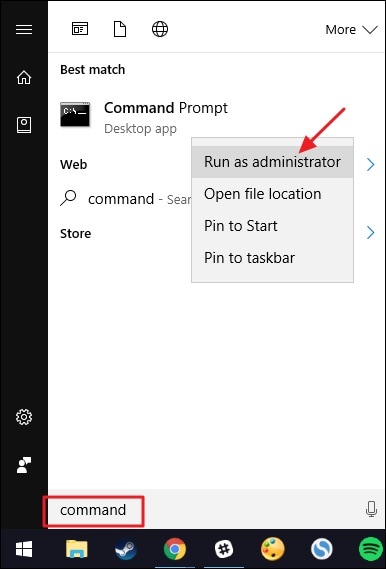 Step 2 Now, connect your external hard drive to your computer and use the CHKDSK command to fix external hard drive. Just enter the chkdsk command followed by the letter of your external hard drive. For example, if it is recognized as an E: drive, then write chkdsk e: and press enter.

Step 3 This will check the present status of your external hard drive and would let you know if there is an issue with it. Furthermore, there are "/f" and "/r" parameters that you can use to fix logical errors and bad sectors on your disk. You can write them as chkdsk /f e: or chkdsk /r e: respectively.
---
Solution 3: Format the External Hard Drive
If the issue sustains on your external hard disk, then you can simply format the disk as well. While it will erase all the saved data from your hard disk, it would also fix numerous issues with it. You can fix corrupted external hard drive by formatting it via Windows Explorer or Command Prompt.
Via Windows Explorer
Simply attach your external hard drive to the system and launch Windows Explorer. Right-click the icon of the drive and from the context menu, click on the "Format" option.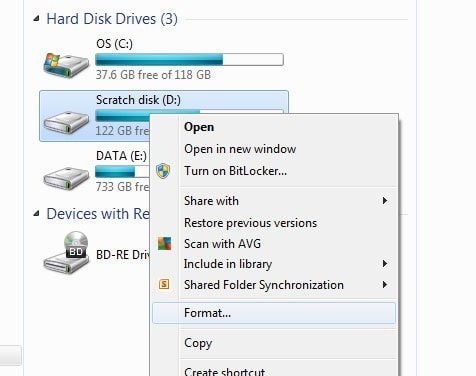 This will display a pop-up so that you can select the file system of the formatted drive or change its name. Click on the "Start" button and wait for a while as it would format your hard drive.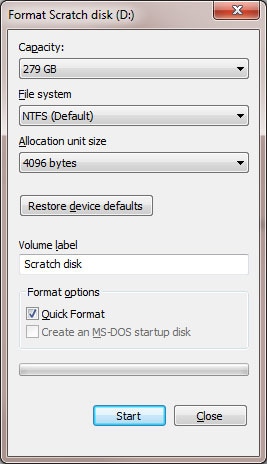 Via Command Prompt
Connect your hard drive to the system, launch Command Prompt, and follow these steps to do external hard disk repair.
Firstly, type the "diskpart" command to launch the disk partition utility on the command prompt.


Now, just enter the "list disk" command to view the details of the attached disks.


Recognize the external hard drive and use the "select" command to pick it. For example, if it is disk 4, then just type "select disk 4".


Simply type and enter the "clean" command to wipe the stored data from the disk. Follow it with the "create partition primary" command.


In the end, use the "format" command followed by the file system you wish to format it to. For instance, to implement the NTFS file system, type "format fs=ntfs" and press enter.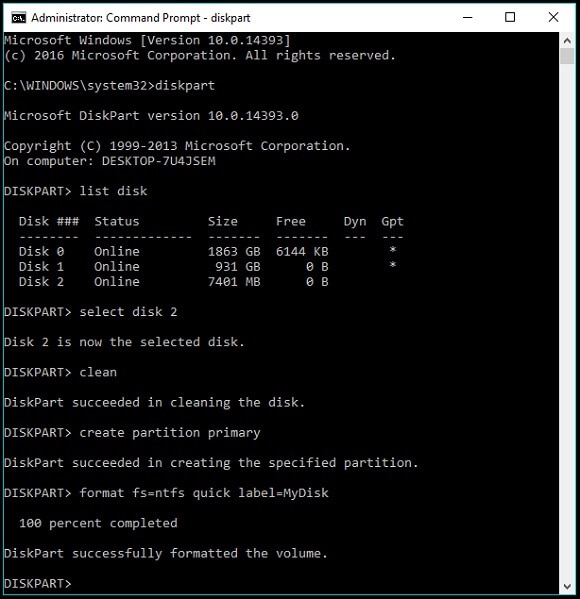 ---
Solution 4: Visit a Professional Hard Drive Repairing Service Center
If none of the above methods can yield the expected results, then consider visiting a nearby hard disk repairing service center. You can visit the official website of your hard disk company to check the nearby repairing center's location. While this will most likely fix your external hard drive, it will come with a heavy cost if it has passed the initial warranty period.
Tips: How to Extend the Life of Your External Hard Drive?
They say it is better to be safe than sorry, right? If you don't want to encounter unwanted issues with your hard disk, then consider these suggestions to improve its lifespan.
Keep your hard disk protected in a case to avoid any physical or water damage.


Only use your hard disk with your personal computer and avoid attaching it to unreliable sources.


Make sure that you don't attach your hard disk to public computers as they can harm it.


Consider defragmenting your hard disk or formatting it every once a year to improve its health.


Make sure that you format your hard disk in a file system that is accepted by your computer (like NTFS).


Avoid storing too much data on your disk and make sure that at least 20% of the space is vacant.


Don't place it on a mattress and avoid overheating the hard drive for any unwanted damage.


Use an anti-malware tool and scan your hard disk every now and then to make sure it isn't infected by a malicious entity.
Conclusion:
There you go! After following this guide, you would be able to do external hard drive repair without much trouble. For your convenience, I have listed not one, but four different ways to fix external hard drive. Though, you can implement some of these techniques (like the Diskpart command) to repair the internal hard drive of your system as well. Also, if you have lost data from your external hard disk, then use a reliable recovery tool like Recoverit (IS). Trusted by leading experts, it is a freely available recovery application that would certainly help you extract the lost/deleted content from numerous sources.