An Android (Samsung Galaxy Note7) smartphone or tablet is a great asset for storing your videos, images, documents and many other files in addition to enjoying your mobile games, social media, and the internet. However, you may want to free some of your phone's or SD card's memory when it starts running low by deleting some videos. You may also want to delete an accidentally downloaded video or one that you feel is inappropriate. Whatever your reason for wanting to delete videos from Android, there are various ways you can go about it.
Method 1. Delete the Videos from Gallery on Android
Guides on how to Delete Videos from Gallery:
Step 1. From your Android device main menu, scroll and tap on the gallery application to launch. It should give you several folders containing both photos and videos.
Step 2. Go to the "Videos" folder and tap to open it. It should display all the videos located on both your SD card and internal memory.
Step 3. Now scroll to locate the video you want to delete, long tap on it and tick the checkbox on your right to select it for deleting. As you will notice, you can batch-select several videos for deletion by ticking on their respective checkboxes on the right.
Step 4. Locate the trash bin icon after selecting your videos and tap on it to delete. Tap ok once a prompt asking whether to "delete these files", or "these files will be deleted" to confirm the deletion.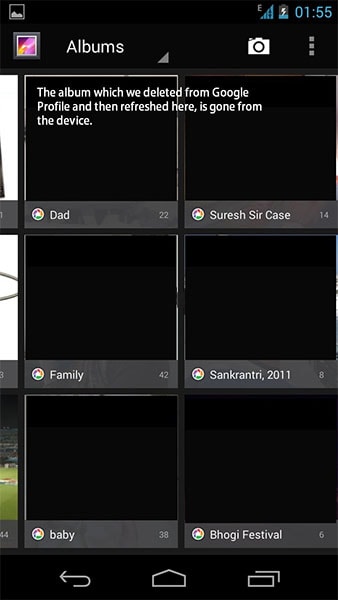 Method 2: Delete Videos in Android "My Files" Setting
You can also delete videos from Android using the "My Files" setting. Follow the steps below.
Guides on how to delete videos from Android:
Step 1. Open your Android (for example: Samsung Galaxy Note7) phone's main menu and tap on "My Files".
Step 2. Now go to the video containing folder and tap to open. This could be the DCIM or Videos folder or another folder such as the Bluetooth folder depending on your device and Android OS.
Step 3. Highlight the video to be deleted by long tapping to select it for deletion.
Alternatively: Depending on the specific Android device and OS, you can also open the file manager, and tap on the "Videos" folder. This will display all the videos on your phone's internal and SD card memories. Select the video you want to delete by long tapping and ticking on the checkbox to the right. Tap delete or trash bin icon and confirm delete by tapping "ok" on the pop-up prompt.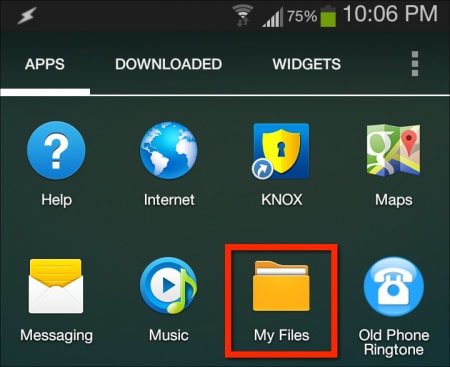 Method 3: Delete Videos in SD Card on Android
Any of the above methods can delete a video saved in Android SD card. However, the following steps can be more effective.
Guides on how to delete videos on Android:
Step 1. Open you main menu and go to settings.
Step 2. Tap on "Storage" followed by "Pictures and Videos under SD card storage". This should open your default gallery app.
Step 3. Follow the steps to delete videos from gallery. Alternatively, you can go to "Format SD card" under storage settings, but this will delete all the contents of the SD card so you better have a backup.
Alternative: You can also delete the unwanted video files from your Android device through USB connection to you windows or Mac PC. Just locate the device from my computer and explore both SD (removable storage device) and mobile device folders to locate the video you want to delete. Select the video using you mouse cursor, right click for a drop down menu and click on "delete".p>
Step 3. From the menu, choose "wipe cache partition" option using the volume down and power key.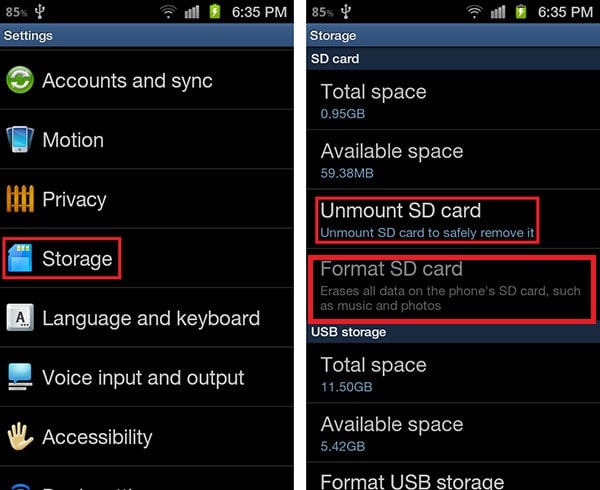 Recommendation: The Simplest Way to Delete All Data on Android
If you want to wipe out all data from your Android device, dr.fone - Data Eraser (Android) for Windows is by far one of the most effective PC programs to use. You will not need to set up voicemail restore your device to factory settings or root it if you have this program. When you delete data or files from your Android (Samsung Galaxy Note7 supported) device, the data is never deleted completely and can always be recovered or slow your device down. dr.fone - Android Data Eraser offers a permanent solution for erasing all data on Android, including unwanted videos, contacts , messages, private data, name it!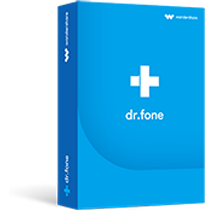 Key Features of dr.fone - Android Data Eraser:
Erases all data completely from your Android device, including deleted files.
The program is fast and easy to use.
Improves private data security.
Can speed up device and save space by freeing memory and wiping out unnecessary data.
4,290,481
people have downloaded it
How to remove all data on Android with dr.fone
Step 1 Download and Launch
Please start with downloading and launching the dr.fone on your computer and select the "Erase" section from the application menu below.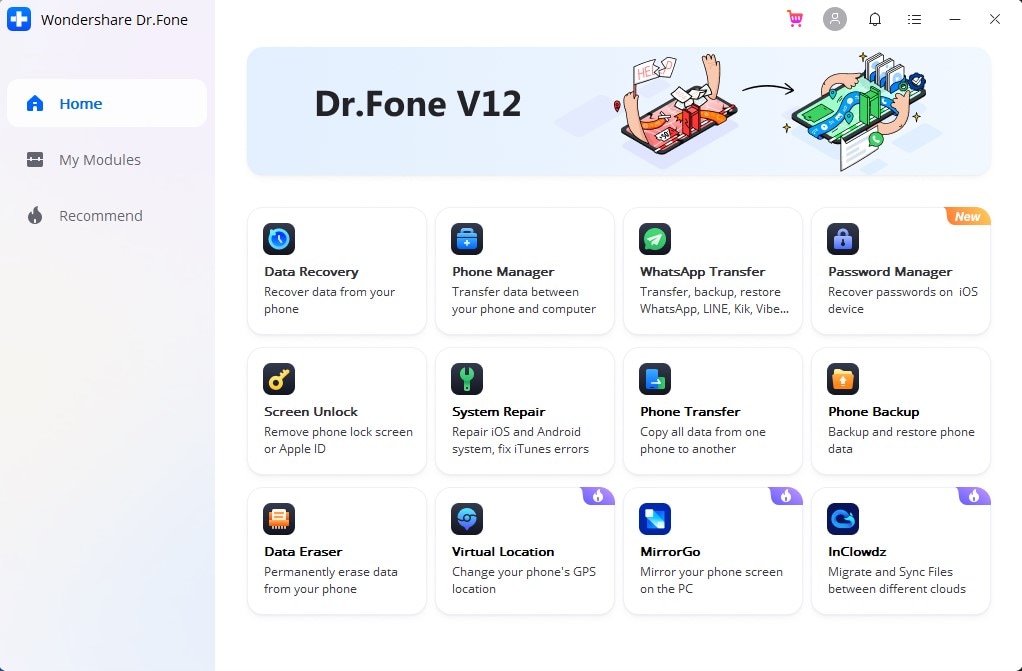 Step 2 Begin to wipe your android phone/tablet device permanently.
Hit the "Start" button as shown below to begin erasing all the data on your android phones or tablets irrevocably.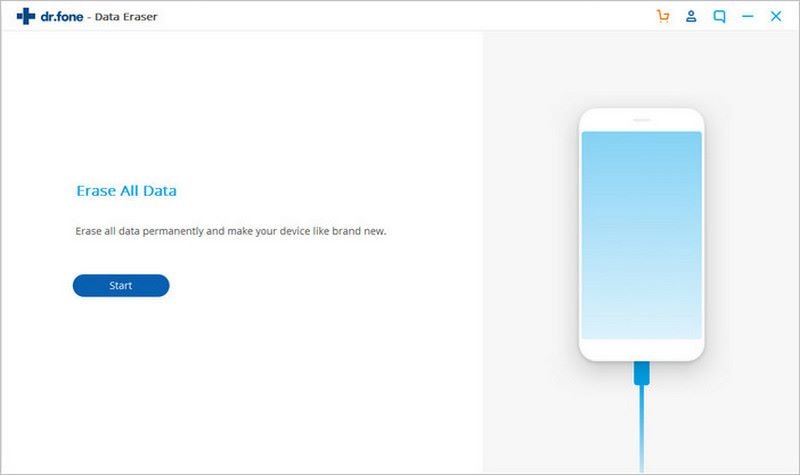 Step 3 Perform factory reset on Android
In the end, to erase all settings on your android phone or tablet, you need to tap "Factory data reset" on android device when a pop-up message is sent to you.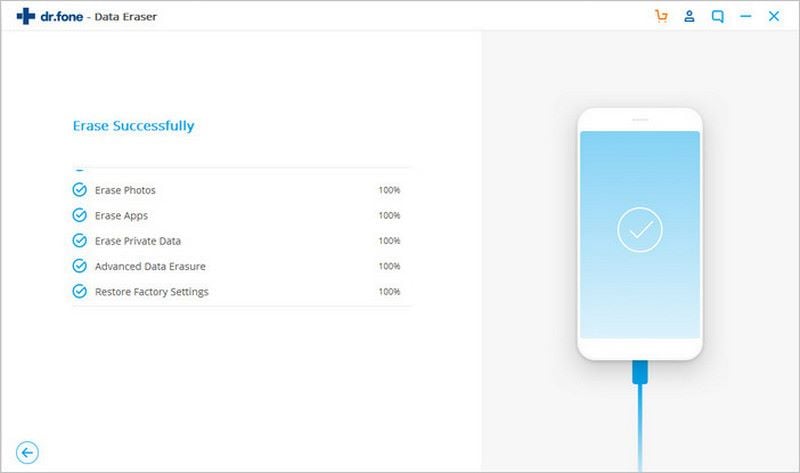 Conclusion
In general, the post shows you serveral accesses to erasing videos from Android. You can choose to make such a deletion from gallery,"My Files" or in SD card. When it comes to permantenly erasing all data including videos, messages, you might as well try dr.fone - Data Eraser (Android). I'm positive that you will marvel at its powerful functionality.