Get Started with iSkysoft Data Recovery
Downloading and Installing iSkysoft Data Recovery
Click on the buttons below to download iSkysoft Data Recovery for your operating system (Win/Mac). The process takes a few seconds to complete.
Installing iSkysoft Data Recovery
Once the download is complete, double-click on the installer and then click on "Install" followed by "Start Now". Wait for the installation to be complete and then proceed with the registration process.
Note: You should not install the tool in the partition where you want to scan for lost data. Doing so will affect the effectiveness of iSkysoft Data Recovery.
Registering iSkysoft Data Recovery
Check your email for the registration key sent to you after you complete purchasing iSkysoft Data Recovery. Now fill in your email address on the registration window, followed by the registration key. Now click on "Register" and the tool is ready for use.
Complete the Data Recovery Process
Once you have completed the registration process, you may start using iSkysoft Data Recovery to extract data from any data storage device. You simply have to define the storage device, whether Local Hard Disk, SD Card, Flash Drive or External Hard Disk.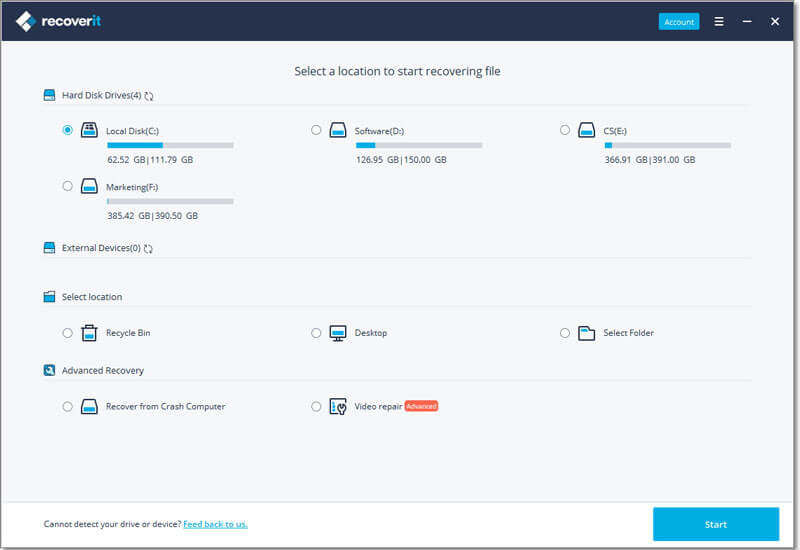 iSkysoft Data Recovery comes with advanced data recovery features, which allows it to crawl through the storage device and find any data that is physically stored but unavailable to you.
It comes in two data recovery modes, namely the Quick and Deep scan modes. The Quick Scan mode does a quick search for lost data and presents the results. However, for better results, you should use the Deep Scan mode. It comes with an advanced search algorithm, which goes deeper into the structure of the storage media in order to find any data hidden there.
iSkysoft Data Recovery has a 98% data recovery rate, which is quite high compared to other similar tools. The inbuilt Data Analyzer Engine improves the speed of scanning without compromising the result.
You may use iSkysoft Data Recovery to recover data lost due to:
Accidental formatting of disc.
Accidental or intentional deletion.
Lost partition.
Virus attack.
Crashed computer.
Etc.