Is it possible to undo jailbreak on iPhone?
A jailbroken iPhone has Cydia apps and other software solutions that enable it to operate in its jailbroken state. In order to undo a jailbreak on iPhone, you need to restore it to its original state. You can easily do this using iTunes or iCloud. Get into your account and then restore your iOS and the device will be restored without any loss of data. This is one of the reasons why you need to create a backup of your iPhone before it is jailbroken.
Part 1. How to Undo a Jailbreak on iPhone
You simply need to restore the original iOS version which is stored in your earlier backup files on iTunes or iCloud. In this case, you will see how to undo a jailbreak on iPhone using your iTunes account. The process is quite simple and should take a few minutes.
Step 1) Connect the jailbroken iPhone to your computer
Using a USB cable, connect your device to your PC, and once it is recognized, open your iTunes account. To the left side of your screen, select your iPhone device.
Step 2) Restore the iOS
Go to the "Summary" tab and click on the "Restore" button. The process of undoing the jailbreak will begin. A message will pop up requiring you to confirm the backup of your device. Accept and wait for the backup and restore process to proceed. This will take a while, so be patient and do not disconnect the device.
Step 3) Complete the unjailbreaking process
When the backup and restoration process is completed, the iPhone will automatically restart itself and ask if you would like to restore your phone from the backup. Click yes so that you can restore all your unjailbroken apps and device customization settings.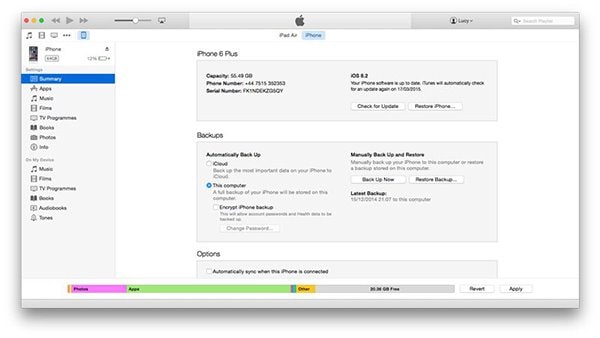 Part 2. Recover Lost Data Due to Jailbreaking Your iPhone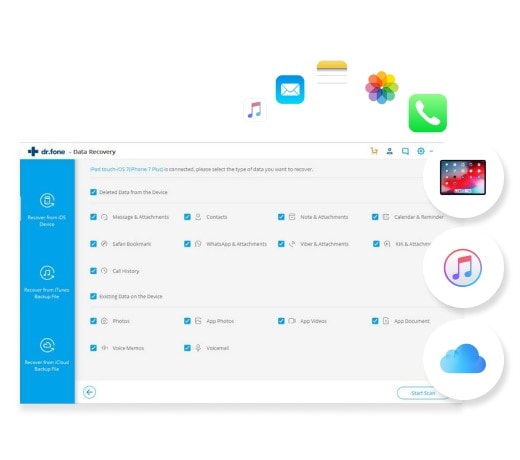 When you jailbreak your iPhone, you may lose some data, but this should not worry you if you had created a backup before you did the jailbreak. After the device is jailbroken, use dr.fone - iOS Data Recovery to restore the lost data. The features of this tool allow you to restore all data that has been lost during the jailbreak.
Why Choose This Software to Recover Lost Data Due to Jailbreaking iPhone:
Several recovery modes – You can recover apps and data from your computer, iCloud and iTunes. This compatibility makes it a versatile tool for all iPhone users.
Backup and Restore your data with ease – When undoing a jailbreak on iPhone, you will need to create a backup and then restore the unjailbroken data. This tool allows you to do so with ease by following its easy-to-follow user interface.
Compatibility with up to 20 different file types – iSkysoft iPhone Data Recovery works well with files related to messages, contacts, video, images, music and a lot more. You do not have to use different software to read the contents of your backup files. This allows for quick restoration of files and data from your backup files.
Selective restoration – With the preview feature, you can actually see the contents of your files before you restore them. You can choose certain apps, video, music, photos, messages and a lot more, before you actually restore them to your device.