Is there an undo button on iPhone?
The iPhone Notes application does not have an undo button, but there is a feature that comes with the device that helps you in this respect. You simply have to shake your device, but not too hard, and you will be prompted to confirm whether to undo the last action. Well, for those who make frequent mistakes when typing on the iPhone, this may seem a bit crazy; having to shake your device whenever you make a mistake, rather than simply click on a button to undo the mistake. However, this is a fun feature, and the shaking gestures do not have to be exaggerated; a gentle shake will do.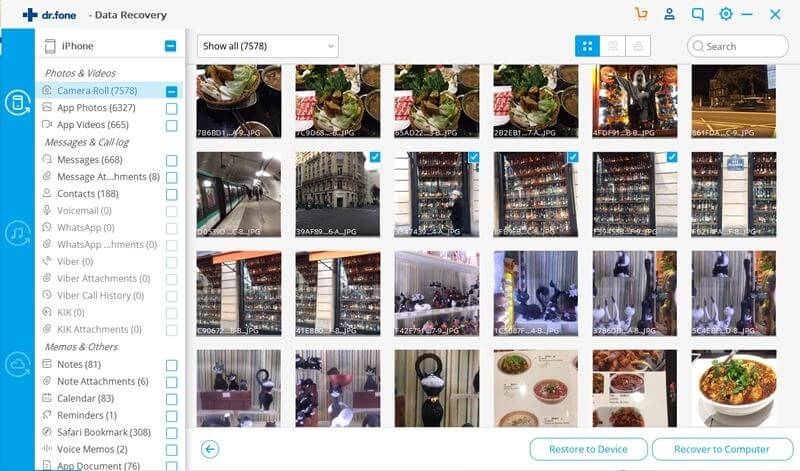 A while ago, data recovery, on any Smartphone was a nightmare. Thankfully, today there are a wide variety of data recovery tools, and dr.fone - Data Recovery (iOS) tops the list. This software is simple to use and recovery is completed with just a few clicks on your computer. Here are some of the key features of this awesome utility.
Why Choose This Tool to Undo Deleting on iPhone:
Simple Interface - Lost your data during a jailbreak procedure? Don't worry; the easy-to-use interface of iSkysoft iPhone Data Recovery enables you to recover your data without any challenges.
Several Supported File Types - Recover your contacts, messages, notes, call history, calendar entries, Whatsapp history and a lot more using this versatile software.
Ability to Repair iOS System – When your iPhone, or any other iOS (iOS 11 supported) device, gets stuck in the black screen, you can use this tool to repair it.
Selective Recovery of Files – You can now choose which files to recover from your backup on iTunes or iCloud, using the preview feature.
Extract & Backup – You can now extract data from your iPhone, iCloud or iTunes and create a backup on your computer for quick and easy recovery.
Recover Files from iTunes – Now you can selectively recover files from your iTunes backup; no need to download the entire backup file.
Recover from iCloud – Getting access to your iCloud backup is easy with iSkysoft iPhone Data Recovery. Download the backup file to your computer, preview the files contained within and then choose those that you would like to recover.
Works with Any iOS Device - Whether you are using an iPhone (including iPhone X, iPhone 8 (Plus), iPhone 7 (Plus), iPhone 6s, iPad or iPod, you can recover all your data from your backups using one tool.
How to Undo Pasting, or Typing Notes/Text on iPhone
The shake-to-undo feature on the iPhone works in any app, where you will be doing your typing. This works with normal typing, copying, cutting and pasting. The method can be used to undo and redo the typing, just in case you decide you need the original text.
Step 1. Start your application and type your message.
You can start your instant messaging app, such as Whatsapp, or Note. Start typing your text as you normally would. The function will work in any application that requires you to use the typing pad.
Step 2. Undo typing or pasting.
When you make a mistake in typing, or cut or paste text into your message, simply shake the device three or four times. A prompt will pop up, asking you if you would like to undo the last edit. Click "Ok" to undo.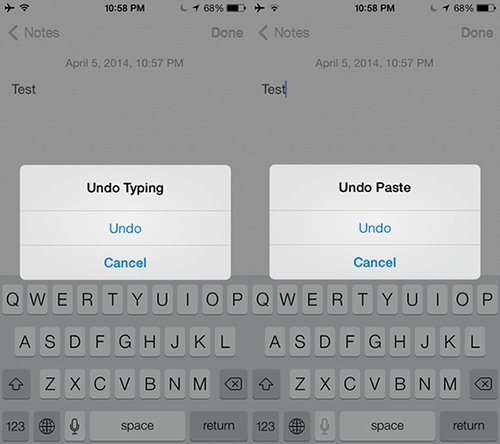 Step 3. Redo a typing operation.
If you delete text that you were typing using the undo feature, and then decide that you still want it, simply shake the device and you will get a prompt asking you if you would like to redo the operation.