Are you an iPhone user and you are wondering how to get free voicemail apps? Well, there are over 100 free voicemail apps that you can choose from. In this article, you will find the top ten-voicemail apps for iPhone and how to get them. All you need is a good Internet connection to download any of these apps to your iPhone by clicking on the download link.
Part 1. Top 5 Voicemail to Text Apps for iPhone
If you are one of those people who prefer reading messages to listening to voicemail, the here are some good news for you. There exists Voicemail to Text apps that can help you transcribe any voicemail that you receive into text messages so that you can read it. Below is a list of top 5 voicemail to text apps for iPhone. These apps are very brilliant, read on and you work is to just pick one that will best serve you.
#1. AT&T Voicemail Viewer
Starting our top 5 list is the AT&T Voicemail Viewer (Home) voicemail app. This is a must voicemail app for any iPhone user who would love to have their voicemail messages converted to text. The app will display to you a list of all the voicemail that you have. From the list, you can pick the message that you want to read/listen to. You can also use this app to forward the messages that you receive through email right from your iDevice.
Pros:
You can choose the voicemail to read/listen to from the list it provides.
It allows you to easily read voicemail messages as text.
Cons: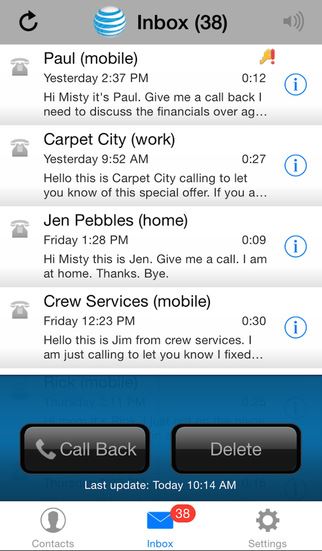 #2. YouMail Visual Mail
Next on line is the YouMail voicemail-text-transcription. This application will help you to transcribe any voicemail message that comes to your iPhone so that you can read it. It will also allow you to forward the message as an email. You can also block unwanted calls from disturbing you. In addition, this app allows you to customize your Voicemail greetings.
Pros:
It is allows you to personal your voicemail greetings.
You can block unwanted callers.
It will immediately convert the voicemail to text.
Cons:
The number of words for free transcription is very limited.
It is not available in all countries.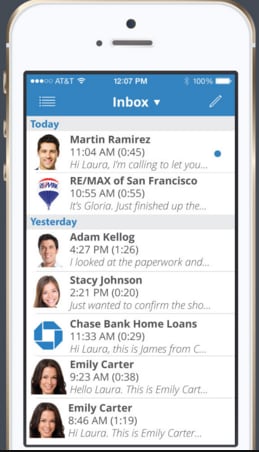 #3. Yap Voicemail
If you are looking for a good voicemail app that will allow you to better receive and manage your voicemail messages, then go for Yap Voicemail. It gives you the power to search, read and even forward your voicemails. It has the ability to convert voicemails to text for you to read them.
Pros:
It can deliver your voicemails to your email inbox.
It easily transcribes your voicemails for you.
Cons:
It has some annoying bugs that close it after the first launch.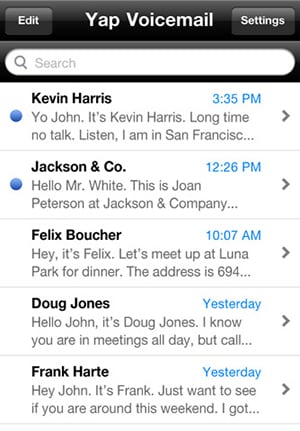 #4. Libon Voicemail App
At number four is the Libon Voicemail app. With it, iPhone users can conveniently get voicemail services such as listening, transcribing, forwarding and even delete any mail messages. It also allows you to customize your Voice message greetings.
Pros:
It is a free voicemail app.
It has the voicemail to text feature.
Cons:
Poor support for international calls.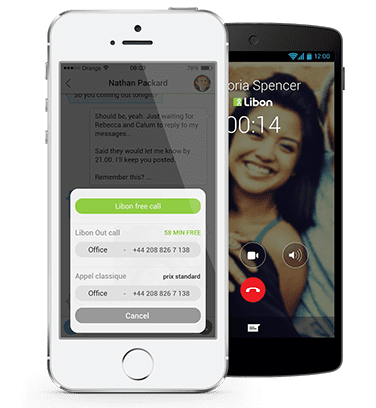 #5. Google Voice
Google voice is a full-featured voicemail app for iPhone, which can instantly convert your voicemails to text. You can forward your messages through email, read them with any order, and trash the messages.
Pros:
It automatically converts voicemail messages to text and save them in your inbox.
When you have an internet connection, you can freely send texts and receive calls.
Cons: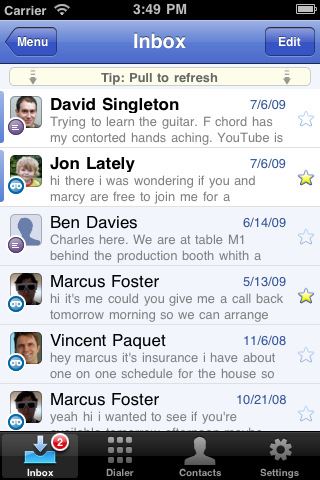 Part 2. How to Recover Lost Voicemail from iPhone 7 (Plus)/SE/6s(Plus)/6(Plus)/5s/5c/5/4s/4/3GS
You receive that voicemail, and after listening to it you delete it thinking that you won't require it again and then after some days you realize that you really need that message again? Well, don't worry; dr.fone - Data Recovery (iOS) will help you to undelete the voicemail. It is the best app that you can use to recover any deleted data from your iPhone. Its simplicity, flexibility and speed make it the best recovery tool for iPhone users.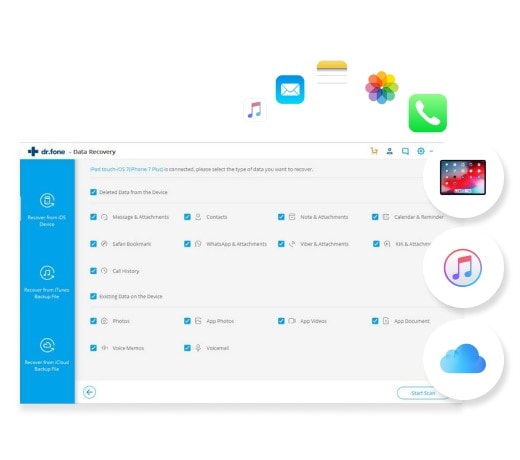 Key Features of dr.fone - Data Recovery (iOS)
It is simple to use as it has a wizard-styled interface coupled with illustrated images making it very easy to use.
It can recover over 20 different media and text data files from your iPhone. Such data files are: voicemails, contacts, messages, call history, music, photos, video, safari bookmarks, calendar, notes, reminder, apps, app documents, app photos and videos, camera roll, WhatsApp messages, and much more.
You can also use this app in 3 different modes to restore your voicemails. You can restore your data with either iTunes backup, or iCloud backup, or directly from your iPhone.
Before you decide to restore your data, this app gives you a chance to preview them. You can then select what you want to restore.
Step-by-step guide for how to Recover Lost Voicemail with dr.fone - iOS Toolkit
Step 1: Run the software after you have downloaded and installed it on your computer (You download the program from the Download button below). Choose Data Recovery. Please remember to connect your iPhone to the computer.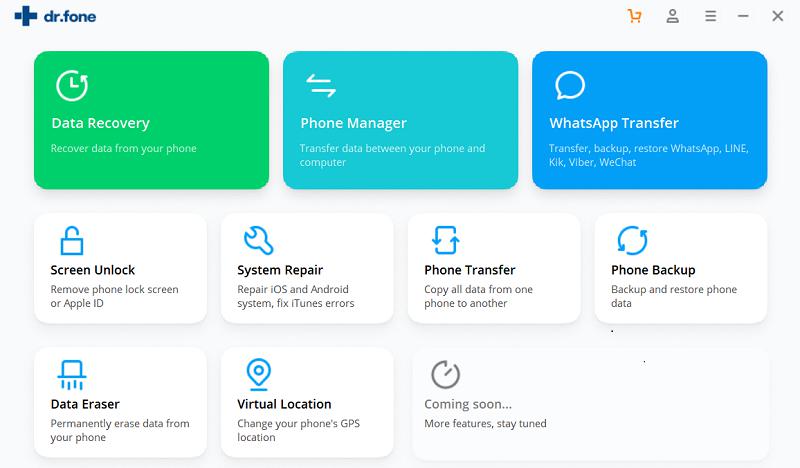 Step 2: It will lead you to Recover from iOS Device interface. From there, you are supposed to choose Voicemail option, as you hope to recover lost voicemail from iPhone. Then click on Start Scan button. It will start the scanning process.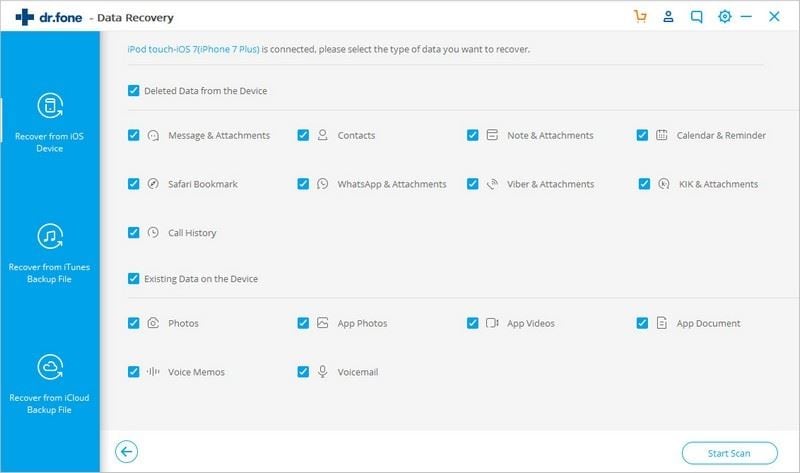 Step 3: When it finishes the scanning process, you can see the results presented in front of you. Find your wanted files by clicking the file types on the left side menus. Check them and choose Restore to Device or Export to Mac.