You may simply have restored files and data from the wrong backup file, or some of the data may have been corrupted, and your device starts to malfunction. Luckily, you still have the original backup files in your iTunes and iCloud accounts and you can undo a backup on iPhone. You may find that some contacts, messages, images and other files were affected during the sync process. There are several reasons why this can happen, but you can rest assured that you can undo this by redoing the sync.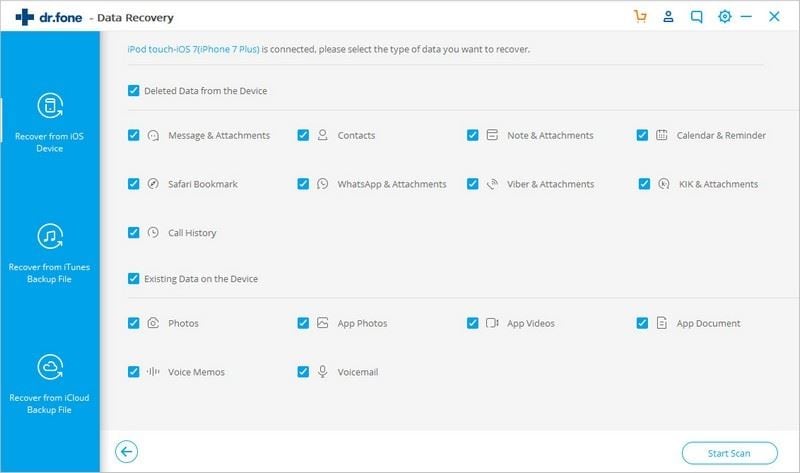 When you sync your iPhone and it does not work properly, or the sync itself cannot be done, then you should try dr.fone - Data Recovery (iOS) to fix this problem. The tool is updated regularly and this enables it to connect to iTunes and iCloud without any issues. To maintain this flawless process, you should keep your iSkysoft iPhone Data Recovery up to date at all times.
Why Choose This Undo iPhone Sync Software:
Supports different file types – This tool can read files related to call history, calendar, contacts, messages, videos, photos, music and more; recover and backup more than 20 different file types using this tool.
iTunes and iCloud file recovery – Use this tool to access files from your backup on either of these services.
Recover selected files – You do not have to recover your full backup, but only the files that have been compromised or lost.
Easy to use – If you lose data during the sync process, dr.fone - Data Recovery (iOS) allows you to restore the data with a few clicks of your mouse.
Full iOS compatibility – You can use undo iPhone sync software on any iOS (including iOS 10.3) device. This makes it a one-stop-solution for all your iPhone, iPad and iPod touch.
Step-by-step Guide to Undo iPhone Sync
First, it is possible to undo a backup on iPhone. If you regularly create backup files in your iTunes and iCloud accounts, you can simply redo the backup or sync process to reverse the previous restoration. Recovering data and files from the wrong backup may affect how your device works. Apps and files that relied on you restoring from a certain backup file may refuse to work properly. This should not alarm you; simply go to the correct backup file and restore the correct data.
In order to do this, you will have to go to your iTunes or iCloud account and select the correct file. Once you have connected your iPhone to your computer, log into the account and get the correct backup file. Restore the backup and your device will work as you expected it to, once the restoration is complete.
Sometimes the backup process is flawed and your device will malfunction, no matter how many times you redo the backup. There are several reasons why this may happen. You may not be running the latest version of iTunes and this is why you must update your iTunes whenever you are prompted to. In other cases, you may have to re-authorize iTunes and your computer. If some system files are corrupted on your computer, you may have problems connecting to iTunes. However, there are several ways in which this can be solved, and one of them is to use dr.fone - Data Recovery (iOS), when you are restoring from backup files on iTunes or iCloud.